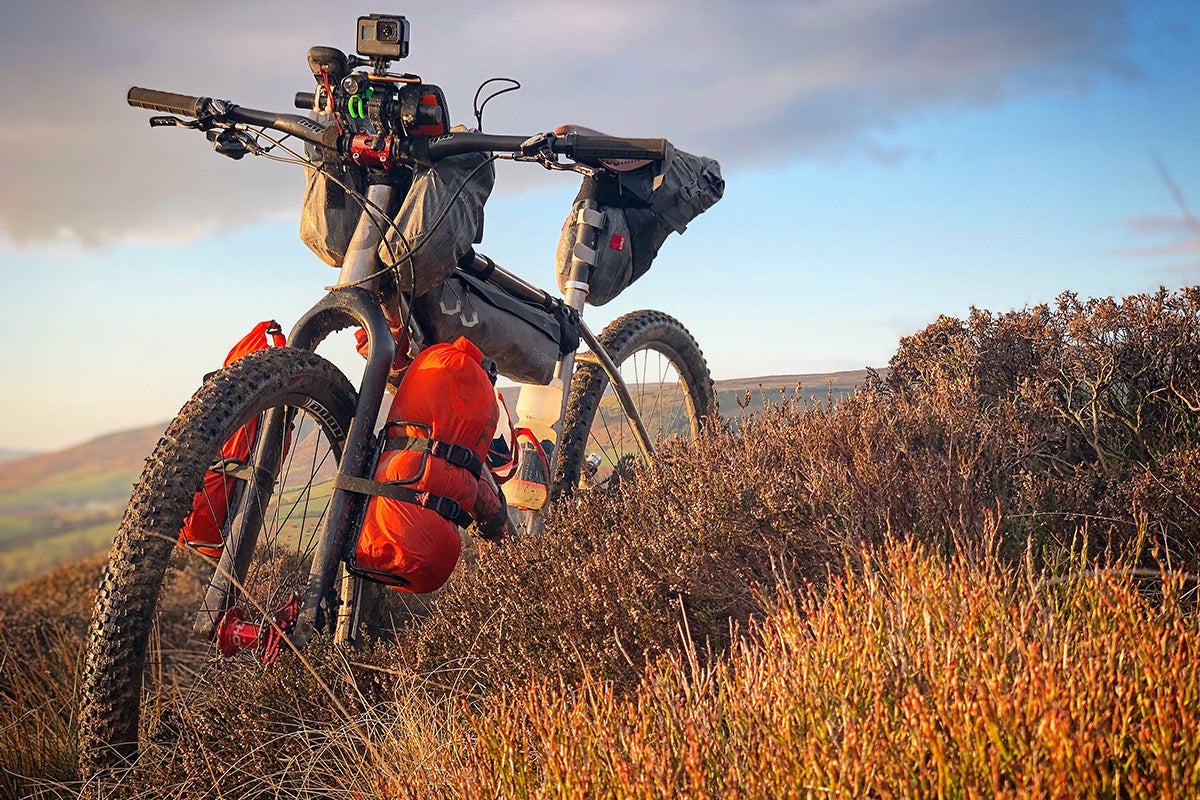 Reccying The Dales Divide
Following an email from Chris the creator of the Dales Divide inviting me to join the grand depart on the 19th April I had to decline due to riding the Italy Divide only a week later with little time for recovery there was only one thing for it, to try and fit in an individual time trial attempt and as it had never been ridden before being the first was too tempting. This was also a chance to reccy the route making sure that it was all in fact rideable and that any bridleways or other sections were as they should be. So back in March, I set off on the first Dales Divide reccy.
What is the Dales Divide?
It's a 600km coast to coast to coast route starting from Arnside to Scarborough to Arnside taking in as much off road as possible adhering to the usual self-supported rules.
Using the Dales Divide to fine tune kit, check bike setup and assess fitness before taking on 1150km's of the Italy Divide. Having just received my Sonder Broken Road Ti the day before I was due to depart having been in for an overhaul after a couple of thousand miles riding on it over the last year some of the components needed a change along with a tweak on bike set up, so this was going to be a big first ride!
Setting off from Arnside front at 2.30pm in the afternoon I had a rough target of how far I wanted to get, which was at least 100km. The starting speed was fine until reaching the start of the off-road sections where the previous days rain had turned what would usually be good paced single-track in to sticky, tacky, energy sapping mud fests slowing everything down considerably. On reaching Ribblehead at around 6pm behind my own schedule, I decided to stop for some food as this was likely to be my last stop until I found breakfast in the morning. Passing Malham Tarn I set up for the night at 00.30am after 101km. Up on the tops of Borderly it was raining and very windy, alarm was set for 5.30am.
Next morning setting off at 6am with a belly craving a cooked breakfast Bolton Abbey it was. Arriving at the Cavandish Pavilion at 9am some three hours later I was ready to eat, only to find as it was out of season they didn't open till 10am. During these events I'm not one for going off route exploring for food so the next stop was Summerbridge, I scoffed down a snickers and set off. At 11.29am my full English was served and damn was it needed.
The slow going continued on the exposed moorland sections, the cross wind continued to blow and the hope of finishing the night in Bridlington was dwindling, passing through York taking in the sights was pretty cool with a chance to refuel. Having stopped for a drink at The Fleece Inn in Bishop Walton at 9.30pm 255km into the trace the heavens opened and it poured down. It also just so happened they had one room left to which I obliged. I took the warm bed, dried out some kit, opting for an early finish and even earlier start all refreshed, after all it was a reccy and yes, the beer was good!
Setting off at 4.45am is always a tough one and the downside of staying in accommodation with a nice warm bed. Today's target was to ride over 150km to passing through Scarborough after consuming some chips at the seaside followed by a good chunk of the North Yorkshire Moor trails. The wind had now become full on and was keeping the average speed down and going slow in places. Over the Moors the route takes in some superb sections of single-track, even if slightly wet in places were still great fun.
Reaching the Lion Inn at Blakely for a refuel at around 9.30pm the temperature had dropped and frost was visible. Too soon to stop Chop Gate was my destination to which I arrived in an hour. By now I was very cold and it was clear it was going to be a freezing night so my plan was to pitch the tent in a pub beer garden. It just so happened the landlord was a decent chap and offered me the summerhouse in the garden to which there was a radiator along with tea and coffee making facilities... result! Saturday 23rd March 11.30pm and 420km in the bag.
5am on Sunday morning looking out of the window everywhere was white with frost, that summerhouse was a god send as I only had my light sleeping bag and it would have been a cold night in the tent. Last day today 180km to ride back to Arnside heading back to familiar territory around Bainbridge and Dent area.
Getting there was a mission, basically 8 hours of gusting gale force winds which were brutal, on reaching the pub at Bainbridge, 525km in, I met organiser Chriswho estimated 5 hours to Arnside equating to a 00.30am finish. After a few navigation issues with the trace delayed things a little and I rolled into Arnside at 2.54am in a total time of 3 days 12 hours and 54 minutes.
What a great few days adventuring around the Dales!
Bike Check
Sonder titanium Broken Road
Sram GX 12 speed
Hope Tech carbon bar, brakes, cranks, rims, hubs
Brooks Saddle
USE suspension seat post
Travers Carbon Prong fork
Pirelli Scorpion MTB tyres 29 x 2.4
Kit Check
Alpkit bike luggage, 2 x Tarmac stem cell, Tarmac fuel pod, 2 x 8L dry bags, Tarmac Koala saddle bag, Analoko frame bag
Cloud Base sleeping mat
PipeDream 200 sleeping bag
Alpkit Merino wool layers to sleep in.