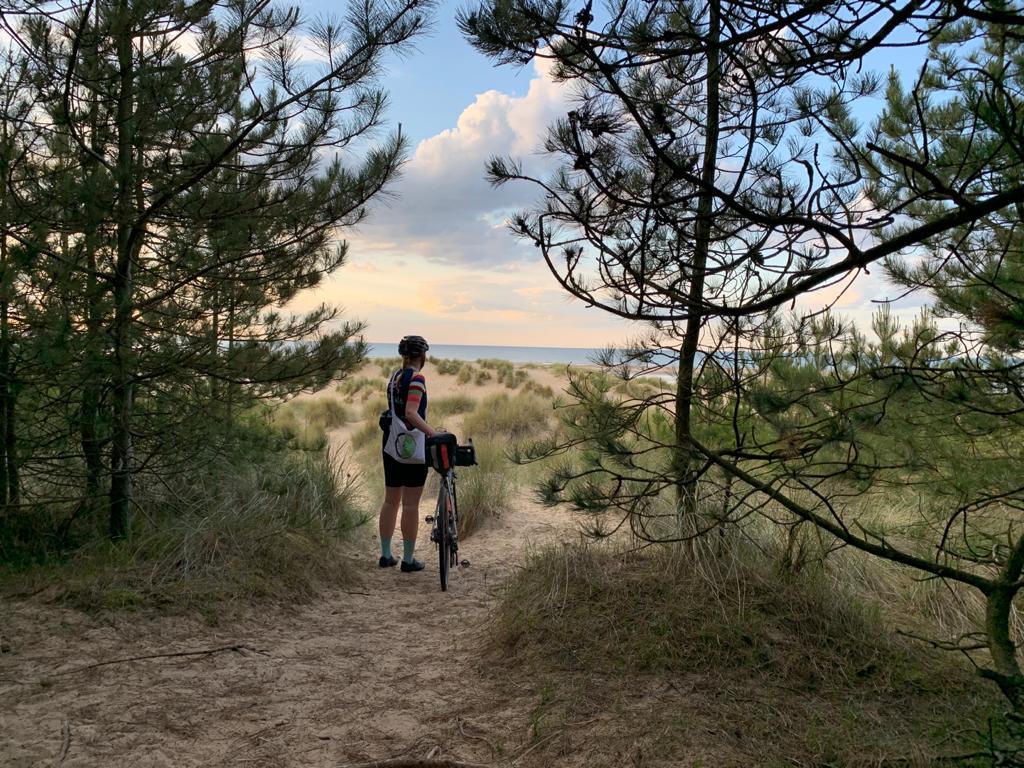 From the Peak District to Norfolk for a Bivvy on the Beach
If you're into the mystical world of Audax, your perception of distance is somewhat skewed. So riding 300km to see your friend seems perfectly normal, and we commend that kind of attitude.
Words and images by Sonder rider Grace Lambert-Smith
At the start of what would become one of the strangest years of my life, I took ownership of my new Sonder Colibri. I'd lusted after one for many months as, in my opinion, the Colibri ticks all the boxes. As I've grown up, I've realised that I need a bike that can do everything I want it to do and possibly more. I've realised that cycling holds the key to my happiness and there's nothing more satisfying than riding a bike you truly love. This, dear reader, should be your first criteria when buying a new bike.
In any normal year, I like to ride for days at a time in lovely places. By that I mean I like taking part in Audax events (sometimes called Randonnees) but 2020 had other plans to which I'm sure you can also attest. As I look back now, Sia (that's her name) and I had a great year. The spring and summer were brought some of the best weather we've had in years and we all know blue skies and bikes go together like peanut butter and jam sandwiches (which, by the way, have brought me back from the brink many a time).
The mid-summer solstice was approaching and I hadn't seen one of my closest friends, Jane, for months. We hatched a plan: she would ride from London (the long way) and I would ride from my home in the Hope Valley.
"I've realised that cycling holds the key to my happiness and there's nothing more satisfying than riding a bike you truly love."
Our destination: Wells-next-the-Sea in Norfolk. The night before, I packed my PB&J sandwiches, stuffed my Elan bivvy bag in my front roll-bag along with my sleeping bag and other such bikepacking items in my saddlebag. A last weather and kit check and I bid farewell to the day with a 5:30am alarm clock set. I never sleep well before big rides – it must be the anticipation of what's to come. Often it's the adrenaline that gets me through the next day. I hadn't ridden down that side of the country much, so was looking forward to uncharted territory. Having hills on my doorstep, it would be a nice change to be cruising along the Lincolnshire flats.
My dynamo light lit the footpath from my house to the road but no sooner had I mounted my bike than the sun had risen and led the way as I pointed my bike east. I meandered my way through the Peak District's peaceful roads with only horses, sheep and cows to say good morning to before hitting the outskirts of Chesterfield. Tempting as it was to find good coffee, I decided to crack on. I had 250km to cover before dinner time and a few more hills before I could sit happy in the big ring.
I usually study the route in detail and note the landmarks to keep me buoyant during the tougher times. Remarks like, when's the first hill? When's the last hill? Which town is at halfway? What time is sunset? All these questions spin around in my head while my legs spin around my bike.
Newark-on-Trent symbolised the end of the rollercoaster of hills I'd plotted for myself. I'd hoped for a decent coffee in a regular Audax control (Gannet's) but due to the pandemic, it was closed. Onwards, I thought, coffee will have to wait (blasphemy, I know).
A micro-adventure like this one isn't without its low points and this ride was no exception. I reached the junction of the A17 with no other option than to take this highway of headwind out of Heckington before ditching left into quieter lanes. I punctuated this small stretch of pain with an iced coffee at a petrol station and talked myself back on to the road for a couple more kilometres. Never before has a petrol station forecourt provided such respite.
With that behind me, I could enjoy the flatlands and scenic potato fields of Lincolnshire. I accidentally routed myself straight through a potato farm, but what's a long ride without a routing error?
Jane and I sent each other voice messages as we homed in on Wells. The potatoes went straight to my head and I sent her a song about riding into headwinds and my frustration at the monotonous scenery. All in jest of course.
The warm sun was beating down on me as I hit the surprise hills between King's Lynn and Wells. Quaint cottages scattered themselves along the roadsides and as usual, I picked out the one I'd like to live in.
I reached the High Street in Wells-next-the-Sea where Jane waved me down with the promise of gin in a tin while we queued outside a chip shop. I hadn't felt the sand and water on my toes for months, and after a day in the same shoes and socks, there was no better relief. Having waited for the sun to set to find our pitch for the night, we caught up on all the things best friends catch up on after time apart, again the adrenaline of the day just gone and anticipation of tomorrow in full flow. After months cooped up within the confines of my house, a ride like this felt like finding myself again. I still 'had it' and as long as I have my bike, I have everything I need.