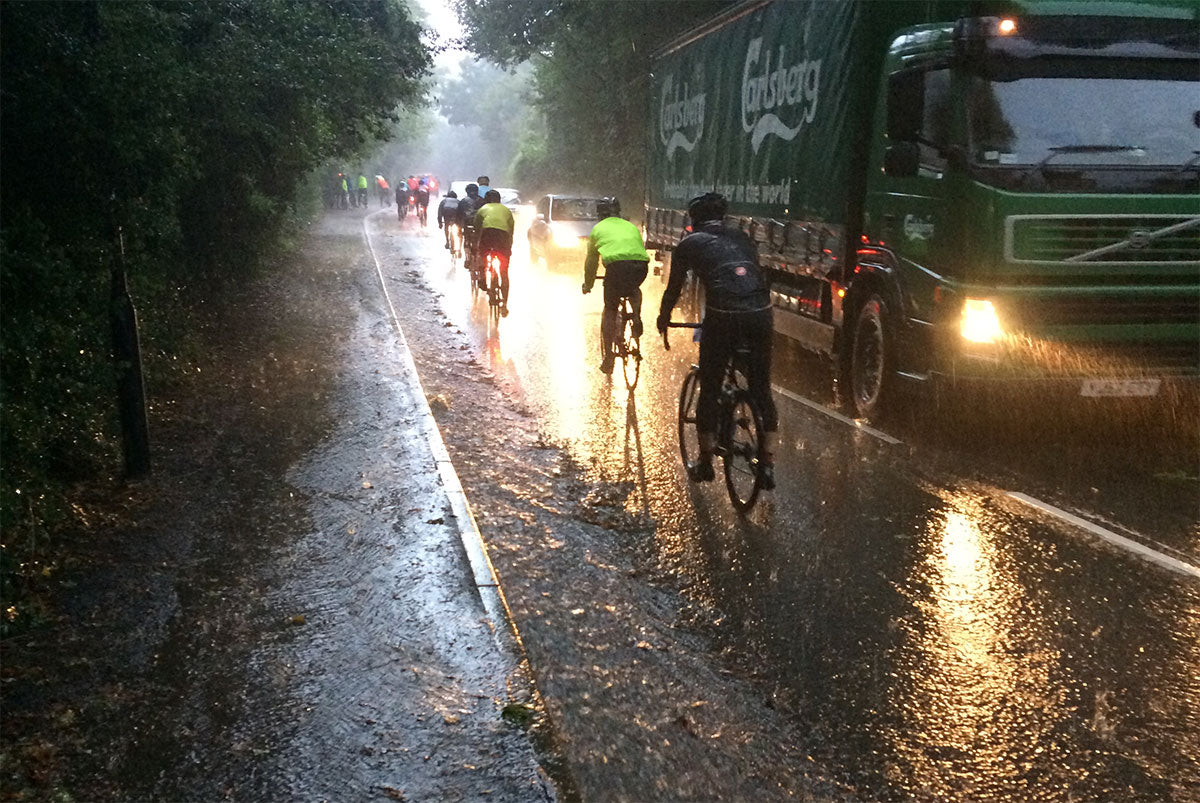 As my eyes struggled to focus on the road in the dark, driving rain and bright head lights, I remember thinking to myself that I was grateful to be on my Sonder Fatbike. The descent was awash, gutters full of water, running faster than I was riding, just about above the curb onto the foot path, where some cyclists were walking down, deciding that it was a far better option in these biblical conditions. The streets and headlights reflected over the glistening black tarmac road which was covered in slippery white lines and branches, thrown from the trees in the storm. I rolled past cyclists who had lost confidence in their trusted machines: only a few days ago they were polishing their steeds at home with the dream of completing the much-awaited Lands End to John O'Groats challenge. Now sitting upon the saddle, with weary sit-bones, one foot unclipped and dragging down the road, they were just hoping they were going to stop in time for the right turn at the junction fast approaching. I've ridden in some crazy conditions over the past few years, and leaving Bath that morning was up there for sure. But it's these memories I crave when having adventures.
It was a decision that just came to me, while I was talking to the team at Sense, the charity that had kindly asked me to be their ambassador. I didn't even think twice about it - during the phone call I said "why don't I ride my fat bike? It will get loads of attention and hopefully help raise the profile of Sense on the ride." I knew it was a really stupid idea, that's why I liked it. Who in their right mind would consider doing such a daft thing?
The amazing group of riders got through that morning, and a few other mornings and moments like this one leaving Bath, to achieve something extraordinary. Riding the length of a country is something I've wanted to do for a long time. Travelling by bike has certainly captured my passion for adventures at the moment, and I can't seem to get enough of it. The beauty of the Deloitte Ride Across Britain (RAB) is that it attracts such a wide range of characters.
RAB Stats:
Day One: Lands End to Okehampton, 105 miles, 2616m accent, 7hrs 36 ride time
Day Two: Okehampton to Bath, 113 miles, 2144m ascent, 7hrs 28 ride time
Day Three: Bath to Ludlow, 106 miles, 1689m ascent, 7hrs 1 ride time
Day Four: Ludow to Haydock, 107 miles, 1023m ascent, 6hrs 19 ride time
Day Five: Haydock to Penrith, 107 miles, 1756m ascent, 7hrs 21 ride time
Day Six: Penrith to Hamilton,100 miles, 1088m ascent, 6hrs 35 ride time
Day Seven: Hamilton to Fort William,126 miles, 1895m ascent, 7hrs 58 ride time
Day Eight: Fort William to Bonar Bridge, 111 miles, 1234m ascent, 7hrs 21 ride time
Day Nine: Bona Bridge to John O'Groats, 104miles, 1510m ascent, 6hrs 33 ride time
Punctures: 0
Mechanicals on the road: 0
Below is my fundraising link, it will be open for a while yet so please feel free to contribute if you can.
Thanks again
Steve
https://www.justgiving.com/fundraising/steve-baterab?utm_medium=email&utm_source=ExactTarget&utm_campaign=20170919_96877