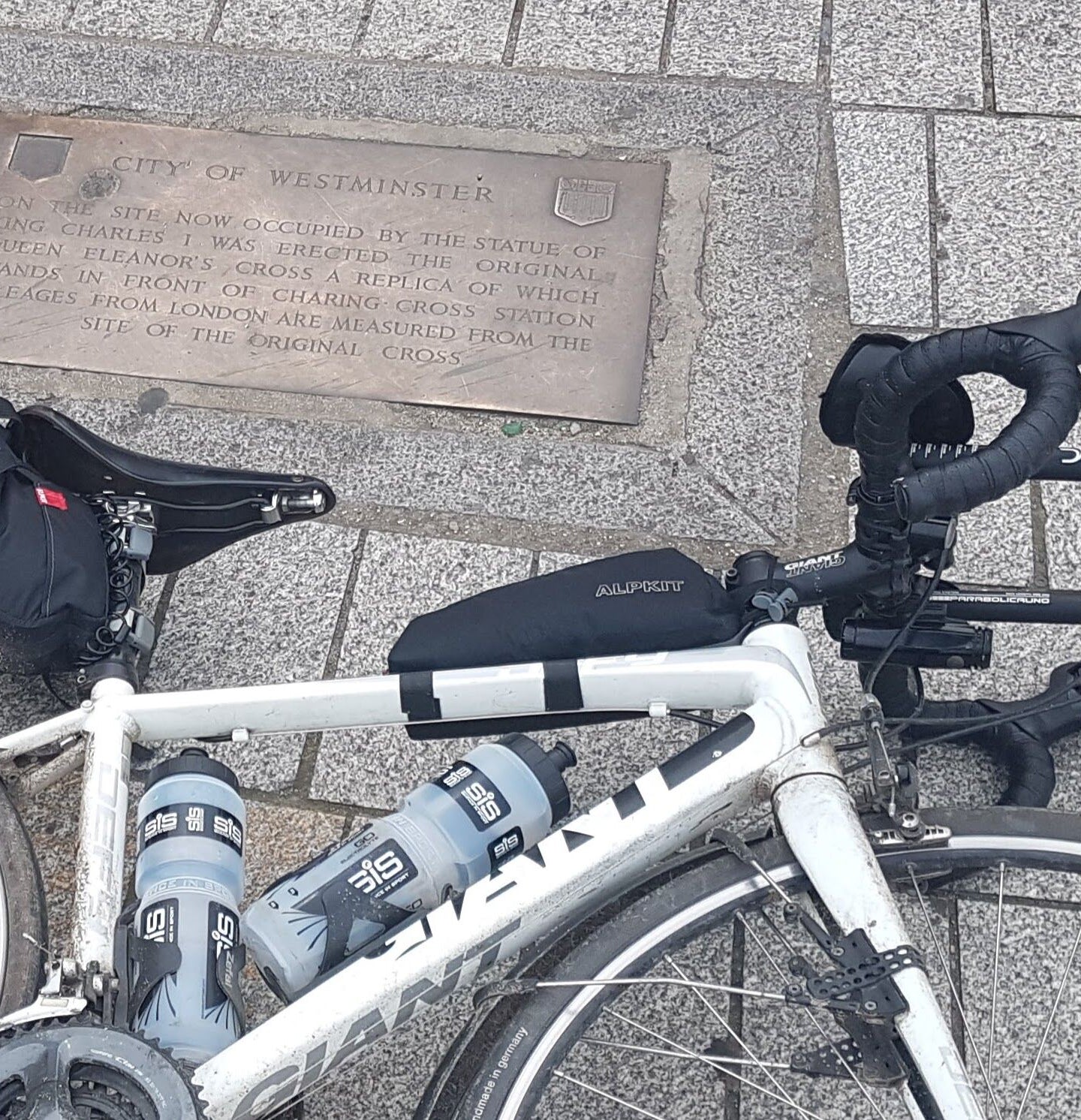 Thanks to Dan, Gerry and Richard for contacting us to share their 1500km cyclingadventure around England.
Day 1 - London to Trowbridge

On the south sides of Trafalgar Square lies a plaque that marks the point where distances from London are measured from. This was the staring point for our adventure. Dan remarked how lightly I had packed – just two Alpkit bags for this trip as we had the 'luxury' of budget hotels overnight.

We travelled down to Brighton, along the south coast to Southampton then north to Trowbridge. It was a glorious day for cycling with big blue skies but sadly in the afternoon Dan dropped out with bike problems. Gerry and I were treated to lightning all around through the evening before thunderstoms hit us in Salisbury.We'd enjoyed a great day's riding but gutted to be one man down already.

Day 2 - Trowbridge to Haydock

We continued dodging the thunderstorms through Bath and Bristol. Before enjoying a beautiful section through the Wye Valley and Shropshire Hills. The highlight of the day, I'd love to explore some more so I'm sure I'll be back.

We continued north and after a long evening and night shift we ended day 2 at our hotel at 3 A.M.

Day 3 Haydock to Newcastle

Day three turned out to be quite a day. Hot and steady paced in the morning then tackling the famous Shap Fell in the afternoon. We reached Carlisle in the evening before turning east into the Pennines.

As we got into the hills the fog descended, the temperature dropped and we were in some quite nasty conditions. At the same time Gerry had become very fatigued and his neck muscles were worn out. Could he go on?

We gingerly headed on and considered whether the ride might be ending. Eventually we reached the warmth and refreshment of the 24-hour garage in Hexham. Refuelled we carried on surprising the hotel receptionist in Gateshead when we arrived at 6.30 to check in!

Day 4 Newcastle to Hull

Gerry could not continue but encouraged me to carry on alone so, after just an hour and a half sleep I set out.After following cycle paths through Newcastle I turned south, now heading back towards London. When I planned the route, I put some interesting sections in here with pretty villages and some interesting climbs. It was a lovely section but a bit challenging for this stage of the ride! I reached Whitby in time for my fish and chips.

But another issue now threatened. My navigation was on my phone which would not charge because of the days drizzle. I was running out of battery and without the phone I couldn't follow my route. Again, I was at risk of having to end the ride.

I continued south through beautiful scenery and at a late night garage stop the phone started charging so I was off and running again.

With 60 miles to go the fog thickened as the East Coast sea fret set in. With my light just bouncing off the fog, I had to really slow down and concentrate. It was late again by the time I eventually spotted the towers of the Humber Bridge marking the end of a long day.

Day 5 Hull to Cambridge

This was the last full day south again over the Humber Bridge and through the thankfully calm Fens. Tiredness was catching up with me and it was getting harder.

I had decided to ride through the final night rather than stop in Cambridge and just cat nap where I could. This really took the pressure off this last full day, as I wasn't targeting any particular time to get to a hotel.

I enjoyed the evening ride through the last of the Fens and took the busway into Cambridge and a bit of rest at the 24-hour Tesco.

Day 6 Cambridge to London

Time for the last few miles. Coffee was needed but I couldn't find any in Cambridge in the middle of the night so I set off and had another nap by the roadside before finding 24 hour garage coffee.

By morning I reached Enfield Lock and the Lee Valley Cycle Route into London. As I reached the Olympic Park a few colleagues from my office came out to greet me. Before long, I was cycling along the Embankment and heading up to Trafalgar Square.

My finishing point and the plaque was now surrounded by a film crew, but that wasn't going to stop me from hitting the exact point we left from on Saturday and completing the lap.

It had been a great adventure, England's scenery had not disappointed and I had experienced a fair range of our wonderful weather. I'd discovered some great new places that I can't wait to explore again, but maybe at a more leisurely pace next time

As told by Richard Bragg @rnbragg
Thanks, guys, for sharing this inspiring tale - thank goodness for garage coffee, huh?!