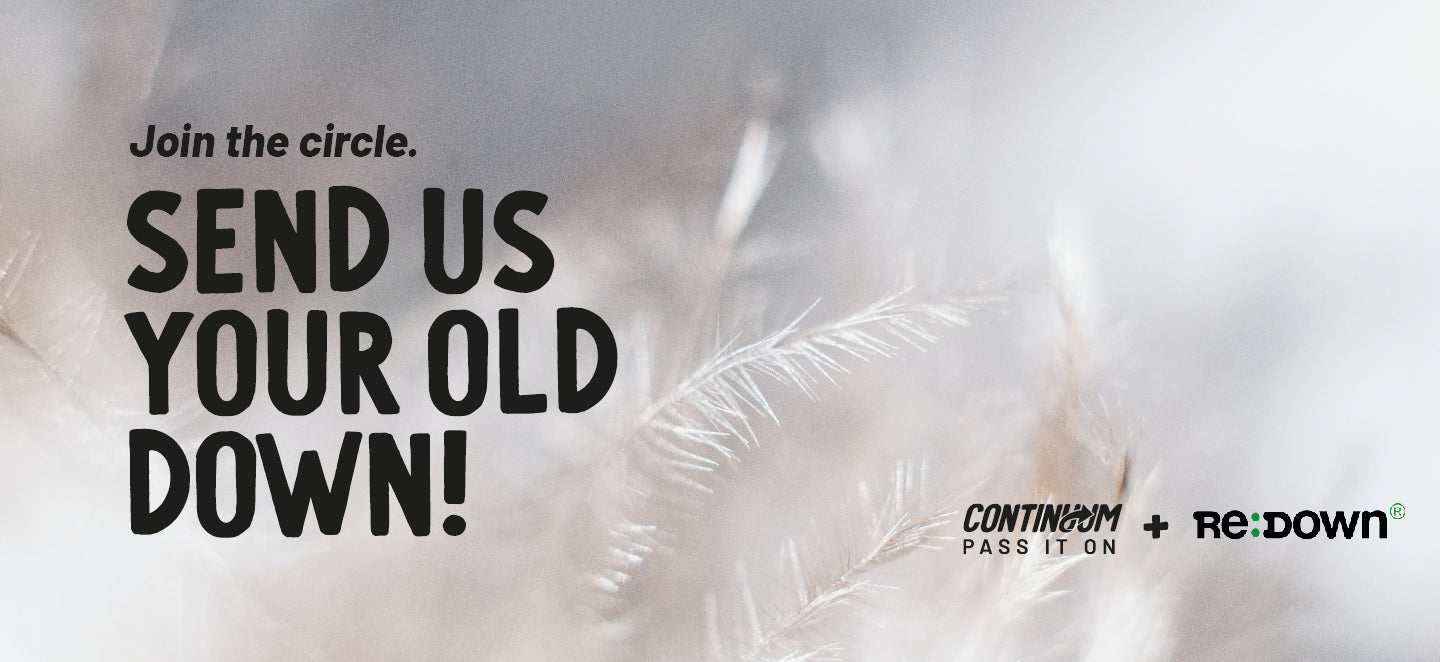 Recycle Your Down Jacket, Duvet or Sleeping Bag with Re:Down
We love down. It's light, soft and insulating. It's natural, durable and in high demand. But after we're done with our insulated clothing and equipment, what can we do with it?
We will be the first brand in the UK to accept donations of used down products in a deliberate move to circularity. We'll send them to Re:Down, who like to make the best of existing resources. Not create new ones.
Down can be difficult to recycle. But Re:Down can give used down products an exciting new life as bedding and outdoor garments for huge brands like IKEA, Patagonia and H&M.
Bring your duvet (yes, the one from your bed), sleeping bags and jackets (down please, not just any old jacket you're sick of!) into any of our Alpkit stores. Or, if you can't make it into one of our lovely stores, please use or Freepost returns service.
Re:Down returns
Click here to send us your Re:Down parcel
(Select Re:Down as the reason)
Please only send your down items, as these items will be sorted differently from our normal Continuum donations. Please don't mix any other items for Continuum with the down items you are returning.
Alpkit Global HQ
Units 12 - 14 Oak House
Moorgreen Industrial Park
Engine Lane
Newthorpe
Nottingham
NG16 3QU
When you post your pre-loved down to our HQ, we'll sort through it. What can be reused will be given to those who need it most. The items that are no longer usable will be sent to Re:Down for recycling.
How can I check if it's down?
Check the internal care labels to determine whether the filling is down, feathers or synthetic. Alternatively, you can look at and feel the contents. Hold up the item to the light and take a long, hard look at it. If it's feathers, you'll be able to see and feel the sharp quills. But down is soft and light. Please only send us 100% down-filled products.
Close the loop
Annual textile waste in Europe alone has been estimated at 7,500,000 tons. Donating to Re:Down is a unique opportunity to close the loop on the throwaway nature of the textile industry. If the down fibres are too damaged or broken to be used in insulating products, they can be upcycled into organic fertiliser. And it's not just the down that finds a new home. Non-recyclable parts from your donations, like zips, get turned into insulating bricks to build new homes!
Thank you for donating.