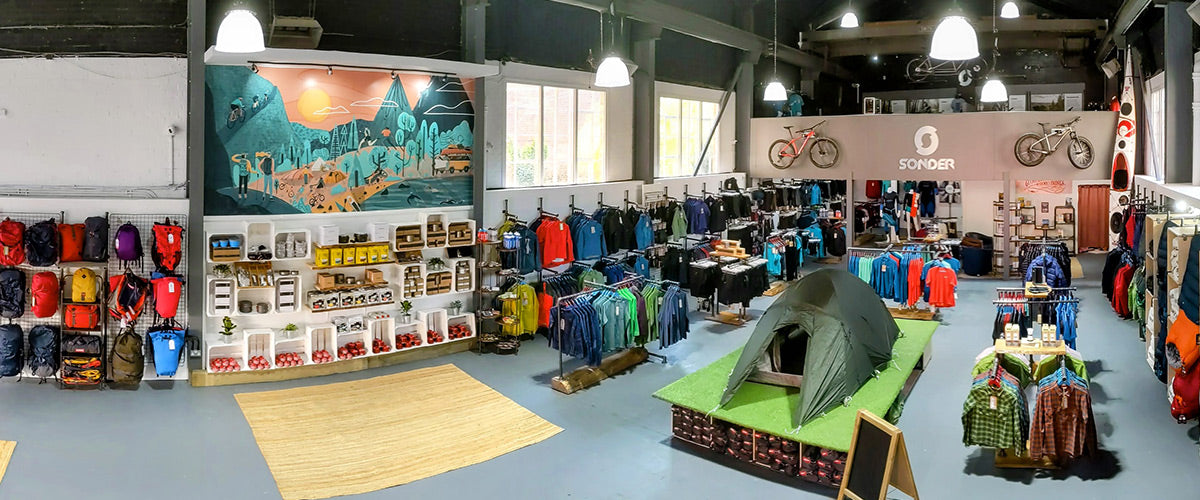 Towards a Net Zero Workplace
In November last year, Mark Stacey, our Head of Retail, went to visit a potential new store in Edinburgh. On the way back, he took a call. "How was it?"
"There's no insulation in the roof – if we turn the heaters on, we'll warm up half of Edinburgh. There's ivy growing into the building and daylight through the walls. Oh, and the front of the building is peeling off. I think we can make it work."
Before we get to the Edinburgh store, here's a bit of context. We're taking action to do our bit and limit global warming to 1.50C. We'll be genuinely net zero by 2025. Our carbon reduction targets are rigorous and verified by the Science Based Target Initiative. They've assessed and approved our plan to halve our emissions; use lower impact materials; and make great products that are long-lasting, recycled, repairable and recyclable.
90% of the world's buildings that we will have in 2050 are already built. To deliver net zero we need to retro-fit these buildings with technology for energy and thermal efficiency. Our aim for Edinburgh was to transform this hundred-year-old building into a warm, energy-efficient store.
There's a reason the building we'd chosen for our Edinburgh home was known as 'The Shed'. It was old, unloved and filled with junk. In fact, it was filled to the brim. But 'The Shed' is beautiful. It's big and airy. It's got history and space for products (which is useful!). We could make places to just sit and plan and dream. We saw the potential. And we knew what to do.
4 Steps to Efficiency in Alpkit Edinburgh...
1. Insulation. We framed, insulated and cladded the walls. We panelled and insulated the roof.
2. Double-glazing. We fitted the windows with secondary glazing. Where we found drafts, we blocked them up.
3. Low-energy lighting. Alpkit Edinburgh is carefully lit with low-energy LED lighting.
4. Energy-efficient heating system. Fans in the ceiling blow the warm air back down to where people are.
Store Set Up
The store setup team had their work cut out. For two weeks, they grafted for nearly 14 hours a day. We fully rewired, decorated and fitted out the building in true Alpkit style. We expanded the existing mezzanine to make a home for our Sonder bikes.
From 7.30am to 9pm, they were cleaning, hoovering and painting. In setting up the store round the clock for a fortnight, Edinburgh Store Hero, Caitlin, went through a pair of trousers and two pairs of shoes!
It's now our Scottish Alpkit haven. Locals who knew the building before love seeing what we've turned it into. It's warming, quirky and special. It's home to our repair station, Continuum Project donation box and our workshop.
And it's with us on the path to our net zero future.