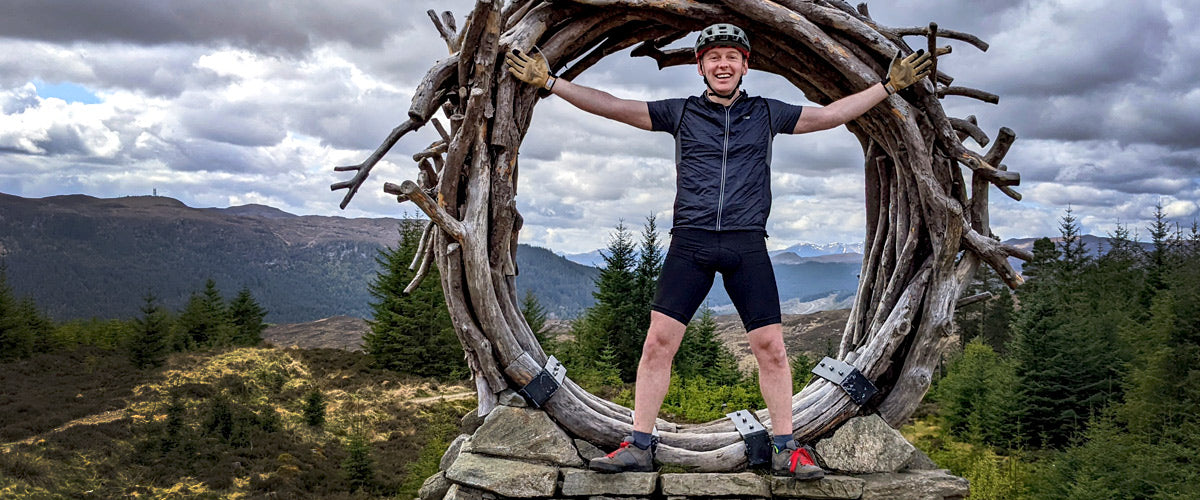 Here's Ross - Meet the Alpkit Foundation Trustees
"I'm Ross, I live in the sunny Scottish capital city of Edinburgh with my wife, two kids and one, quite frankly, bonkers Springer Spaniel! Work wise, I'm a Store Hero at Alpkit Edinburgh. This allows me to indulge my love of the outdoors, great kit, coffee and long chats with like minded souls who are interested in adventures outside!
Cycling has always been my main passion, mostly off road, mountain biking but with a few dalliances into road or gravel along the way. I love nothing more than riding my bike across an as yet unexplored moor, hillside or remote road, not quite knowing what to expect around the next bend. I'm also a runner, something I never thought I would be, and enjoy the solace it brings me running in the early morning or late evening throughout the year, watching as the landscape around me changes from one season to the next. Other outdoor activities I enjoy are hiking, bikepacking, swimming, camping and geocaching."
In a prior life Ross was a self employed company director of a full service digital agency. With less time for adventures outdoors than he would have liked, along with all the usual pressures of work dragging his attention inside, rather than outside. He found the compounded stresses were in fact having a profound impact on his own mental health and wellbeing. So he stopped. Closed the business, wrapped everything up neatly, and then along came Covid.
It turned out to be a re-start point. More time and using that time to immerse in the outdoors again, able to reset, take stock of what is important in life and then practically apply that to figuring out a path through his own mental health issues.
"I'm not sure I could have arrived at where I am today without that influence and deep learning that spending time in the outdoors can give you.
I'd often said that if Alpkit opened a shop in Edinburgh, I'd pack everything in and go and work there. So, you can imagine my surprise when the Edinburgh store announcement went out! For me Alpkit represents a unique proposition in the outdoors market. Honest and true. Genuinely interested in their customer's experiences.  It was all this that led me to become a member of staff, and then furthermore to become involved with the Alpkit Foundation.
Ultimately, I'd like to help others get into the outdoors. It's as simple as that. Whatever form that takes, time spent outside together, is time well spent. I'd like to help make that happen more and more for people."