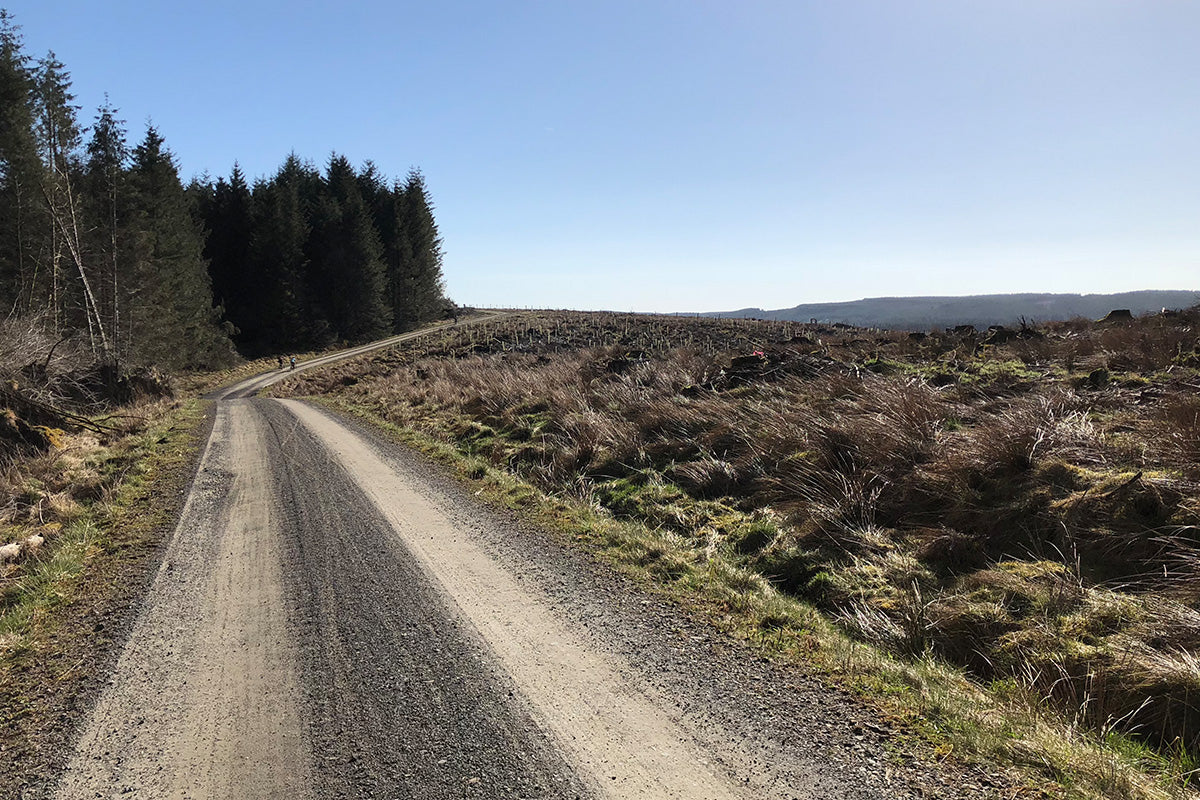 The Dirty Reiver 200 (200 km) and the Dirty One Thirty (130 km) is a long distance off road cycle challenge held in Kielder Forest Northumberland, the largest man-made forest in England at over 250 square miles. The event is based at Kielder Castle visitor centre and the two routes follow gravel forest access roads through remote areas of the forest.
There are two distances to choose from 130km or 200km, and being rather unfit I opted for the shorter distance. To be honest, even that was going to be a challenge.
So I found myself on a glorious cold but clear blue sky April morning, stood at the start line with several other Alpkit staff members (Neil from HQ and Mark, Joe, and Chris from the stores) along with hundreds of other willing participants waiting for the go.
There was no turning back now, I had trained loads (okay so I'd been on a couple of rides in the last month), got my nutrition sorted (jelly babies, salted peanuts and some energy gels) and managed to find a pair of comfy shorts. But what I did have - and I felt sure this would bring certain victory - was the Sonder Broken Road… One of the many good things about working for Alpkit is having a choice of bikes to ride and I must confess this is my favourite.
The ride started at 7:30am and we were off up the first climb and into the forest; I saw a few people with mechanical failures and the first downhill was littered with water bottles and plenty of punctures.
Perfect day for a ride...
Gradually the pack spread out and the miles passed fairly quickly. The climbs weren't too steep and the descents were fast, and after about 35 miles we hit our first tarmac at the first feed station. Suitably refreshed with Jaffa cakes, malt loaf and a coffee, I set off again back onto the gravel roads that criss-cross the forest, once again the miles seemed to pass fairly quickly and - although I felt fatigued - the Titanium frame of the broken Road made for a comfy ride. Having a suspension fork and 29er wheels definitely helped too!
A long rocky downhill led to a fast blast along country lanes to the 100 km Alpkit feed station where Heroes Connie and Jamie forced lots of savoury and sweet foods in my general direction. After a little rest in the sun I set off for the last 30km – at this point my legs felt like lead and I was pretty drained, but I knew I could make it. A long steady climb and fast descent found us crossing the border into Scotland for a few miles before crossing back over in England.