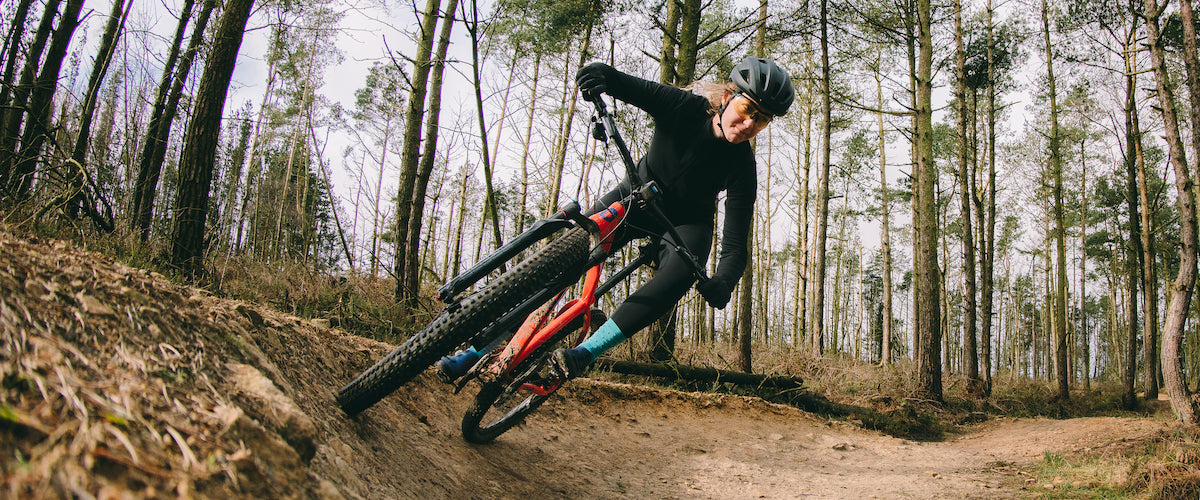 Maintaining Trails with Ride Sheffield
Eleven years since it was conceived by Henry Norman, Ride Sheffield has achieved some notable successes. Building and maintaining trails at Lady Canning's and Greno Woods, working with various landowners in order to upgrade rights of way to bridleway status and encouraging riders to do the right thing and Be Nice Say Hi has kept them busy.
However, Ride Sheffield also believe that keeping local trails in good shape is a crucial part of their role. Work has been carried out all over the Sheffield borders, from Rivelin Valley to Blackamoor Nature Reserve to the Eastern Moors. That work often relies on some serious equipment and a lot of volunteer involvement.
It also relies on help from local businesses and it's a pleasure to have been able to help through Alpkit Foundation. It's easy to take certain trails for granted, just assuming that they are hard-wearing and all-weather. A good example is the permissive bridleway that runs from the Stoney Ridge car park on Blackamoor down to Piper House Gate. 
Thanks to the Sheffield and Rotherham Wildlife Trust, this was upgraded to bridleway status some years ago. In the first year or so, a voluntary winter ban was imposed on mountain biking owing to the fact that it would turn into mud-soup whenever it rained. 
Ride Sheffield decided that work had to be done, started to improve the situation with numerous volunteers, but soon discovered that a serious amount of imported material was required to create an all weather-trail. Moving aggregate with wheel barrows is hard work so the decision was made to approach Alpkit Foundation and ask for their help.
John Horscroft from Ride Sheffield says,
"Thanks to a donation from Alpkit and a digger and driver provided by BikeTrack, fifteen tons of aggregate was moved with power barrows along the length of the path, ensuring that volunteers would be able to build the trail in short order. That path now withstands heavy use and winter conditions with ease. Teamwork!
Another major project that was at the top of the list for Ride Sheffield was the lower part of Devil's Elbow. The team had been working on that section for a decade, converting it from a winter-time forty foot wide mud-bath into a single track. However, more work was needed to make it fully winter-hardy and, unsurprisingly, the call to Alpkit was once again successful. Again, diggers and power barrows were employed to move aggregate to where it was needed and, just before the first 2020 lockdown, thirty volunteers grafted to make a difference."
The trail is now in excellent condition having survived an unbelievably wet winter. Again, partnership work between a local firm and Ride Sheffield ensured that it was a success.
Ride Sheffield have great ambition. RadTax, where supporters make regular donations, (and get goodies as a result!), allows Ride Sheffield to budget in a more efficient manner. Much has to be done, trail crews need to be trained and organised, equipment has to be bought, machinery has to be hired and, often, reliable contractors like BikeTrack have to be appointed to bring built trails back up to standard. All of this by the core team who are all volunteers.
Sheffield's trails are free. At trail centres you pay a fair old whack for parking and a coffee and rarely see that being spent on the trails. Give Ride Sheffield some cash and you'll see the benefits almost immediately. If a fair few of our supporters give us a fiver, it will help us keep all the trails in excellent condition. If 1000 can stretch to a regular payment through RadTax we could resurface one of our trails every year and have enough left over to fund a serious amount of volunteer trail work overseen by full time trail staff.
If you'd like to support Ride Sheffield, there's more information on the Ride Sheffield website. Just a small amount makes a huge difference.