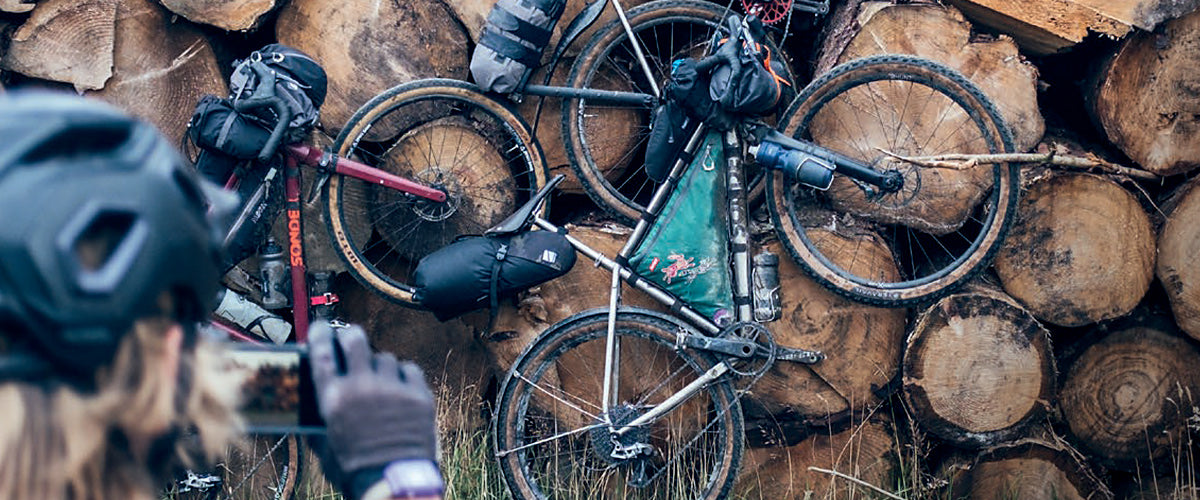 It was riding the Torino Nice Rally in 2017 that planted the seed for devising a UK equivalent. A long distance, country to country, city to city trail with a load of rough stuff and wilderness in-between. Just swap gnocchi and pastries for Lorne sausage and Eccles cakes. After a few years of obsessive refinement, the route is now a kind of 'best of British' bikepacking trip that would make a tough long weekend or lovely week's tour, with the start/finish handily linked up by the West Coast Main Line. This account begins in Glasgow, having just ridden the Badger Divide from Inverness; 330km down and a new set of brake pads, resupply of dark chocolate Tunnock's and some 600km between here and Manchester.
A mix of gravel tracks, forests, haggis, wind farms, bothies, drovers' roads, Irn-Bru, lochs, Cumberland sausage, bridleways, byways, hike-a-bike, Vimto, Hadrian's Wall, viaducts, dangle mugs, canal paths, strada bianchi and farm tracks.
Day One – Glasgow to Talla Linnfoots
Route notes: The SCD can be roughly broken into five sections. Section one out of Glasgow and for most of your first day is in the borderlands. Huge windfarms with undulating gravel access roads, quiet b-roads and the odd bit of bridleway. There's the world famous Cock of the North trees that you always see from the motorway and a first bothy opportunity at Talla Linnfoots.
We've done this day out of the city in terrible weather previously, where the exposed 'wind' farms have really lived up to their name and made for slow progress. This time was the opposite – once we'd picked our way south, a ripping tailwind made for quick progress. Pete had pitched up just as we were leaving George Square, Greggs' pasty in hand, and two other riders, Stu and Carl, caught us up a few brisk hours later, making for a nice little riding group.
Having left at midday, the wind assisted progress was a bonus that we all agreed was worth making the most of. Despite some awkward tubeless puncture faff we covered 130km and finished in the dark with a short detour off the route, removing socks and shoes to cross a river and into an empty bothy.
Day Two – Talla to Kielder
Section two dives into Ettrick and Kielder Forests. Wind farms are swapped for hard packed gravel tracks and old drovers' roads. A cut through to avoid a long road section will require a tiny bit of hike-a-bike before the long climb up to the Scottish/English border. There are several bothies hidden away in these parts but it's surprisingly barren and you could get caught out if you don't pick your resupply points wisely.
Breakfast at the Glen Cafe is recommended as it's the last hot food option you'll have for 100km or so. We ate some excellent Lorne sausage butties whilst some locals went for a swim in the loch.
The grassy drovers' road climb out of here is lovely, with a screaming descent on the other side. The cut-through after Craik is becoming increasingly infamous now. You'll have to push for a few mins but trust the gpx and you'll emerge safely on the other side. Kielder is big and empty but lovely riding.
A pre-dark pizza once we'd made it to Kielder Water where the accents turn from Scottish to North East English, then off into the dark for a second bothy stop all on our own. Carl later described the location as, "…somewhere in the middle of that bit where there was nothing."
Day Three – Kielder to Dufton
Section three; welcome to the Pennines. Once you've escaped Kielder and crossed Hadrian's Wall you can make good progress south in preparation for getting up and over Cross Fell, unless you plan to spend the night at Greg's Hut near the top. If you're lucky, you'll get good conditions for the long gravel climb to the hut and the bog over the top will be easy to navigate, with incredible views of the Lake District and Solway Firth.
We were not so lucky with conditions this time. Leaving Alston with fresh supplies it was spitting, and as we left the road and started climbing on gravel it was chucking it down. A bloke stoically laying a dry stone wall gave us a puzzled look. The previously visible Cross Fell summit was now engulfed in cloud. Heads down, waterproofs on.
We didn't even bother trying to avoid the boggy sections over the top as we were soaked anyway. Slipping and splashing down the grassy but lumpy decent, brakes squealing, it was a relief to be off the fell and into the valley below. Looking for a place to regroup and assess plans we found the pub in Dufton open and with the fire recently lit. A beer or two later we caught wind of some £10/night bunk beds going nearby, so made a plan to cut today short, dry out an get an early start tomorrow.
Day Four – Dufton to PBW Near Trawden
Section four is all about Yorkshire. Tan Hill Inn, Swaledale, Beggarman's Road, Cam High Road, Batty Moss Viaduct and Salter Fell Road (Lancs). It's tough, but lovely, with plenty of cafes and pubs to keep you interested.
We left at 5am, mostly dried out but feeling better for a pub dinner. We zipped along the Eden Valley back roads in the early morning light and climbed up to England's highest pub, Tan Hill Inn. Usually, a stop here would be a must, but it wasn't even open yet. There is plenty of climbing to get stuck into today on road up the likes of Oxnop Scar and off road up the relentless Beggarman's Road. Salter Fell remains a real highlight of the route – a premium 12km section of white gravel that could have you thinking you were in Tuscany if you squinted, really hard. Grabbed some chips in Gisburn after a tarmac section and navigated Colne in the dark, the first biggish town since Glasgow. What are these traffic light thingys? Find a small section of secluded woods for a stealthy wild camp within striking distance of Manchester tomorrow.
Day Five – PBW Near Trawden to Manchester
Section five into Manchester is through lumpy Lancashire. It's tough; a real sting in the tail. From Salter Fell Road, the rough Rooley Moor cobbles and the sublime singletrack of selected parts of the Pennine Bridleway, it can really catch you out. When you first catch sight of Manchester, you still have 40km to go.
Up early, porridge, pack up, leave no trace. The terrain is the perfect definition of undulating. Tired and dirty now, we're ready to finish and catch sight of the city we've been cycling towards for 5 days as we rattle over the huge cobbles and cart track slabs of Rooley Moor Road. Legs are feeling cooked now.
A quick lap of the pump track at the bottom and a terrible coffee at the only service station open (it was a Sunday to be fair) and we began to pick our way around the city limits. From Hartshead Pike, we ripped down into the city and onto a final bit of canal to The Pilcrow, where the sun was out and no one really cared where we'd been, except a few other riders who'd been ahead of us the whole time. Obligatory photo by the 'keep your pecker up' sign, pizza and exchange of each rider's different experience, which given you've ridden the same route only slightly apart, can be wildly different.
Find out more on the route at secondcitydivide.cc / @secondcitydivide