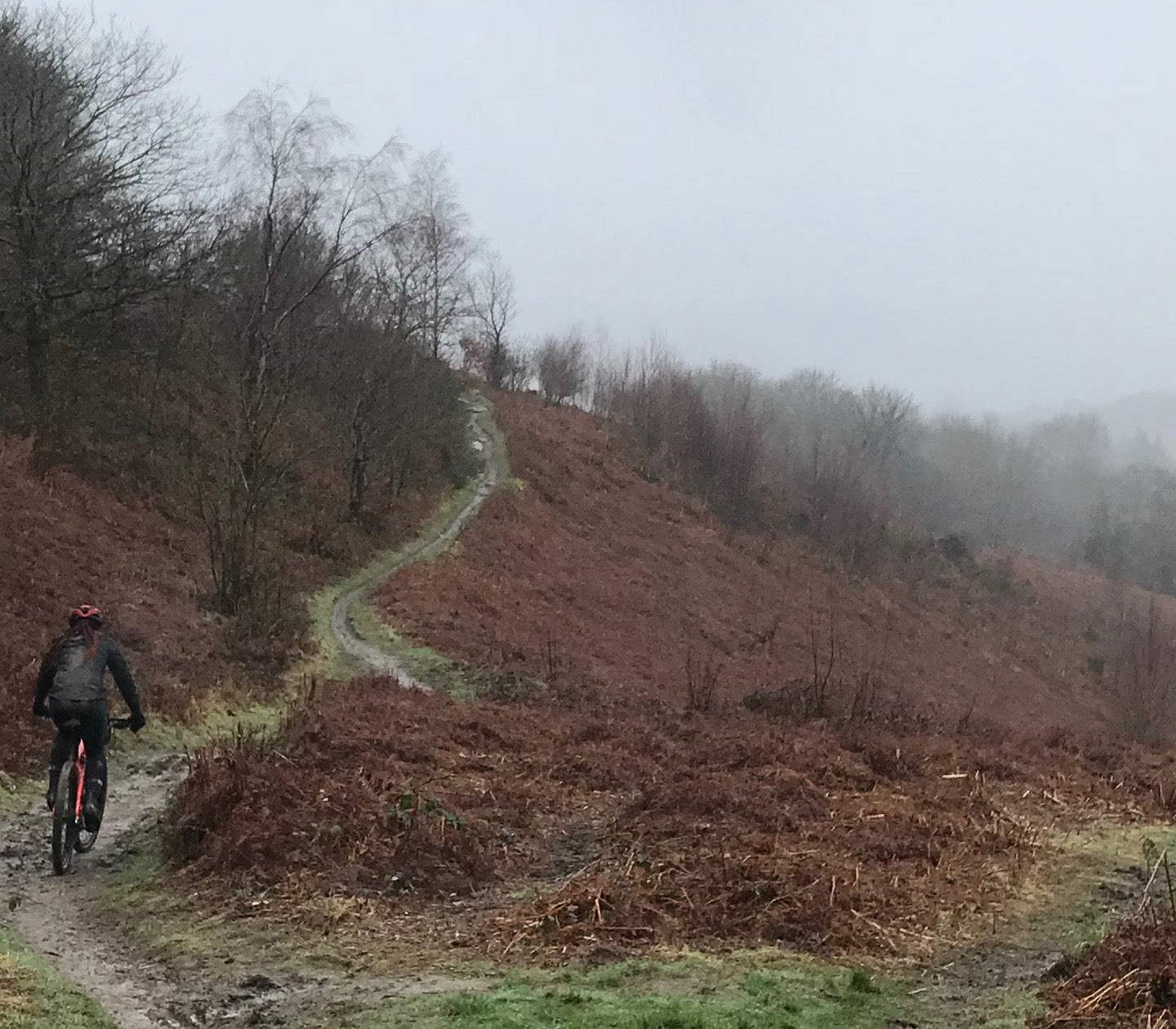 When Jack met Vera.
One March morning, I met up with Sonder rider Vera Ngosi-Sambrook for a ride on some Welsh singletrack near Cardiff.
The weather wasn't looking good so we aimed for a route not far from home. We set off on our hardtails a Dial and a Transmitter and it was wet from the get go, one of those walls of drizzle that get you soaked as soon as you move.
Vera's bike had been in a box for a short while since her last ride in Malawi, where she went on her first ever ride with her mum. "One of the greatest moment fo my life, so exciting. She's a wicked lady, she went on it fearlessly, which I wasn't expecting. My whole family, when I sent them photos said, 'what the hell are you doing your going to kill mum! don't let her on get a bike "
Bit of a contrast in weather compared to her last ride as we look out to what she describes to me as beautiful views, all I can see is white out. "Its better when you can have the views, you can see all of Cardiff, over that way, imagine you can see the estuary, you can see Bristol on a clear day" describes Vera. I will take her word for it.
Vera,
"I started riding in 2017, I rode as a kid but that was it until I moved to Cardiff where I met Matt, now Husband, who tried to get me into it. I wasn't keen. 'What is that?!' he brought out a tandem, I had never seen one before. "It is the sort of bike where you don't have to pedal on the back, you're going ride with me on this charity ride of 200 miles, from Snowdonia to Cardiff" replied Matt. I was like 'hell no! I don't like you that much'. He said he was going to buy me some champagne to drink on the back and I would be eating grapes, It will be like I was in France. He had my curiosity, now you have my attention. I stupidly did this thing, which was so hard and so much work, with a really shit bike. I loved it."
What was the tandem like, I haven't ridden one, what was it like being on the back?
"I loved it. Just don't make any sudden jerky body movements because it will upset the captain, but for a beginner at the time, it was amazing I didn't know much about bike handling and navigating, so I just needed to pedal which was good. I loved not having control and I still do, to this day. Though I have become skilled as a solo rider, tandem is still my favourite."
What got you hooked on more serious riding?
"I won an ultra distance scholarship, that's how I really got into riding, Jan 2021 when I went from this little bimbler cyclist to training for an ultra in six months, zero to hero in six months. that how I started building distance and learning how to camp, I had never been a camper before that."
"I enjoy just being out on the bike, the race side I just try to ignore most of the time. You don't have to be competitive, its about the camaraderie, 90 percent of people aren't racing. that was the case when I did the Pan Celtic. The ultra community I found more welcoming than other cycling communities I have been in."
Are you enjoying the mountain biking, Is there anything you would like to try?
"I'd like to get more skilled at mountain biking, being able to do jumps and getting a bit of air. At the moment everything I have done I have just got on it and gone, getting some proper skills would be good. I want to get skilled enough to be able to lead and teach others. I am joining a mountain bike leader qualification course in the Lake District coming up April. Can't say I'm convinced about downhill riding, yet."
Vera has recently accepted a new job for summer where she will be leading UK based hiking and cycling tours.
After riding with her today I know she will be perfect for the role. I had never met Vera before and we were right at home chatting and riding together. Really lovely to ride along with even when soaked through with mud.