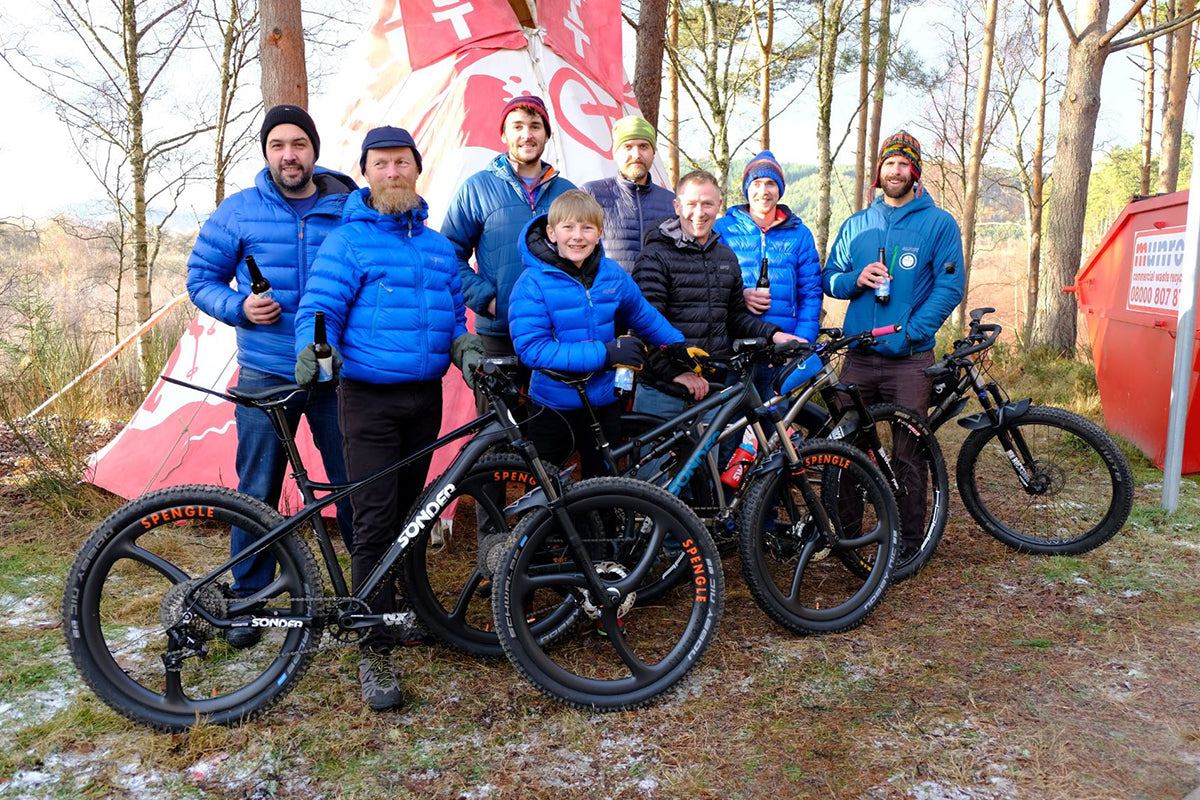 Huffing and Puffing: Strathpuffer Part 1
After our introductionto Strathpuffer last year, we couldn't wait to head back up North for the 2019 edition of this legendary 24hr mountain bike race. This time though, we brought a team of Alpkiteers with us to take part in the Quad category and show us what they're made of. The male quads are one of the most competitive categories at the 'Puffer, with returning teams year on year gunning for that podium place, so we thought we'd give it a crack.
With us were Rich and Tom Seipp. Strathpuffer veterans, this was Toms first year in the quad category (after 5 years riding in the solos), and the first time he's been old enough to ride laps without his dad Rich shapperoning him round. Tom was riding the Sonder Evol, whilstdad Rich optedfor the Transmitter. Pete McNeil also joined usridingthe Broken Road. Partly wishing he was riding solo andpartly thankful for the break between laps, Pete's taken a stab at the 'Puffer once before and is well known for his fondness of 'type 2 fun'. No stranger to all things Strathpuffer, Neil Cottam brought his Signal Ti hardtail along and no matter what the weather did, Neil refused to succumbto the ice covered course.
The Sonder-Alpkit Team. From left to right - Rich Seipp, Tom Seipp, Neil Cottam and Pete McNeil
We all met first thing Thursday morning outside the Hathersage store, itching to hit the road. Friday was set-up day and registration, the riding team set up theircamp along the fire road, using the giant green Sonder gazebo for the perfect pit area. We also helped out the first marshall point this year at the top of the fire-road climb, providing the Alpkit gazebo, strung up with lightsfor some shelter and a big old speaker to keep the music going through the night andgivingriders a boost whilst they're quietly suffering.
The Alpkit marshall point... Cheering on riders through the night and keeping spirits high with music and sweets
You never quite know what to expect at the 'Puffer; things can change in an instant. One minute you're fine and the next you're switching tyres, pedals and adding extra layers. Here's Neil as he recounts how he got on in this yearsStrathpuffer...
The Puffer, as always, lived up to expectations, and it delivered on its reputation of wildly diverse weather conditions. I've been to five Puffer's in seven years and no two races have been even remotely the same. This year's ice ruts made line choice particularly interesting, and the rain that fell around dawn had me riding the top tube in spectacular fashion more than once – a bit like an out of control/out of body near-death-experience. It was a race that demanded commitment and confidence to get around in one piece, I found that attacking the sketchier sections was more favourable than caution, straight lining, in many cases, was preferable to technical dexterity.
Warming up pre first lap
Each lap begins with a long fire road climb before entering singletrack and it was obvious before I summited on my first lap that tyre pressures would need to be super-low. I pulled over and drained the valves until the tyres were squishy, probably running only 13 or 14 PSI for the whole event (there's a lot to be said for these fancy big volume modern tyres). The minimal use of the front brake also proved to be an advantage, I barely even hung a finger over the lever for my entire six laps, relying instead on gung-ho bravado and a drifting/sliding/foot-stamping combo to remain vaguely upright. It was, as they say, the most fun you can have in winter with your clothes on.
Racing as a quad was also a first for me and it was a pretty cool experience, it was nice to go out for one lap then hand over the baton to someone else before hanging out in our popular pit area, soaking up the smell of the woodsmoke and drinking coffee with passers-by. Why we were even graced with the effervescent presence of non-other than the record breaking round-the-world cyclist Jenny Graham at one point.
The Sonder gazebo providing the perfect pit area
Late night changeovers...
Muscle management, on the other hand, was much tougher and after lap three I genuinely thought I might have blown it; my legs were shot. I changed my recovery tactics and strategy slightly and stayed on my feet a little more – slumping in front of the fire pit and letting my muscles cool rapidly was clearly a very bad idea. A combination of changes had a massive impact for me. I started chugging a gel about ten minutes before I expected to go out, which seemed to help a lot. Cruising up the climb rather than attacking it actually kept my lap times similar because I was able to maintain a more consistent pace around the course, and part filling my Swig bottle with warm water was a nice little touch, boosted my morale on the bike, and stopped the valve from freezing up (a little trick I developed whilst racing The Yak Attack); drinking ice cold water in sub-zero temperatures isn't that much fun - I didn't have a single issue with muscle fatigue or soreness from there on in.
Keeping warm by the fire
We worked really well as team and supported each other throughout the night, making sure the fire was stoked and hot water was ready for the coffee pot. It was the most comfortable pit area I've ever had thanks, in part, to the massive Sonder gazebo and our raging hot space heater (Thanks also to my employer Eagle Fabrications for the loan of the generator and the bottle of propane). Extra hands in the pit would have been nice so if anyone wants to volunteer for next year don't be shy in coming forward, you'll be made very welcome. Pete McNeil was our speed machine, closely followed by Tom Seipp, Rich and I (the oldies) brought up the rear and we finished in a magnificent 19th position out of 90 uber-competitive Male Quads. Now we've learnt a few lessons about quad racing we might even podium next year – get ready.
Thank you to everyone at Alpkit/Sonder for the invitation to ride with the team. It was a blast.
"Long live The Puffer!"
You can also read Pete's tale from Strathpuffer too!