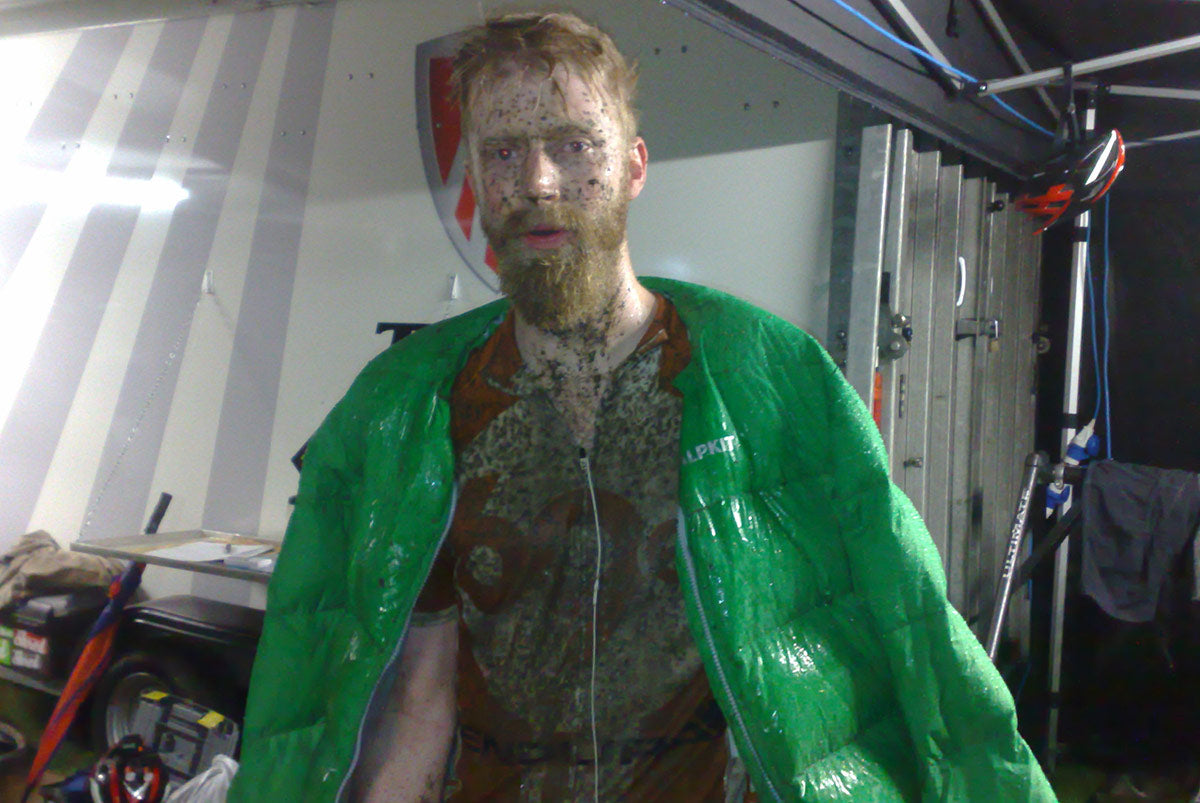 In usual fashion the 69er crew rocked up to the Mountain Mayhem site near Ledbury, in glorious weather – after getting our base set up (we chucked our bags into the race pit kindly set up for us by Wayne at Trek), we headed out for a relaxed lap of what was a beautiful, hardpacked course – with some totally new bits of specially constructed trail that have never been used for the event before – it was all shaping up to be a great weekend of racing!

Rich's poor little car really struggled back up the hill to the camp site after we rammed the boot full of beer and cider, but we knew it would be worth it! So the evening progressed in a very civilized manner – BBQ fired up, and beer flowing, we ended up with a proper little party going on – many friends that you only seem to see in random fields around the country! Amazingly quickly 4am arrived and we thought it'd be a good plan to retire – it was after all getting light again!

Race Day morning arrived, and we dragged ourselves our of our cosy little Alpkit cocoons to find that the organizers had forgotten to enter us! Strings were pulled, promises were made and we were in! We'd discussed who'd be doing the first lap run the night before, but we couldn't remember what we'd decided, so we argued about it again…. I'm not sure if we reached the same conclusion as before but at least we now had a runner!

2pm – Off they go – Shaggy had a pretty good run, and climbed onto his bike well up the field – looking good in never before seen 69er race kit. Beautiful.

2.50pm – Flying lap – Shaggy is in and Rich is out on his first lap – all going good. That is until I got out on my lap…. First hill, dizzy spell sets in so I have to stop and get my breath halfway up said hill. Nothing at all to do with beer intake volume. Nothing at all….. I rode back into handover almost in tears, 3 hugs later it turns out that actually I'm not that far off the pace anyway. I still felt rubbish….

4.15pm - My second lap came up and I decided that 'Steady Away' was the better option on the first climb – and I came out the top feeling good – and wound it up all the way back to the finish, managing to catch the Singular rider – these guys were our big competitors in the fight for the SS crown and had got a great run in and were running several minutes ahead until now. First lap was forgotten – I felt great, even if I was only 3 minutes faster on that lap!
8pm…ish… All going good – laps are ticking by nicely, Shaggy and Rich are properly on fire today, and just about to start their shift as Chris and I crawl back into our respective cocoons to take some time out. Tidy. I was stirred about 1.30am by Richs voice echoing through the night air "that lap just took me 1hr 20 – I had to push half of it….". Oh great….. time for my laps now then. To be fair, they were OK – it was pretty warm still and the pushing bits helped me get my breath back! Mud studs in shoes and mud tyres on the bikes definitely paid dividends at this event! The lack of any moving parts on our bikes also was the order of the day as we all passed stricken bikes having clogged mud extracted, or worse, broken mechs removed from buckled wheels. Nice – smug smile.

As the morning moved forward the deluge of the night time seemed like a lifetime away and everyone's laps got progressively quicker as the course quickly dried out in the sunny, windy conditions – my last lap ended up being my fastest, partly due to the concrete like ground and also the lack of traffic – looks like a lot of teams had called it a day during the night due to the weather. The trail that only 4 hours earlier had been unrideable had matured into a lovely, techy feast of riding – brilliant! I managed to scoot in with 45minutes to spare, so Shaggy went out on a last lap flyer – hoping to catch 5th place overall (we already had the SS category nailed by 3 laps…) – we didn't manage to, but closed the gap considerably.

So – all in all a great weekend, lots of catching up with friends, great riding (in the end…) – and a good solid ride from all the boys!
Andy