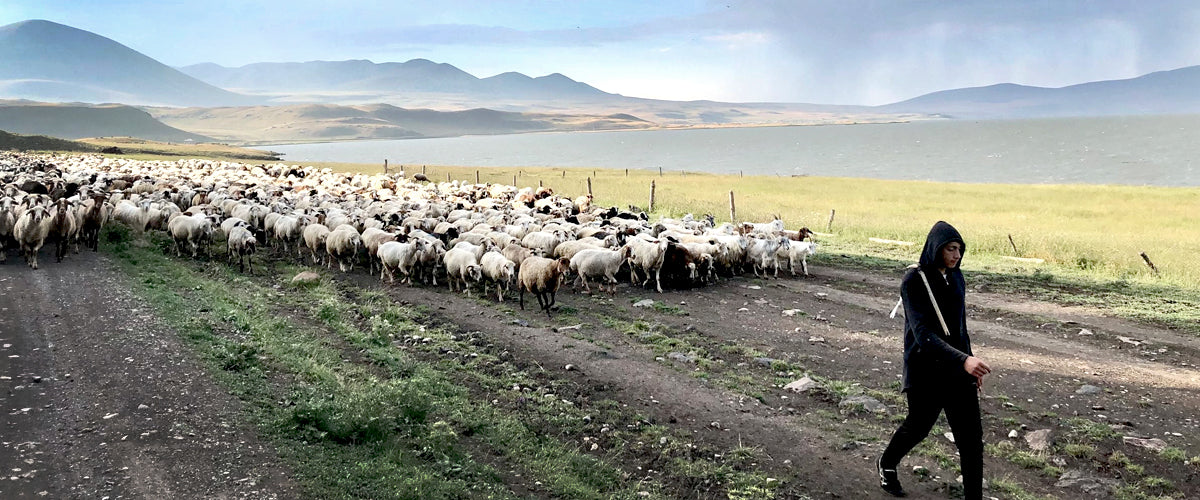 Sturgeon Odyssey - the middly bit
Following on from the start of his journey, Matt gets stuck into the next stage of his sturgeon odyssey.
"Intentionally or not we carve out so little time to just think in; and yet boredom can be such a powerful thing. Imagine if Newton was checking out his love interest on Instagram when the apple fell, what then? I used to call the first cycle session of the day the 'ideas generator', no music, no podcasts just eyes and ears wide open to the world around me."
I had just departed Kars, a city in Eastern Turkey and where I had just experienced my first whiff of the ancient Silk Road. I would be zigzagging and intersecting it from here intermittently for the next four months. Before that I needed to cross into Georgia, the land of milk and honey. Famed for its beauty and adventure, golden fleeces and a place where myths abound in a greater number than government pledges to the NHS. More personally, it was the place where the nexus between life and a career met, a moment of clarity whereby I decided to dedicate my life to fight for nature, with the charismatic sturgeon being emblematic of this fight.
However, the journey getting into Georgia was about as opposite to milk and honey as you can get. Think landslides, sleeping rough on beaches surrounded by stray dogs and rain so strong it was genuinely blurring my vision along the only artery connecting Turkey to Georgia. Once in, the nation did not disappoint.
The main river in western Georgia is the Rioni and with the reputation of the expedition (and my smell) growing I was invited by Fauna and Flora International (FFI) to join a dawn anti-poaching patrol. The usual suspects of sturgeon decline that were present in Europe were magnified here. Dams were but in even more sensitive locations, poachers upgrading from hooked lines to stunning devices powered by car batteries. Several species of sturgeon were already locally extinct, such as the European sturgeon I saw in Bordeaux and most likely the beluga, the juvenile of which I held in Romania. However, where there is life, there is hope as they say and the presence of juveniles found before my arrival, coupled with the hard work of FFI left me inspired both of the challenge ahead and the sheer tenacity of the sturgeon still present. Against all the odds they remain.
Speaking of against the odds, the mountains here had grown from my last brush with steep slopes and I was 'thrilled' to be making regular ascents under the baking sun. The peaks in this part of the world separate not only nations, but distinct local cultures too.
One such memorable climb was the Zekari pass, which lays about 2200m above sea level where upon after summiting I began to feel something I had not yet encountered this trip….sickness (the physical nauseous variety this time). Was it overexertion (I had done this pass extremely hungover), the three-day old 'fizzy' Dahl I ate for dinner the night before, my water filter finally beginning to show signs of wear after near constant use for two months? Who knows. What it did add though was a new dimension to the trip ahead. Not only was I taking in the beautiful landscapes, but like an eagle keenly scouting for its next prey, I was now looking for any shrub or divert in this steppe-like landscape where I could 'hide', if only for a minute (most likely less).
The next town I pass into locals with gold capped teeth grinned as I pointed in the direction I wanted to travel, and recommended I rest for the evening and failing that to have a cha cha (moonshine) with them before I depart. I decline the former and accept the latter, hoping the sheer alcohol percentage might kill the bug I had picked up….which only hastened a need to 'check out' a bush on the outskirts of town.
A key concept of the whole trip was the mindset that comfortability is the enemy of growth, and that without pushing oneself to their limits, how do you truly know what you're capable of? For the first time in the trip, I could confidently state I was extremely uncomfortable: damaged tent, rain, sores, sickness and yet somehow I was absolutely loving it! I am a firm believer that everyone is capable of much more than they think, possessing the ability to perform incredible feats of endurance or creativity, if only we let ourselves be pushed.
As with all things, the sickness stopped but my growth along this odyssey did not, and with a smile on my face I traversed across Armenia, a land abounding with hospitality and false summits. From peaches handed over orchard fences, sharing smoked fish with fishermen both whilst sheltering from storms to a whole lunch given to me when I said I was cashless. Armenia truly played the role of a host... and me as the parasite. Pay back.
I had never seen anywhere like it, yet alone cycled through it. As someone who only eight months ago didn't even like cycling I had to give myself a slight nod of respect but also reminded myself that amateur hour could not occur here.  
The Kyzylkum desert, the space on the map I knew least about and most feared when planning the trip. I had a vague expectation of what my new home for the next nine days would be like; a great odyssey of heat, sand and chafe, but I only knew it's vague outline with the reality becoming more pronounced with each day spent there. Starting in Aktau, Kazakhstan and finishing in Nukus, Uzbekistan there is approximately 1000km of the Kyzylkum desert to pass.
Kindness will carry you: another lunch handed over.
I could write a book about my time in the desert(s) but I'll spare you all from letting your coffee go cold. What I found there was the essence of solace in solitude, a place I realised that the more I tried to fight the worse condition my body fared. Giving yourself up to the desert is a daunting experience but knowing you are on the main artery connecting two great nations means you are probably only ever four hours from a truck passing you by. Indeed, spurred on by giving myself up to the desert I adopted what most people would call insanity and others solid strategy. I played the Kazakh roulette.
This is basically a roulette for supplies from passing trucks. A risky routine at the best of times, doubly so during Covid where there was reduced traffic and the fact the neighbouring province in Uzbekistan was under severe civil unrest and the border was actually closed whilst I was unknowingly cycling towards it. I always tried to maintain adequate water and some dried food but the rush of flagging down approaching trucks to be handed over anything from stale bread, backwashed bottles of water to ice cold Pepsi's was too big a thrill to pass up.
Continue on through the final stages of Matt's journey...