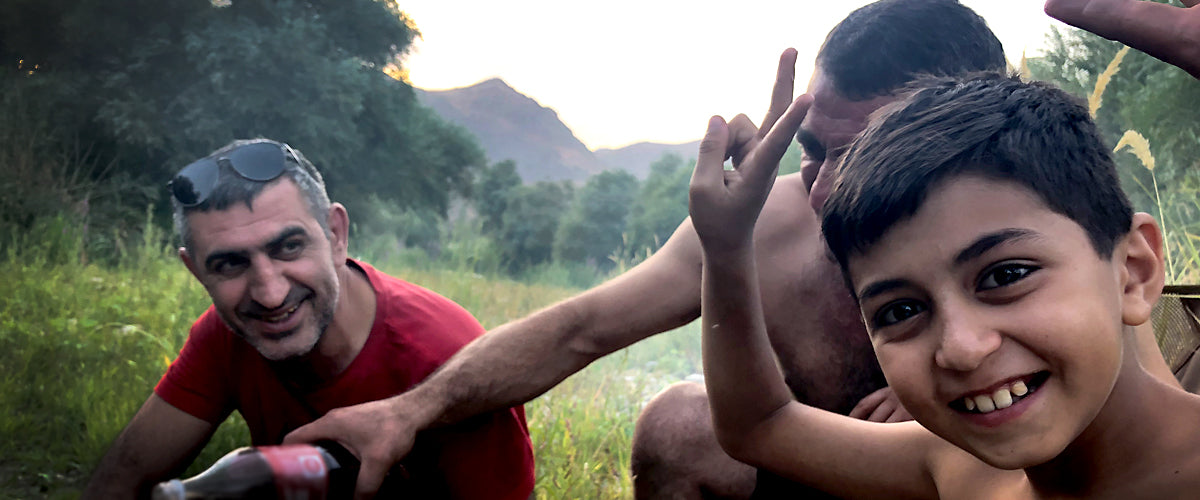 Sturgeon Odyssey - Finale
You can only hold onto memories, those fleeting moments of time, knowing that - like the prized photo you leave on the wall - it will slowly bleach and fade with time. Treasure your time on earth; but far more importantly, treasure where your time takes you and the people that make that time a memory.
If you've missed the last part, catch up on Matt's travels up till now... or continue on. 
The indescribable beauty of the desert was matched by the sheer disappointment that is the first settlement out of it… Nukus. I've never much appreciated town planning before, but when you have a slaughterhouse, next to a school, next to a vacant bit of land before coming to a huge municipal building you start to get a bit disorientated. When life gives you lemons, make lemonade; when you find yourself alone in Nukus, start planning your exit strategy.

Ahead lay the Silk Road cities of Khiva (favourite), Bukhara (alright) and Samarkand (too manicured), as well as some of the finest camping sites of the entire trip. Following the Amur Darya I noted in my diary that 'where there is water in Uzbekistan, there are scenes that would rival the Eden we all once inhabited', and even after the dust has settled this remains true. It was along this river that only 70 years ago you had sturgeon in huge densities, the Caspian tiger roaming its banks and the river's terminus into the Aral Sea… how times change although the lack of tigers did make camping a more peaceful process.

If the scenery of Uzbekistan was stunning, it was matched by the hospitality of its people to the point where I was beginning to feel like I might never leave the country due to extended meals here, a night with a family there. Like Armenia, I was constantly finding myself being given food, cold cokes and an insistence to stay with a family around every corner. I might forget the town planning in a hurry, but the spirit of the people will live long with me.

Something I feel most privileged to have experienced has been witnessing the incremental, sometimes huge, shifting mosaic of cultures and faces; reminding me daily of the beauty in humankind. I would guesstimate that of the thousands of people I encountered only three stick out as being anything less than decent.
Uzbekistan blurred into Tajikistan, but what was markedly different apart from the immediate culture change was the roads; which were now going distinctly upwards. True exhaustion, cold nights with inadequate gear (my jungle sleeping bag had got me so far) and jellied legs were a daily, but what was different was a part of the world unlike anywhere else on earth I'd been. I cannot begin to describe such intangibles of beauty but suffice to say physical exhaustion from the bike was far outweighed by the spectacle that was being processed by the brain.

The joys couldn't last forever and pulling into a small lay-by to camp for the night I was interrogated by a local police officer who informed me of the border skirmishes with Kyrgyzstan that had just broken out and that the nexus point where Uzbekistan, Tajikistan and Kyrgyzstan all meet would likely become impassable.

Three days later I arrive in Khujand and I wanted to find as much information about crossing into Uzbekistan as possible. I spent two days there walking to every police station in town, giving 50/50 results. The border to Uzbekistan was open but the road (which had been shelled) was not, or vice versa. On the verge of giving up I pass a nondescript looking building behind a lot of barbwire, guarded by men in camouflage, strangely in arctic blue - not sure what they are going to be hiding from – which I decide to investigate.

Enter the day's (trip's) saviour, a man in an oversized pinstripe suit that you could tell had some serious sway here. Deep in conversation with other serious looking men in uniform, I did the honourable British thing and interjected their chat, demanding my issue was greater than whatever they were talking about (it's a terrible trait). At first the guy in the suit did not know what to make of me, but a bit of google translate and some pictures of the expedition later he insinuated I wait where I was. Mafioso style, a series of calls began, a bit of barking down the phone, and 20 minutes later I was told a crossing tomorrow would definitely be possible for a British passport holder. Green light, we were on and I dashed back to the hostel I was in to make sure I was ready to leave at first light.
Leaving Tajikistan was probably the biggest gamble I had made on the expedition so far. I was honestly not worried about my health or the authorities on the anticipated journey, more with my legs still in a shattered state I couldn't face a 100km effort to then find I have to detour a further 500km to reach the Fergana Valley, my last destination for sturgeon.

After a few hours on a highway of silence I was relieved to find the border open to Uzbekistan, with officers there extremely impressed at my appearance (or surprised at my stupidity, either way it involved a lot of selfies). Crossing back into Uzbekistan marked a formal beginning of the end for the expedition. I would be cycling on to the Syr Darya, the last of the great rivers that have marked the progress of this expedition; and in a weird way of myself. Each river I ventured to had represented a great chapter for me: a changing of cultures, new joys and challenges and an ever increasing freedom. The Syr Darya would culminate all I had learnt with all of my promises to myself from the outset.

I awoke next morning to the call of prayer echoing through the valley - one of life's great sounds if you ask me - with the tent cold and damp. During my first night back in Uzbekistan dew had called in the night, with the freshness of the morning and my wet gear reminding me more of weekends spent camping in the New Forest and not of those in Uzbekistan. A calling card from home, one sadly I could not return to sender.
Hemmed in by the mountains of Tajikistan and Kyrgyzstan, the Fergana Valley is a low laying, verdant valley and running through the middle of this huge valley is the Syr Darya river, home to the lost (presumed extinct) Syr Darya shovelnose sturgeon, another victim lost to neglect of our freshwater ecosystems. Death by 1000 cuts of dams, pesticide and pollutants running into the river and the old classic, illegal fishing.

My time spent searching for it is a book in itself, but sadly it still remains hidden (although I am hopeful it is still clinging on somewhere). The disappointment of not finding the needle in a very big haystack was matched by my feeling of disbelief that my course was to change from east to westwards for the first time in over 8000km. No longer chasing the sunrise but following the long descent of dusk; a setting of the sun as opposed to the new dawn of day. The road to Tashkent and my final destination was stunning, exhausting and numbing.
It's at this point where I struggle to conclude a trip of such growth and indescribable moments of living into text for a screen to be read. The itch that long awaited scratching was done, but scratch beneath the surface as they say and a new world can be opened up to you. I returned content in myself and what has been achieved; the expedition gave me so much and took a fair piece in return. Both it and I will digest our spoils for a long while to come.

The future for sturgeon remains bleak. With climate change rearing its ugly head ever more by the day, the stressors on sturgeon will only grip tighter and for some species, and populations, their future genuinely hangs on the hopes of those fighting to protect them.
Now is the time for us all to champion a species or wild place. The opportunity to sit on the fence has sadly now passed and we must all roll up our sleeves and join the fight. Be inspired by what is around us in the everyday, and where you can do your part. Be it volunteering with your local charity, to digging a small pond in a garden (if you are fortunate enough to have one).
It goes without saying that kindness carried me through this trip, from the very first email I sent to Col at the Alpkit Foundation who jumped at the idea of this pipedream, to the many hundreds of strangers who housed, fed and welcomed me in as family. I tried my best to live up to the Alpkit motto 'go nice places, do good things', the former in plenty, the latter my small waves far out done by all those I met along the way.
I would be lying if I said I wasn't gutted when I returned, but those feelings are far outweighed by the immense privilege I feel to have seen and experienced so much. What started as a pinprick in lockdown grew into the adventure of a lifetime. Eagerly supported by the amazing people at Alpkit the pinprick blossomed into a fruit-bearing tree, with its seeds since falling to lay dormant in various parts of my brain. Awaiting a time, moment and adequate condition to germinate again.
Nothing in life is free as they say, so why should an expedition be any different. An expedition of a lifetime has an inherently selfish aspect to it (heightened when doing it solo), with a price to be paid on your every decision. Time away from loved ones is like carrying an interest in debt, with the more time spent away creating a greater cost.

Of all the things I missed, it is the moments of loss that have been my biggest cost. Plans to see those now sadly no longer with us, regale them with the adventures from this expedition will sadly never materialise. Gone, no reschedule nor any rain check. These are costs that I will carry with me, debts that will not be repaid, at least in the current circuit of life I am on.

I have loved spending my time on the road, and conversely now look forward to paying back my debts. I can only advise others to take a moment with themselves to think what debts they want to rack up, with whom and where and begin the plan to spend.

Finished reading? Good. Now message someone, tell them a nice thing or arrange to meet in the pub. Or, if you fancy some time on your ones, put on your shoes, go outside and walk. Breathe it all in and appreciate it all for what it is. It doesn't need to be the world's greatest moment but you can still make the smallest things become something much bigger, into something that will burn long in the memory.
We were delighted to add a little support from the Alpkit Foundation to Matt's quest. If you want to delve deeper into his travels check out Matt's blog. Or find more about Sturgeon on the brink.