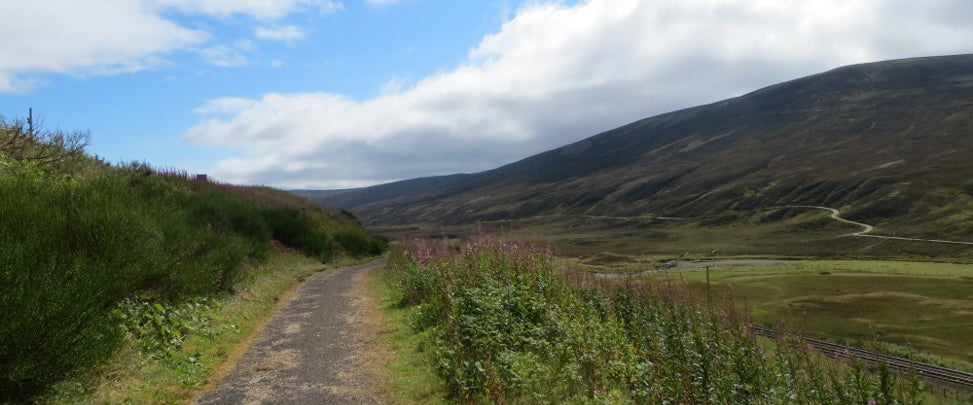 The Essence of Adventure | Moments of Kindness
We asked our customers to share with us their moments of kindness in the outdoors. Here's one from Matt who ended up staying mid-cycle tour in a stranger's attic.
Do you ever get one of those ideas that just bubbles up from nowhere, and before you realise it, you're halfway through doing whatever it is, thinking perhaps you've bitten off more than you can chew? Well, it's happened to me more than a few times. Perhaps that's just the essence of adventure? I'm not sure I can do this; I might die; but, stuff it. I'll have a bash anyway! It was just this kind of half-baked, thought-bubble that resulted in me stepping off a train in Thurso, on the North coast of Scotland in September 2014. I'd recently read about Vin Cox setting a record for riding around the world in 2010, and, almost subconsciously, decided I should try cycle touring.
Apart from a 2-day ride along the Leeds-Liverpool canal, I was a total newbie. Average fitness, no support team, a nearly new bike and panniers stuffed full of far too much kit. I'd mapped out a 550 mile route on Google to get me home to Leeds. How hard could it be to join up those little waypoints on the map? Reservations were gnawing at me all the way up on the train, but as it left me in the station, any questions about whether I should ride home quickly evaporated. The question of whether I could, taunted me to just have a go.
My route took me via John O'Groats, Inverness, Dalwhinnie, Perth, Edinburgh, Hawick, Carlisle and Hawes. I'd planned to stay in hostels and BnBs where I could, but also had a bivvy bag with me. It came in handy for a couple of "character building" nights where I slept in the slug infested remains of an old Scottish round tower, North of Inverness, and a patch of Blair Witch-esque woodland outside Hawick. In retrospect, these camping spots weren't too shabby, but given my limited experience at the time, I was fully expecting to be eaten by cannibals. I survived both nights unscathed, but my inexperience now began to feast on me. The weight of my enormous panniers as well as several consecutive days of cycling too hard had taken its toll and by day 7, I was beginning to think my legs would never be the same again. So, on the penultimate day of my ride I pedalled into Hawes in North Yorkshire feeling exhausted. My body was wrecked and I was desperate for a bed so I could rest properly.
I hadn't appreciated just how busy Hawes would be. After discovering that the hostel, hotels, BnBs, and camp site were all booked up, I was eventually pointed at Simonstone Hall Hotel over the other side of the valley, so, off I pedalled, painfully and pessimistically, to see if they'd let me in. I leaned my trusty Genesis against a wall, almost wishing someone would steal it so I wouldn't have to ride any further, and waddled in to the foyer. The receptionist didn't seem to think there was room for me, which I interpreted as, "there isn't room for scruffy cyclists in an establishment like this." Dejected, I shuffled back outside to find somewhere to put my bivvy bag, on what promised to be a damp, cool night. And then, a voice piped up…
"Hulloh. That's a lot of stuff on your bike. Where have you come from?" I've since learned that this happens quite a lot when cycle touring. I wheeled around on my cleats and started chatting to a chap called Jules, who was busy celebrating some milestone birthday with his family on the large patio behind the hotel. I explained how I was riding home from the top of Scotland on my first bike tour and how the pain in my Achilles tendons was persuading me that holidays by the pool were the way forwards. By now, a few other party goers had pottered over and were listening in, just as I mentioned that I couldn't find anywhere to sleep. At this news, someone, apparently emboldened by several glasses of prosecco, said, "Well that's no good. You can sleep in our attic!" I responded with the default, British "Oh no, I couldn't possibly..." but they insisted, and my aching muscles wouldn't let me argue. They gave me directions for the house they were staying in and said I could meet them there at 10.30.
I coasted down to the village, had some food and a pint or two to kill the time, and waited patiently for the clock to do its thing. When the time came, I knocked on their door and was met by some man I'd never seen before who blustered, "Who are you? What do you want?" For a about 60 terrible seconds as I tried to explain, I wondered if I had the wrong house and imagined having to find somewhere to sleep in the dark. Fortunately, Jules appeared, rebuked the "bouncer" and ushered me inside. This amazing family then welcomed me into their kitchen, and despite the odour of 6 hours of cycling adventure that still clung to me, put a glass of wine in my had and absorbed me into their party as though I'd been there all night.
Several hours later, I flopped down on to a comfortable mattress in their attic and after a few moments pondering the potential folly of allowing myself to be locked in a house with a family of complete strangers, drifted off to deep sleep, grateful to whoever it was who invented prosecco.