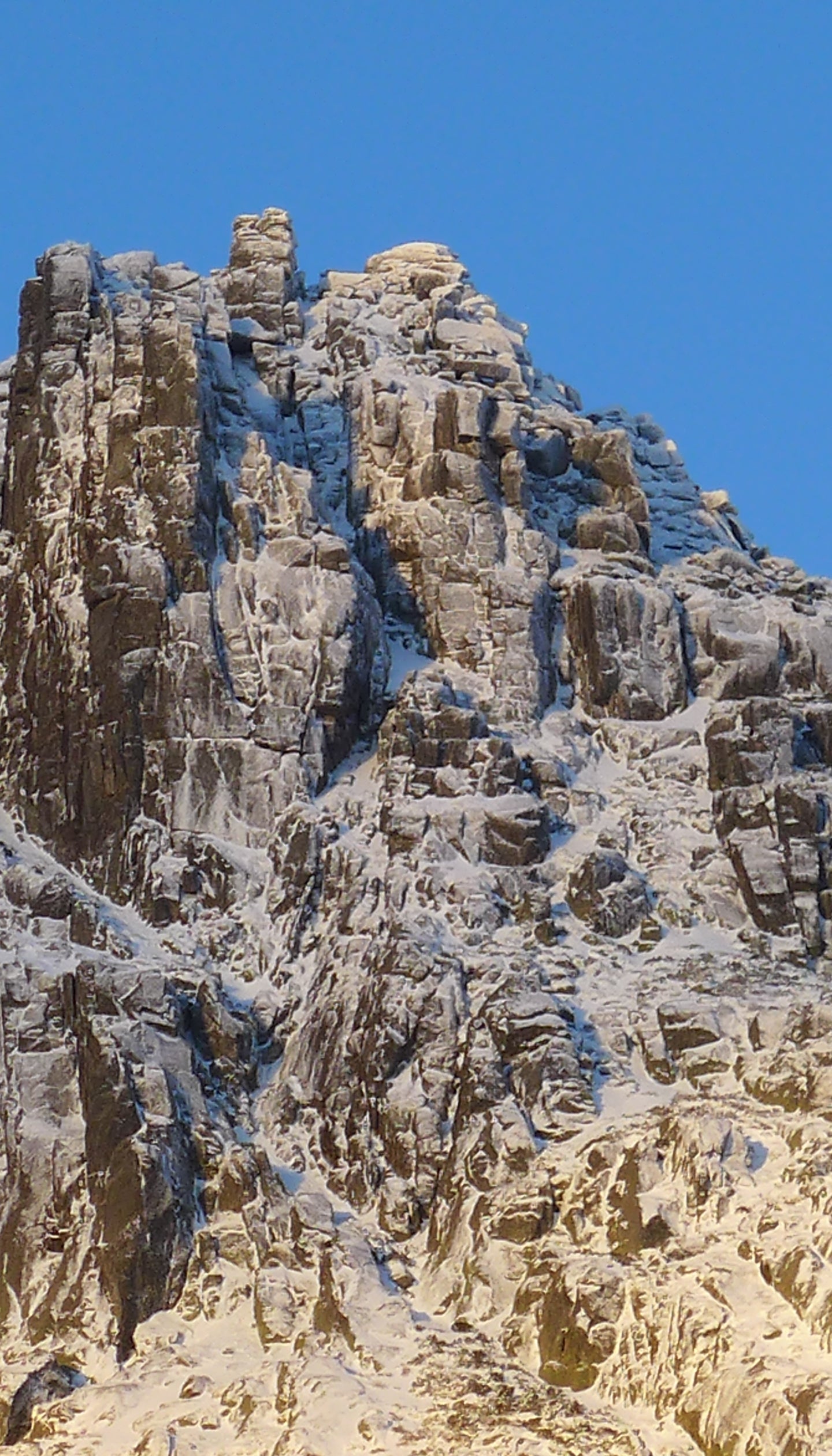 The 'Unrepeatable' | Ice Climbing in the Serra da Estrela
Story written by our Alpkiteers Daniela Teixeira and Paulo Roxo
Unlike last year, this year we do have winter in Serra da Estrela. The East Face of "Cântaro Magro" with its 500m face is rarely is in "climbable" conditions.
But after a sequence of a few very cold days with a little snow, it looked like the perfect conditions to us! We were anticipating that the snow cover would not be in perfect conditions, but its white cover was still inviting.
So, on the 2nd January, after waking up early, we started our climb at about 8am. The aim would be a route left uncompleted a couple of years ago. At the time, a huge frozen bush got on our way and, as strange as it may seem, it did not let us pass. Instead, we sank into its branches covered in powder snow: no place for protection, too much exposition.
This time we passed the bush quite easily. On its right side, an almost vertical slab of granite was covered with a layer of…almost consolidated 'verglass'. Still, it was consolidated enough to withstand our weight and we overcame it by being as soft and gentle as we could.
We thought the main difficulty was behind us when we both got to the belay... we could not be more wrong. The hardest pitches came right after it: involving pure slow, aid, mixed climbing pleasures.
The days passed, and I sit to write again, on 19th January, after 8 more days of ice/mixed climbing. Full days of joy, perfectly cold weather, awesome routes. Now, how do I go on writing this....
…The "slow" made the hours go by and, when we were still about 200m below the summit, the sunset came. Anyway, we shouldn't take too long to find an easy way up... or so we thought!
We decided to go around to the west face following an easy snow path only to find out that the snow/ice conditions, made the following section of scrambling (normally a very easy summer climb), a lot harder - especially by the end of the afternoon.
At these moments, one just has to accept to have a late dinner! We zigged and we zagged until we headed for a small couloir that lead to the summit. Finally, this time, we made it to the top! It was pitch dark, 20:30 when we rappelled down and got to the road. Tired, but with THAT smile on our faces.
We just had a one and a half hour hike to go down to the car and our late dinner, after 220m of a new M6+/A1 route (not counting the 300m extra, we had to climb to reach the top). What a well-deserved dinner!
"Do you think someone will try this route again?" asks Daniela.
"Hummm," says Paolo. "It will be hard to find it in climbable conditions; I guess it will be unrepeatable!"
And so, we named the route - Unrepeatable.
But that climb got us hooked to that east face, and the cold days to come would take us there again… but that's another story!
Gear used