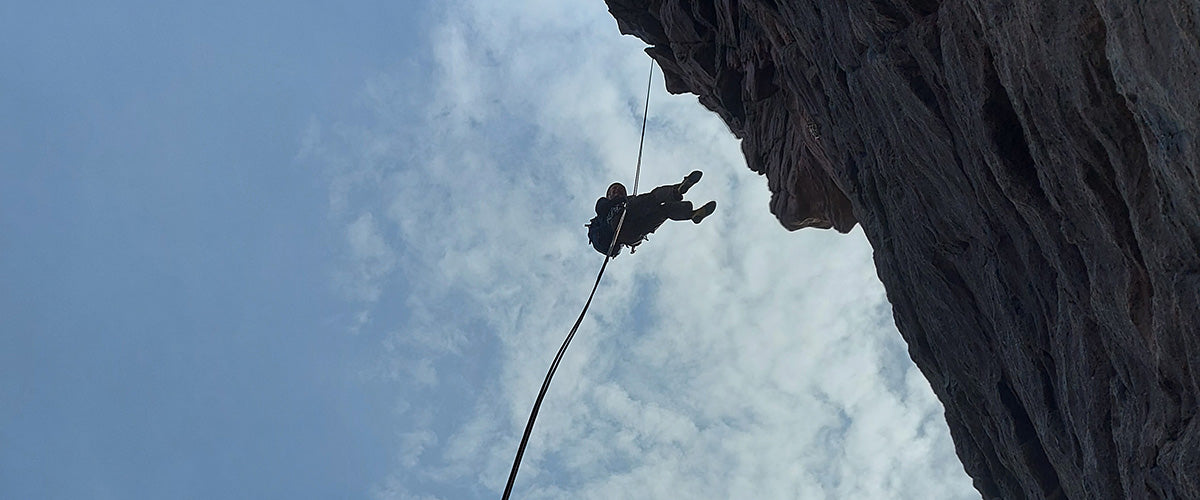 Rope Soloing The Old Man of Stoer
My favourite thing about climbing has always been the friendships, bonds and memories that form through extraordinary shared experiences. Climbing adventures often bring a rollercoaster of intense feelings ranging from fear and discomfort to total elation and joy, and it feels special to share those emotions with others; a memory to look back on that is unique and special, which no one else could fully understand.
And so it was highly paradoxical that last year I began to obsess about the very loneliest form of climbing - rope-soloing! For those uninitiated, rope-soloing involves climbing on your own, but using a rope to keep yourself safe. It is a complicated technique involving self-belaying and going down-and-up the rope to retrieve gear after every pitch. I first heard of rope soloing from my good friend, the late Tom Ballard, who was an absolute master of the process. He spent many years climbing largely alone, culminating in the mindblowing feat of rope-soloing the 6 North Faces of the Alps in a single winter season.
Usually when you climb as a pair, something productive is always happening. You each get natural rests throughout the day but you are always progressing up the route. I remember Tom said about rope-soloing, "when you stop, nothing happens". Something about the intensity of that absolutely fascinated me. I was captivated by the idea of having  a massive adventure completely alone, depending entirely on myself.
I worked out my rope systems at a local sport crag and then contemplated my first objective. I decided that the Old Man of Stoer would be perfect; a four pitch seastack in the remote North West of Scotland, complete with a sea-swim approach! I love sea stacks; standing on top of a rugged rocky tower erupting from the ocean feels like such a simple and pure objective.
I got up at 3am one crisp October morning, and drove several hours north. Rushes of adrenaline were prematurely activated by multiple emergency stops for deer on the road; they were out in force! Walking along the cliff-tops at sunrise felt utterly surreal. The feeling of approaching a climb alone was unsettling and exciting in equal measures - and my solo rucksack was notably much heavier, weighing in at 21kg! I scrambled down to the sea, eyeing up the fifteen meter channel that lay between me and the stack. Since I was alone, there was no point in setting up a "tyrolean" rope to cross over. Instead, I packed my kit into drybags, took a deep breath, and jumped into the sea!
I had never swam with drybags before, and was admittedly quite nervous. Fortunately, the surprising buoyancy of my heavily loaded sacks belied my fear that we would plummet to the depths of the ocean! Choppy waves and barnacle covered rocks hampered the transition from weightless to heavy as I struggled to chuck my bags ashore, scrambling out the other side. Finally, I found myself safely deposited at the start of the route. Game on!
Looking up at the stack towering above, I genuinely felt nothing but pure, calm, excitement. The climb went remarkably smoothly and was truly a joyful experience throughout! Both crux sections were soaking wet, which added greatly to the intensity. There was a fine balance to strike between giving myself enough slack rope to move freely, versus increasing the potential fall. There are difficult moves entering the final chimney which felt challenging on greasy rock. I think it is remarkable how sharply focussed we can become whilst lead climbing. I managed the moves first time and without stress, but when I abseiled back down to strip the belay and re-ascend the rope with the comfort of a toprope and micro-traxion, I hugely struggled to get off the ledge!
Whilst I had been climbing, another pair of climbers had arrived to climb a different route on the other side of the stack. I was embarrassingly interrupted from my celebratory summit selfie, by a cheery greeting from the two Tims who had also just reached the top! It was a stark contrast from the lonely, shaded, damp climb, to suddenly be stood on top in the sunshine and good company! This is often the case with climbing; the transitions between different emotional states happens alarmingly quickly. The gripping fear of a hard pitch is immediately relieved upon mantling a ledge; less than a minute might separate two moments where you are questioning your mortality then tucking into a sandwich without a care in the world.
The guys had set up a tyrolean when they arrived, so I gratefully took advantage of a dry return to the mainland! However, that second swim was not foregone, it was merely postponed, because the turquoise waters at Clachtoll beach proved irresistible on the drive home.
Rope-soloing is very uncommon and people tend to automatically perceive it as being very dangerous. But like most things in climbing, you have considerable control over the level of risk you expose yourself to, and by using additional backups I felt that I was able to climb within my risk appetite. Indeed, I have guided Stoer several times, sometimes being belayed by novice climbers - which probably carries more objective risk! Yet that seems "normal" and rope soloing does not. We tend to normalise and accept common risks, the most obvious example being driving - hurtling within meters of other metal boxes with very little room for error! When I look back, I genuinely believe that the most dangerous part of that day was driving to Stoer, with all the emergency stops for deer.
Climbing is the basis for so much purpose and happiness in my life. It takes me to incredible places, and generates rich experiences which help me to understand the fickleness and peculiarities of our emotions. It leads to friendships and connections that hold a special value through powerful shared experiences. Rope-soloing challenged me in a whole new way, to experience those big emotions entirely alone, keeping silent and sharing it with no one. Making decisions for myself alone, and creating memories that I will never get to properly share with anyone. (Well, until I wrote a blog post!) I think that Tom would have been proud of my efforts, and it has definitely ignited a taste for more!