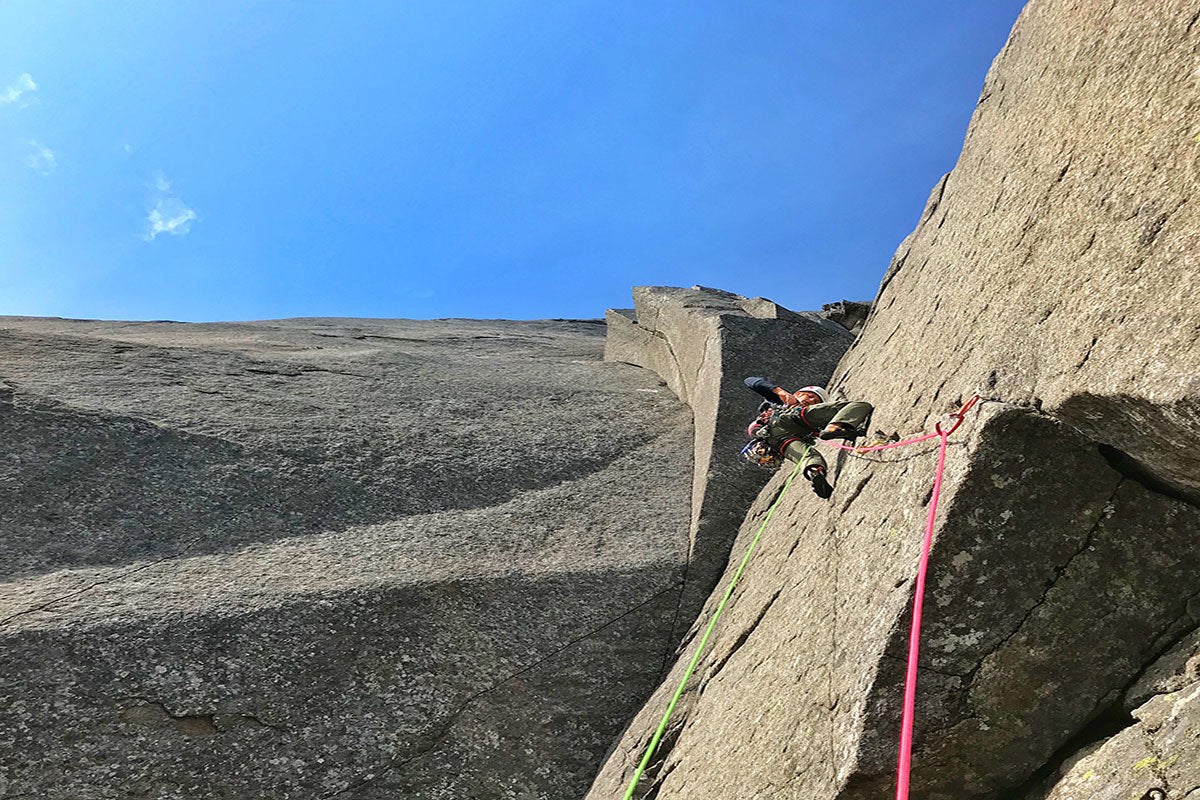 A bloody long way North
Driving from the South of Norway to the North of Norway is like driving from the south of Norway to Italy, it's a bloody long way.
Anyway, we decided driving north would make a good road trip.Marihad never been as far North as our final destination, and I was keen to witness this whole midnight sun shenanigans; firstly it would be impossible to get benighted, secondly we could do 24 hour climbing comfortably and finally we didn't have to take head torches, meaning we could go even faster and lighter…because really I don't want to do 24 hour climbing at all. I want to do the content of 24 hour days in a few hours and get off the mountain as quickly as possible, so I can go and sit in comfort eating salty liquorice. Oh yes, I'm into that bizarre concept now. It's actually better than normal sweeties. I totally wrote it of at the beginning, however now my Familie Pose is full of black salty goodness. Sweet and salty, addictive isn't it, the Norwegians have got that one right. Or did the concept originally come from Sweden…am I opening a can of worms with that one?
Anyway first stop was Romsdalen. Famous for Trollveggen (Troll Wall). Which is famous for falling down.
As soon as we drove into Romsdalen I could tell the walls were choss and could see why there is extensive rock fall in the area. It's not like there is just rockfall on the Troll Wall, I could see rock scars all over the valley on almost every wall.
Even though it's choss, the walls are big, steep, imposing and impressive which I guess is why people still go there to climb; it's quality choss. I knew this wasn't a place to take lightly and treading with care was going to be must, or in Mari's words 'like a cat', so the mountain never notices you. I was of course extremely keen to give Troll Wall a go, however, we couldn't quite put our finger on what the conditions were like on the wall. We weren't 100%, more like 60%. And 60% is way too low to be questing up a wall like that, so we bailed on that one from the car park. Bailing can sometimes be a bit epic, but this is one of the easiest i've ever done; I made 5 paces back to the car, sat back in the passenger seat and shut the door. I briefly considered getting the rope and prussiks out to ab back to the car, then realised it wasn't exactly necessary.
After bailing on Trollveggen, we opted for an ultra classic 24 pitch route on the other side of the valley, which i've forgotten the name of but begins with 'M'. Anyway the name isn't important. What is important is that its classic and 24 pitches.
For some reason in my head 24 pitches didn't sound like very much, and as it was misty when we looked at the wall, I couldn't really see how big it was. So, after a leisurely start on the morning of the climb, and with the mist lifted, I was a little shocked to be reminded that 24 pitches = a reasonable sized wall with plenty of climbing, no matter what the grade. Crikey we better get a shift on!!
We simul-climbed up to about HVS and then pitched everything above that. All the time I was gratefully reminded what a good partnership and trust/knowledge in each others abilities myself and Mari had built up in the short space of time we'd climbed in the mountains together.
The climbing was smooth sailing to the top, and the descent was crap. 'follow the good well marked trail' was the description in the book. I mean, the book was kind of right…the trail was well marked when you were on it and it was decent enough to get down, however for anyone wanting to do the route, I think the description below should help you a little better... 'walk up and down the hillside with your GPS showing you are on the trail, but being bemused that you can't see any sign of a path, only very steep cliffs to your left. Randomly spot a bit of red tape in a bush to your right. follow red tape markers across broken ground which you wouldn't call a trail. Find a rubbish path and follow it to the road'
Romsdalen over, Lofoten next. We warmed up on a boulder thin hand crack, which surprisingly got the grade of F7C. I can't flash 7C, and I definitely can't warm up on it. Mari cruised it too. We came to the conclusion that we must be either total crushers, or that people had not not yet realised that jamming is in fact easy; Probably not the first thought, most likely the second. Feeling confident with our jamming ability we headed to Memory Crack. An 8a traversey, cracky, trad thingy (what else). It was memorable.
Our next little adventure was to go and climb Storpillan on Vågakallen. I think myself and Mari work well as a team on these bigger things. I'd say I'm more the positive 'we'll smash it out quickly, nay bother' type of person and Mari more the cautious, bring the pack, remember the knife, have we got enough water type. We balance each other out and tend to meet in the middle, which means we're pretty efficient, but still have enough equipment and supplies so we don't have a total epic. This time was no different and we settled on taking a pair of nail clippers as a knife…
Round 1 we got rained off on pitch 1 and 'enjoyed' a wet bush whack back to the car. Round 2 we couldn't have timed better and hit the perfect weather window. warm and great visibility all day, then as we descended, the mountain top got smothered in mist.
The descent came packed with further bush whack, shallow water soloing and beach boulder hopping.
Our walking time (in and out) came just in the realms of what I deem as acceptable; where the climbing time has to be over 50% of your car to car time. Again, our times didn't really match what the guidebook said, but maybe we're just quick climbers and crap bush navigators. But spending plenty of time, sketching about on slabs, bush in hand, means you can only get better at it. I feel I'm improving.
Northwards for another 6 hours we hit Tromsø. The goal here being Blåmennen. Round 1…in my usual fashion when we were walking to the crag I got distracted from the original goal, by a new route. After persuading Mari it would be a great idea to go and try it, we quested up 3 pitches, hit a wet streak and had to bail…sorry Mari.
Round 2, I was determined not to be distracted, stick to the plan and not ruin the day with another bail. A 9 pitch route, Atlantis, was on the cards. The majority is E4ish and the crux E6. I fully lost all faith in all guidebooks when the crux pitch turned out to be E5 and the E5 pitch turned out to be noticeably harder. Nevertheless I lead all pitches onsight, and jammed between plenty of moss and lichen (soft-grip outside).
I think after my Crack Climbing book has come out I might start to write a guidebook on how to bush whack successfully.
Solid couple of weeks, no complaining.