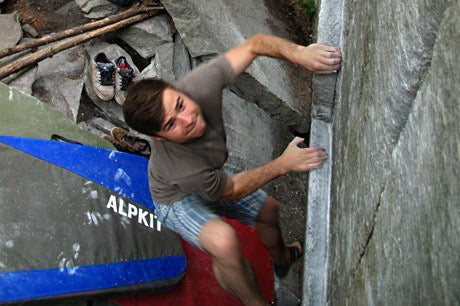 There is just over a week to go before Rock Over Climbing in Manchester put on their annual ROCfest bouldering event. I have not been before, but I have heard good things so I am looking forward it and hopefully a day outside in the Peak.
I am not going on my own, amongst the many categories is a team event and I have found some local mutants all happy to pull on an Alpkit team red tee. We have Gracie Martin and Billy Ridal, both junior team GB members, Tom Newman from the newly opened Nottingham climbing Depot and our very own pad maker extraordinaire Ben Meakin who has hit a streak of good form.
Despite Bens best efforts to get me on the rock I have been out in my canoe or on my bike enjoying the snow more than I have been climbing. It is a bit late to start training now, but I am also keen on getting involved and pulling on in a supportive role!
ROCfest 2013 takes place on the 2nd of February (that is a Saturday) at Rockover Climbing Centre. We will have a small Alpkit display at the event featuring our bouldering mats, and prizes for the comp so pop along if you want to have a touch and feel in the flesh.