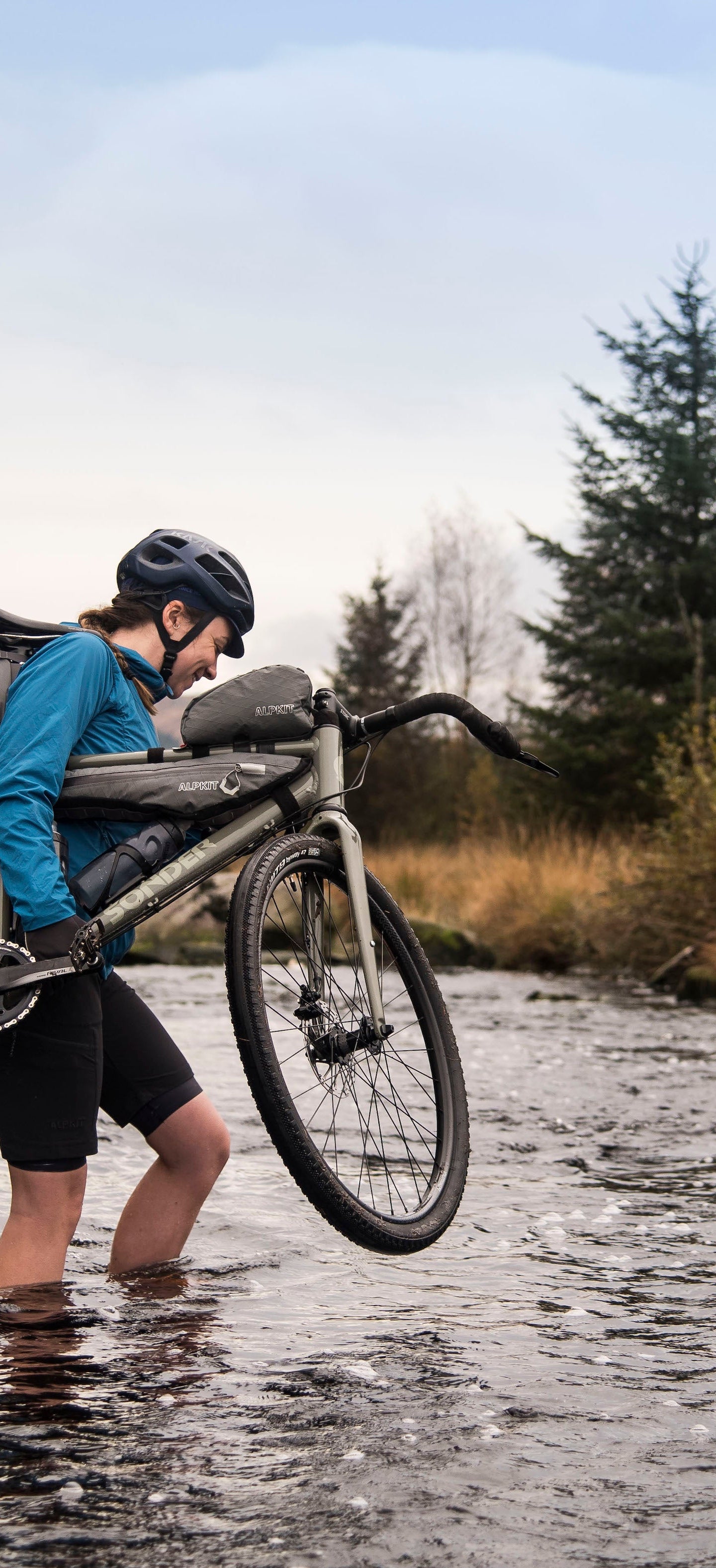 Bikepacking: the complete guide
Bikepacking is the act of riding your bike for more than one day with all the kit you need strapped to your bike. Well, that's the simple answer anyway. The answer with all the route-planning and rig-tinkering, excitement and adventure left out. In reality, there are as many different ways of going bikepacking as there are different types of bikepackers.
Everything you need to know about bikepacking
What is bikepacking?
Bikepacking is a combination of multi-day cycling and lightweight backpacking. Rather than using racks or carrying everything in a rucksack, your kit is strapped onto the bike itself, usually in multiple specifically-designed bikepacking bags.
Bikepacking has been around in various forms for almost as long as there have been bikes. But modern bikepacking evolved largely to meet the demands of cyclists wanting to ride for multiple days off-road without compromising how their bike handles too much. Have you ever asked yourself: "how can I make this ride last even longer?" Well, that's bikepacking.
Different ways to go bikepacking
Bikepacking can encompass everything from overnight bike bivvies, to multi-day off-road rides and serious expeditions across remote areas. Most bikepackers will use mountain bikes or gravel bikes (also known as adventure road bikes) to enable them to ride on a wide variety of terrains. But some bikepackers will strap bags to their road bikes for ultralight long-distance tours and audaxes. There's no wrong way to go bikepacking!
The length of trip, location, type of bike, route choice and speed at which you want to ride will all determine your own particular brand of bikepacking. And you'll probably spend every trip after that trying to maximise your experience.
What's the difference between bikepacking and cycle touring?
Cycle touring usually involves carrying a large amount of luggage in pannier bags which are attached to special racks bolted to your bike. Most cycle tourists use a specificcycle touring bike with attachments for racks above the front and back wheel. Because of the weight of the rack, bags and luggage, (and how this compromises your bike's handling), cycle tourists usually ride exclusively on roads.
Bikepacking, by contrast, involves taking minimalist camping kit (as little as possible) which is packed into bags that strap to your bike frame, bars, forks, seatpost – anywhere you can! The aim is to keep the bike as light and manoeuvrable as possible, usually with off-road riding in mind. It can be tricky choosing the right tent and kit to take, but anywhere you can save weight will lead to a better ride.
Some would argue that the differences between cycling touring and bikepacking are minimal – particularly when it comes to long-distance adventure cycling. The terms often get mixed up and used interchangeably for this reason.
The major difference seems to come down to ethos. Cycle tourists use their bikes as a means to travel and experience new places. Bikepackers want to get as much enjoyment from riding their bike over multiple days as possible.
What bikes are good for bikepacking?
You can put bikepacking bags on almost any bike and head out the door but some bikes are more suitable than others. Lightweight road bikes, for example, might not be the most suitable bike to take bikepacking as they aren't built for the rough and tumble that bikepacking can sometimes throw at you. They also don't have as wide tyre clearance as hardtail mountain bikes or gravel bikes.
Hardtail mountain bikes
Hardtail mountain bikes are often a great choice for bikepacking. They're particularly suited to routes that are off-road or go over rougher and tougher terrain. Hardtails have wide tyre clearance giving you plenty of grip but also increasing your comfort on the ride. Their sturdy frames mean they can take the punishment the route throws at them and also give plenty of attachment points for your bikepacking bags. Often they'll have front suspension too creating an even smoother ride meaning you can go further off the beaten track.
Gravel bikes
Gravel bikes are also a brilliant choice for bikepacking. They share a lot of the same features that make hardtail mountain bikes so suitable for this kind of adventure. They have slightly less tyre clearance but their frame geometry is more similar to a road bike making them perfect for bikepacking routes that feature a lot of tarmac. Flared handlebars add stability to the ride and give extra confidence when your route leaves the tarmac behind.
For more tips on how to choose the best bike for bikepacking you can read veteran bikepacker and Alpkiteer Pete McNeil's blog on how he chooses the bike he'll take with him.
What are bikepacking bags?
Bikepacking bags are where you store all your gear when you go on a bikepacking trip. They come in all shapes and sizes and attach to different places on your bike. Typically you'll carry your kit in a handlebar bag a saddle bag or saddle pack and a frame bag but there are other types of bikepacking bag too.
Luckily, we've written another blog about how to choose the best bikepacking bag for your next trip where we explain what the different types of bikepacking bag are, what you should pack in them and other things that'll help you choose the right bag.
Bikepacking with a backpack
We generally don't recommend bikepacking with a backpack (though we do have a range of cycling backpacks) as the whole point of bikepacking is that your bike carries your gear for you. Why lumber yourself with a backpack when you could carry that kit on your bike instead? Plus, if you've filled all your bikepacking bags with stuff and you still need to fill a backpack with even more then you've probably packed too much!
What kit do I need to go bikepacking?
The kit you need to take with you when bikepacking will vary from trip to trip but we always say you should pack as light as possible and only pack things that will be used every day of your trip. Anything else will only weigh you down, make the going slower and the bikepacker grumpier. Remember, you might be heading off-road and could have to push or even carry your bike at times. Every bit of redundant kit will feel like it weighs twice as much when you didn't really need to pack it.
How many litres of bikepacking capacity do I need?
The capacity of your bikepacking bags will depend on how much you need to pack. With our bikepacking bags you can carry anywhere up to 50-litres of capacity if you choose our biggest options. For most bikepacking trips you'll be carrying much less than this likely in the 25 to 40-litre range.
Essential bikepacking kit
There are some essentials you should definitely pack when going on a bikepacking trip:
Shelter
You'll be needing somewhere to stay each night so it's vital that you pack a shelter. The type of shelter you choose is up to you, but you need to make sure it's suitable for the weather conditions you'll be facing and the level of comfort you want at night. That could be a lightweight, 1-person tent like Soloist, a highly packable tent that's great for bikepacking like Aeronaut 1 or a bivvy bag for ultralight bikepacking trips.
Again, we've got you covered and we've written a blog on how to choose the best bikepacking tent.
For a comfier night's sleep you probably want to pack a sleeping mat too. We suggest an inflatable sleeping mat as they pack smaller and are more lightweight so you can save on space in your bikepacking bags.
Sleeping bag
Staying warm when out bikepacking is crucial: both while riding (if you're out in unpleasant or cold conditions) and at night. That's why you should pack a sleeping bag. A good 3-season sleeping bag should see you through most temperatures you're likely to encounter while bikepacking. Down or synthetic fill is up to you (they each have their own benefits) and we've got both options regardless of which way you choose.
Clothing
Again, the clothes you need to pack to go bikepacking will largely depend on the weather conditions you'll be riding through. As a minimum we suggest a complete spare set of clothes, a waterproof jacket and an insulated jacket.
Our top tip is to store each of these in separate dry bags inside your bikepacking bags so you know you've also got dry, clean clothes to change in to.
Food and water
Both of these are vital. You need to keep fuelled and hydrated while out bikepacking so make sure you carry enough of both or have the ability to refill your water bottles and buy more food on your trip as necessary.
If you're cooking food as you go you'll also want to pack a small, lightweight camping stove, a cooking pot to heat your food up in and some gas to get cooking with.
First aid and spares
You never know what might happen while out bikepacking so you need to make sure you're prepared. Packing a first aid kit is always sensible if you should happen to crash or become unwell.
Spares shouldn't be left at home either as something could go wrong with your bike far from civilisation. Carrying spares means you can get back on two wheels quickly and not face the prospect of carrying, walking and pushing your way out of the wilderness.
Always take a mobile phone with you and ensure it's got charge. Cash or a debit or credit card should also make its way into your kitlist.
Explore our bikepacking kit list which covers all the kit you'll need to take bikepacking.
How to choose the right bikepacking setup
Deciding on the type of bikepacking you want to do will make a big difference to the type of set-up – or 'rig' – you go for. There's a big difference between how you'd pack for a 20-mile school night bivvy, a long-distance bikepacking race and a cross-continental expedition. We all have our preferences but bikepacking set-ups generally fit into three broad categories.
Multi-day mountain bike trips
A close to home overnighter or a multi-day route covering hundreds of miles. Typically, you'll ride 25 to 50 miles a day, in a loop or as an A to B. The aim is to carry the minimum needed for the trip, whether out in the wilderness or with refuelling stops built into your route. The Sonder Frontier is well suited to this type of bikepacking with plenty of frame space and available with a rigid fork option.
Multi-day bikepacking events include:
Gravel, road and endurance races
This is the set-up for self-supported long-distance endurance races like the Transcontinental and the Tour Divide. New races are springing up every year, along with routes to challenge yourself in your own time. Innovative ultra lightweight set-ups means you can ride further faster, covering incredible distances. The Sonder Camino and Sonder Colibri make great bikes for gravel and endurance road racing respectively.
Endurance events include:
Bikepacking expeditions
Setting off and travelling the world by bike certainly captures our imaginations but you need an extensive set-up for riding long distances in remote areas. Although you would certainly pack more for extreme cold than for extreme heat. Every available inch of the bike is packed with kit, food and water. The Sonder Broken Road is race-proven bike for wilderness, racing and world travel.
Bikepacking expeditions include:
6 tips for bikepacking beginners
1. Ruthless packers are happy bikepackers
It's always tempting to squeeze some home comforts into a few extra bags. But bikepacking often involves energy-sapping off-road riding and you may even need to carry your bike over obstacles. All those little bits soon add up and the lighter your bike is, the more enjoyable the riding will be.
2. Eliminate redundant kit
Do you really need to carry a down jacket and a four-season sleeping bag? Or could you get away with a three-season sleeping bag and wear your jacket in bed? Can you use some items of clothes for multiple uses? Don't get too carried away though – spare lights and food might be essential!
3. Keep things handy
You're going to want to rummage in your bags for food, water, tools and cameras throughout the day. Try to choose a system that allows you to keep these items as handy as possible. Pack items you want to keep dry or won't use until the evening at the bottom.
4. Get the balance right
Try different configurations of weight and luggage distribution to see how it affects the handling and carrying of your bike. A good tip is to pack heavy items on your frame or as close to your bike's centre of gravity as possible.
5. Go for a test ride
If you're embarking on a long or challenging trip, it's always a good idea to test your set-up on a short overnighter first. This allows you to check that you've got everything you need and aren't carrying any unnecessary kit.
6. Carry spare straps, duct tape and cable ties
Riding over rough terrain can be hard on your bags, no matter how well made or tightly strapped down they are. We guarantee our UK Made bikepacking bags with a 25-year Alpine Bond but we'd still recommend taking some spare straps or tape just in case. You'd be kicking yourself if a bag fell off miles from civilisation with no way of re-attaching it!