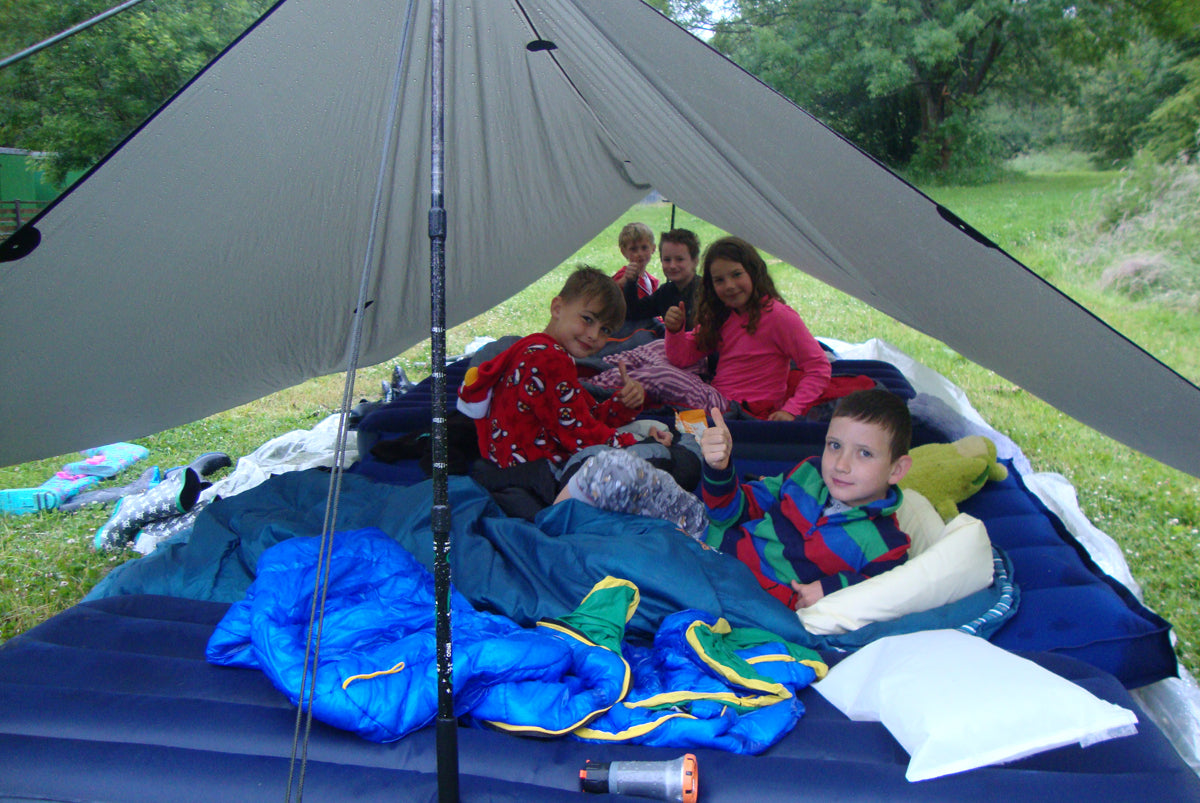 Last month we recieved an email from a primary school teacher.
"My class of 8-9 year olds have been doing a topic about adventurers and explorers. One person we have studied is Alastair Humphreys, who has been promoting "microadventures" – getting ordinary people into the outdoors for local, achievable adventuring. I'm taking my class for a "wild camp" on Friday-Sat 4-5th July, in some local woods in Scarborough, North Yorkshire, and want to offer some of them the chance to sleep out under the stars, weather permitting. This would be a real thrill for them, many of whom have never been camping before."
Well our Hunka bivvy bags are still a little way off coming back into stock, but we do have our tarps, so we armed them with one of our Rig 21's. In all honesty you don't really need any specialist equipment if the weather is kind to you. A mat, sleeping bag and simple common sense about the weather and limitations of the equipment you do have. Despite having the tarp, rain can obviously blow in the sides, especially when it's crowded!
So in this case they did have an exit strategy for the kids, should the weather turn particularly nasty. But oh no... it seems that no amount of rain was going to stop this lot from getting through the night.
Hats off to Mr Coombes for giving the kids this chance and letting them stick it out despite the weather! "It all survived and so did we, although we had an extremely wet night, with continuous rain from about midnight through to 9.00 a.m. I learned for next timenot to sleep right at the windward end, although I had little choice as we were quite full with no spare room! The tarp was excellent and the children loved the experience."
Well it's great to hear they all had a good time and goes to show you don't actually need that much stuff. After their night out they even took time to write about their experience. Extra gold star for Ben, taking the brunt of the weather and not batting an eyelid during what sounds like an epic night for him...
So really, plaudits don't get much better than this...
"I am writing to you to say thank you for lending us the tarp... when the girls turned on the light Isabelle woke up, she looked like a caterpillar, it was funny!" Amy
"I loved the tarp because I got to sleep under the stars and I got to hear an owl. I got to eat lots of sweets... I am giving you five stars."
"I loved the tarp it kept us dry all night... we woke up early in the morning before all the rest got up. If I had enough money I would buy one of my own." 5 stars!!!! Oliver
"I loved the tarp it was my first time sleeping outside... p.s I liked everything!" 5 out of 5.William
"I slept on the end so I got really wet. Half my pillow was soaked and when I rolled over to one side of the bed my head got soaked. My sleeping bag got wet with water. I slept on a flat blow up bed and when I got up I got an early hot chocolate to warm us up. p.s I loved it alot I got wet" 5/5Ben.