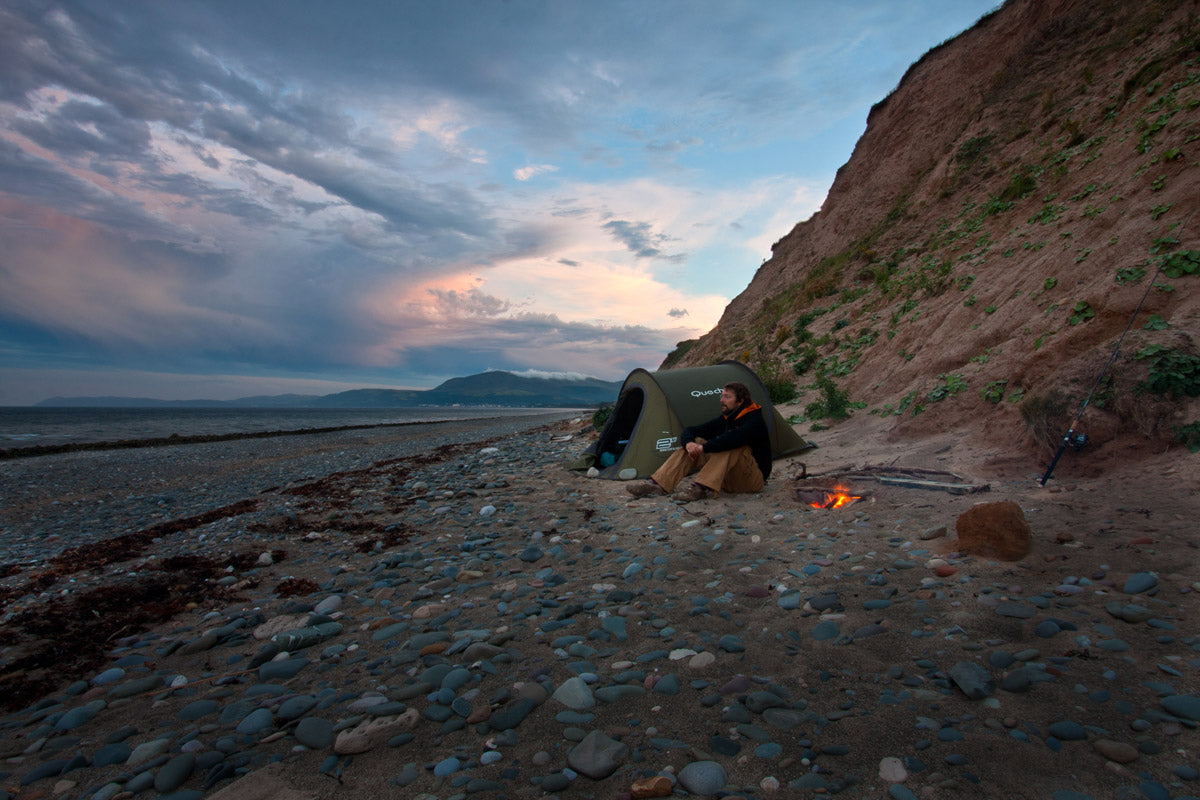 Recently my life was turned upside down when my wife passed away.... emotions have become complex and I sought solace in silence, or at least the sounds of nature. I needed solitude. I decided to grab my camping gear and head to the northern beaches of the Isle of Man.
I unloaded my car and loaded myself up with my backpack. Camping gear, fishing and photographic equipment hung from every limb. The 1 hour walk north on the soft shingle was hot, sweaty and draining. I found a nice looking spot at the bottom of the dunes looking back towards the nearest town a couple of miles back down the coast. The tide was tearing around a reef 30 yards off shore, an ideal spot to catch a bass or two. I threw my tent in to the air and it landed with a flop. Home for the next 24 hours. I rolled out Fat Airic and let him do his thing, 5 big breaths firmed him up and my bed for the night was ready. I then set to gathering drift wood for my campfire. Oyster catchers 'peeped' as a peregrine falcon screetched over head This is what I was looking for.
As darkness drew in the camp fire crackled and popped. I heated my fresh soup and dined alfresco.
I sat staring in to the fire until 10.30pm. The tide had risen it was time to fish for bass. I slipped my head torch on and worked my way along the water line in search of silver. Phosphoresence lit up the strands of weed that looped over my fishing line, the strengthening wind began to whip up the surface as I battled on agains the elements. Whilst at the water's edge I set the torch to red so it wouldn't dazzle any fish close in whilst I changed lures.
A few casts later and 'bang', the rod hooped over and my first bass of the evening shimmered under the red hue of the lamp. I unhooked the beautiful fish, took a photograph then released it back in to the sea. I returned to my tent, piling large stones around the base to hold it in place. I clambered in and made myself comfortable. The tent flapped loudly under the strengthening south westerly wind.... The gusts against the loose material of the throw up tent ensured me of a sleepless night, but at least I was relaxed and comfortable on my mat.
Just before sunrise I was lucky enough to catch another big beautiful bass, which once again was set free to swim another day.
Mark Boyd has reviewed a few pieces of gear for us in various fishing publications.