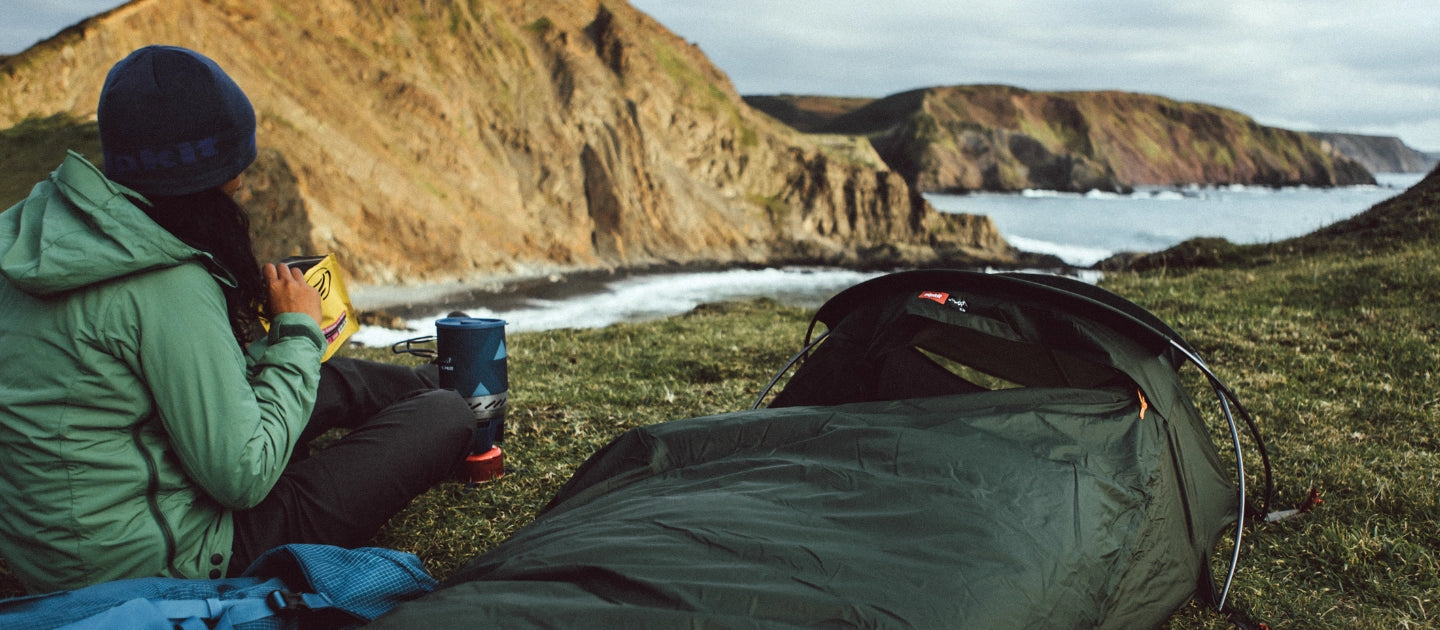 Lightweight summer bivvy kit list
Summer is a great time to go camping, but if you have already done that why not leave your tent at home, and instead try a lightweight bivvy adventure.
Bivvying is essentially minimalist camping, where the emphasis is on traveling light without a tent. It is a different way to experience various adventures, from backpacking and cycling trips to local overnight journeys.
But with so many options out there, it can be tough to decide what to pack. Here's a list of the best lightweight summer bivvy kit items to help you prepare for this years bivvy adventure.
What should you take on a summer bivvy?
Every bivvy adventure is different and the exact kit you need might vary slightly. We've thrown together a list of essentials that we like to keep on hand for those last minute summer getaways.
1 - Bivvy Bag
Protects your sleeping bag from the rain, wind and dirt. Tall folk will usually have no choice but to use a large bivvy bag (like the Hunka XL). Less tall folk have a little more choice: you could go for a regular sized Hunka, or buy a larger bivvy bag and put your sleeping mat and kit inside. It's all down to personal preference.
If you are worried about feeling a little claustrophobic a hooped bivvy may be for you. Our Elan has a crossed pole design to give you more space around your head. Weighing in at under 1kg it is lighter than most tents and roomier than a standard bivvy bag.
If you want to go ultralight and pack small, you could also try the lightweight Kloke. Of course if you can guarantee the weather is going to be fine you could get away with just your sleeping bag - good luck!
2 - Cooking system
An essential for midweek and weekend bivvies alike! Choose a lightweight stove that's easy to use and fuel-efficient. Look for cookware that's lightweight and durable, such as non-stick pots and pans.
Bivviers after lighter loads would usually opt for a minimalist system like the Kraku and MytiMug, whereas those who are after a super quick brew would prefer an integrated system like the Brukit. Either way, you need something to eat with: chopsticks might look fancier when you're eating your noodles, but we recommend something a little more versatile when it comes to cutlery, such as the Tifoon.
It's important to have access to clean water while bivvying. A lightweight water filtration system is an essential item for your bivvy kit. Look for models that are easy to use and pack down small, such as our own Hippo Filter Kit
3 - Tarp
When it's not the rain, it's the wind. Tarps aren't strictly necessary for sleeping out in the open, but you won't regret having one when the weather comes in.
We recommend opt for a tarp with a plethora of attachment points, including risers, for ease of use and a wider range of configurations. The Rig 7 is our favourite, as you can fit a friend under it too! But the Rig 3.5 is the solution for solo sleepouts.
See our Tarp Top Tips for some inspiration from our resident tarpologists.
4 - Sleeping Mat
A sleeping mat will help keep you warm and comfortable while you sleep. Choose a lightweight pad that's easy to inflate and deflate and provides plenty of cushioning.
There are a few considerations when it comes to choosing your sleeping mat. Some bivviers prefer to put their mat under their bivvy bag, whilst other prefer to keep it inside for protection from rocks and the elements. It's up to you to decide what you find more comfortable, but bear in mind that your sleeping mat shouldn't be too wide for your bivvy bag. Our staff picks are the Numo and Cloud Base for lightweight nights out, and Airo 180. All of these fit inside our Hunka XL!
5 - Hammock
If sleeping on the ground isn't for you consider a hammock. Indeed, many of us here at Alpkit have already succumbed to the pleasures of hanging out in a hammock - just make sure your route ends up close to some sturdy trees. We have everything you need to get started. Our Mora Hammock is light, compact and comfy. Don't forget to add an Underquilt and Bug Net to make your sleep even more dreamy.
6 - Sleeping Bag
A good sleeping bag is essential for a comfortable night's sleep. For a lightweight bivvy you want a bag that's lightweight and appropriate for the weather conditions you'll be camping in. Down-filled bags are often lighter and more compact than synthetic bags, but synthetic bags can perform better under damp conditions.
We've got some top tips for choosing a sleeping bag, but if you are in a rush the PipeDream 400 is our go-to down sleeping bag for summer use. For our synthetic choice take a close look at our Ultra 120. With PrimaLoft® Gold fill, it is inspired by ultra racing, and ideal for light adventures when weight, reliability and small pack size are crucial.
7 - Lighting
The days may be long, but a good headtorch is still essential for navigating your bivvy site after dark. Look for models that are lightweight and easy to use. A rechargeable headtorch will minimise waste and save you money over time.
Whether you're reading a book, cooking dinner, or adjusting your tarp configuration, it's worth shedding some light on the situation. Lighting is an essential when you're out and about at night, we recommend taking a head torch to keep your hands free.
From camping lanterns to lumen bazookas, make sure you choose the right head torch for the adventure.
8 - Dry Bag
Your dry bag is a must for keeping your stuff (or feet!) dry. It also doubles up as a pillow once everything is inside - neat!
9 - First Aid Kit
Accidents can happen, so it's important to have a first aid kit on hand. Choose a lightweight kit that contains the essentials, such as bandages, antiseptic wipes, and pain relievers.
10 - Insect Repellent or midge net
Summer bivvying often means dealing with hungry bugs. Choose an insect repellent that's effective against a variety of pests such as midge and mosquito. Look for formulas that are DEET-free. Smidge has been developed and tested by dedicated midge experts in Scotland, or you could go all out and protect yourself with a Smidge Midge-proof Headnet.
For more bivvy tips read our Bivvy Essentials article and reconnect to nature this summer with your very own bivvy adventure.