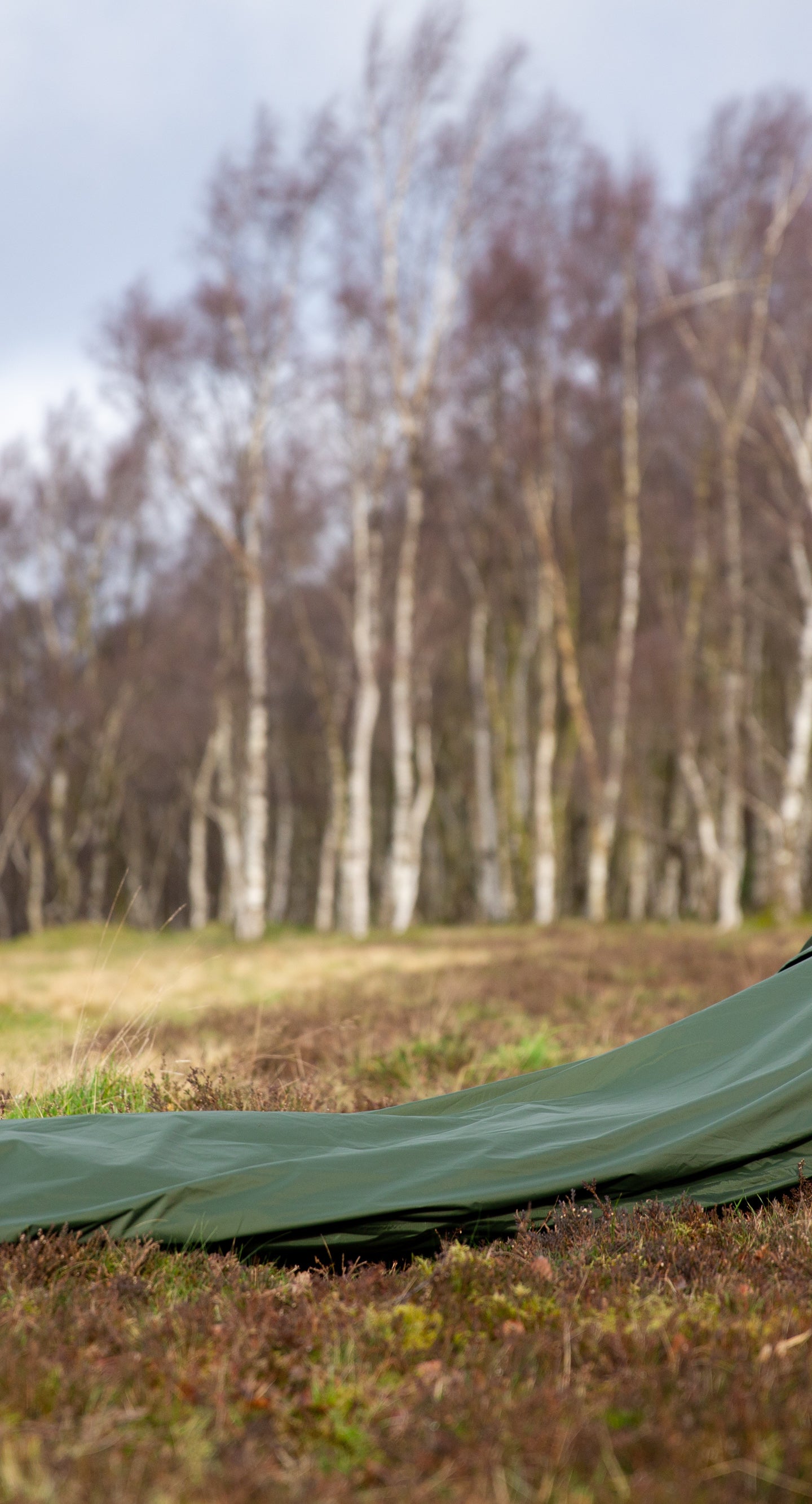 The Elan Hooped Bivvy Bag - The Perfect Balance
For many of us, a hooped bivvy offers the perfect middle ground between a traditional bivvy bag and an ultralight backpacking tent. We chatted to our Product Developer, Rowan, about Elan - our hooped bivvy.
A Brief Bivvy Overview
What is a hooped bivvy bag?
A hooped bivvy bag is somewhere between a traditional bivvy and a tent. It covers your face, but it doesn't have as much space and structure as your typical bivvy.
Compared to a standard bivvy bag, hooped bivvies offer significantly more protection from the weather (particularly for your face!) and therefore a more comfortable night's sleep in the event of a sudden downpour/midge attack. They also pack smaller than most backpacking tents, are quicker to pitch and, with tougher materials and a lower profile, are more durable too.
Our aim was to strike the perfect balance between durability, comfort, packability, and pitch-ability at a reasonable price for our customers - and we've finally cracked it!
---
The structure of a hooped bivvy bag
The cross-pole structure we eventually used for the Elan has its origins in military designs. It's a system that's been tried and tested thousands of times in every condition imaginable, all around the world. It also creates enough height for a protected mesh panel, ensuring consistent airflow without sacrificing any of the shelter the canopy creates.
Backed with this knowledge - and our own personal experiences of hooped bivvies - we were convinced that this tried and trusted structure was the way forward.
What are the benefits of a hooped bivvy bag?
With a structure settled on, we were free to design the rest of the Elan exactly how we wanted. We concluded that durability is what really sets a hooped bivvy apart from an ultralight backpacking tent. While some tents will be lighter and have more internal space than the Elan, it usually comes at the cost of durability and product lifespan.
By using hardwearing 70D nylon fabrics and 7001-T6 alloy poles, we've created a hooped bivvy that's capable of withstanding rough use and rough weather. This is very much mountain tent technology in a more packable and weight-conscious form - a bivvy that's built to last.
Another huge benefit that a hooped bivvy bag has over tents is its pitch-ability; being able to camp anywhere, regardless of terrain is a huge benefit - particularly to backpackers, bikepackers and adventure racers. Because of the cross-pole structure, the Elan can be pitched without any pegs at all – even a granite slab would work as a campsite!
Are hooped bivvy bags lightweight?
Yes - the Elan still comes in below a kilogram even when we were prioritising durability. At 900g, we were satisfied the Elan worked effectively when pitched. But we had to focus on the other 50% of its life: being carried.
But we knew we could do more to reduce its pack size. We worked with the tent pole manufacturer to reduce the length of each individual pole section, achieving a 39x11cm pack-size - shorter than most backpacking tents. This allows the Elan to slot easily between 420mm dropbars and fit comfortably in lower capacity rucksacks. It's the ideal size for fast and light adventures and it came without sacrificing any pole strength or flexibility.
"It was a long time coming but we're really happy with the Elan's finished design. It's guaranteed to become our go-to shelter for lightweight backpacking and bikepacking when there's no guarantee of good weather." - Rowan, Product Developer