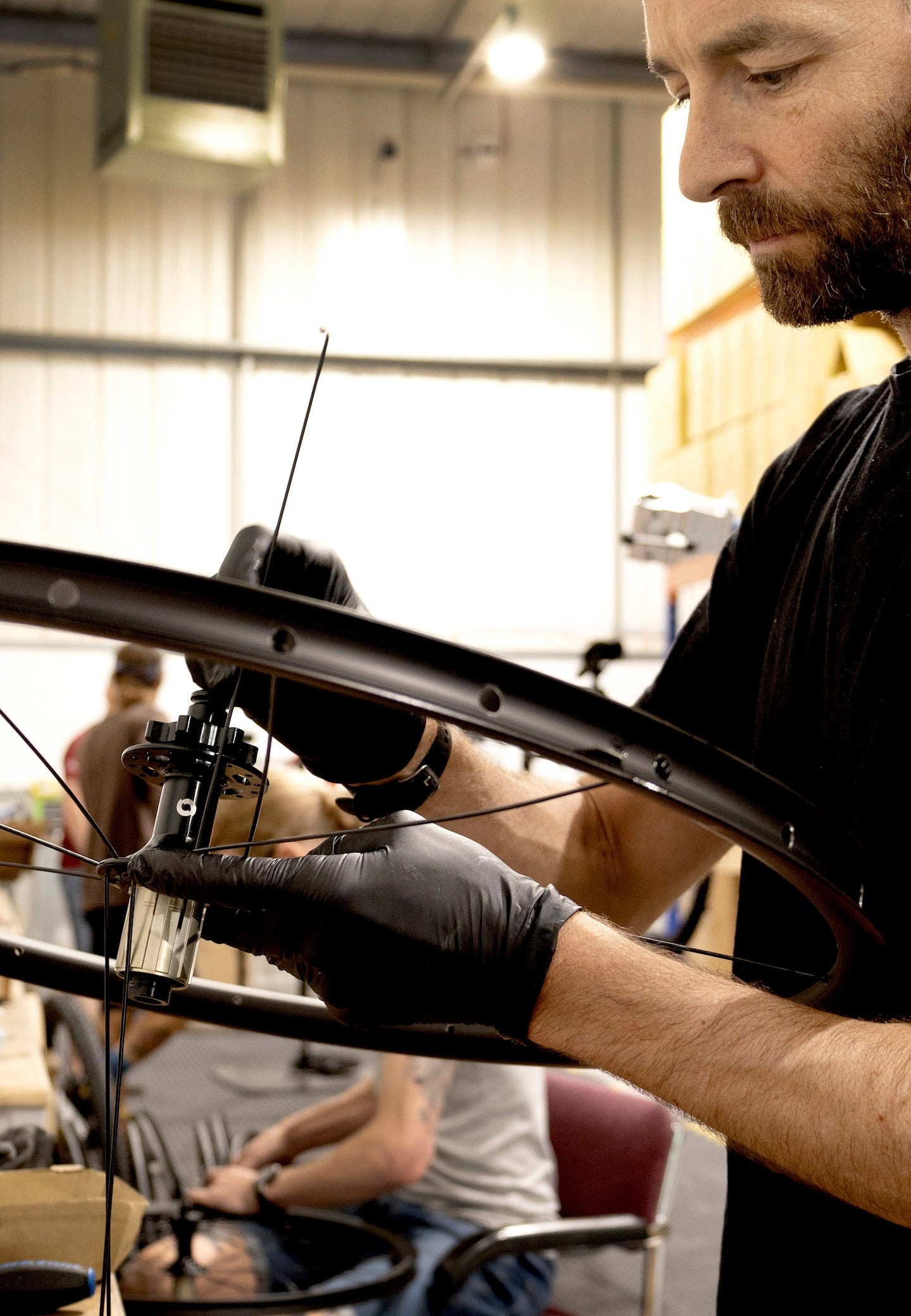 How We Make Our Bike Wheels
We build every Sonder to order in our UK factory. And we now build our wheels too. Right here in the UK. Taking control of the whole bike building process, we're making bikes that are truly special. We chatted to Sonder Product Designer, Neil Sutton, about the process behind building our own wheels.
A Brief Overview
Who designs our wheels?
Everything Sonder is designed in-house by our Sonder guru, Neil. He's the Product Manager. And he develops everything – from frames to components – in our Sonder workshop on the edge of the Peak District. Every bit of Sonder is designed to work in harmony.
Why did we start building wheels in the UK?
To make bikes as well as he does, Neil has to be particular. To have control over as much of the process as possible. Wheels play a big part in how a bike feels. And by bringing wheel building in house, our Sonder Product Manager can assure the quality of the Sonder wheels. Ultimately, affecting how they perform. Taking them straight from our workshop in Nottingham right onto the trails.
Sonder components are little pieces of magic. Designed to bring out the best in our bikes. They're expertly made and field-tested by us so they all work in complete harmony.
What is a wheel building machine? How does it work?
We chose our wheel building machine for its precision. It's comprised of two machines: the lacing machine and the truing machine. Learning how to use them has been tricky. Neil's ready for his holiday now! But now it's all ready, it should put out a ready-to-ride wheel in less than two minutes.
The lacing machine
In Neil's words, "it's dead clever". The lacer attaches the spokes to the rim. It automatically threads the nipple onto the spoke. It learns the rim dimensions, spoke count, and valve location. You can program it to angle the nipple driver if needed.
It laces a wheel in 1-3 minutes. The beauty of it is a very evenly tensioned wheel. Exactly what you need for the next part – the truing machine.
The truing machine
The truing machine tensions spokes, working towards a true and dished wheels. It does so in stages. You program these stages, and define the tolerances.
The machine has hands that grab a flat section above the thread on the spokes we use. This stops the spokes from twisting during tensioning. A twisted spoke is what causes a wheel to go out of true. By having this stand-out feature, our wheel-building machine will build wheels that are lower maintenance and last longer before they need re-tensioning. Great!
How long does it take to lace and finish a wheel?
In just five minutes, one person can thread hubs with spokes, lace wheels on the lacer and feed the truing machine. Speedy!
What are the benefits of having our own wheel building machine?
We get better control over the wheel building process. We can ensure that the quality and efficiency is tip top. Sonder components are little pieces of magic, designed to bring out the best in our bikes. By designing and building our bikes in harmony, we can make our bikes even better, adventure-ready bikes.
And, better still, we can reduce our shipping volumes. Sending wheels around the world isn't great for our carbon footprint. Shipping wheels is like shipping fresh air. Costly to the planet. Costly to us. And hardly time-efficient! By bringing wheel building to the UK, we can cut freight volume by half.