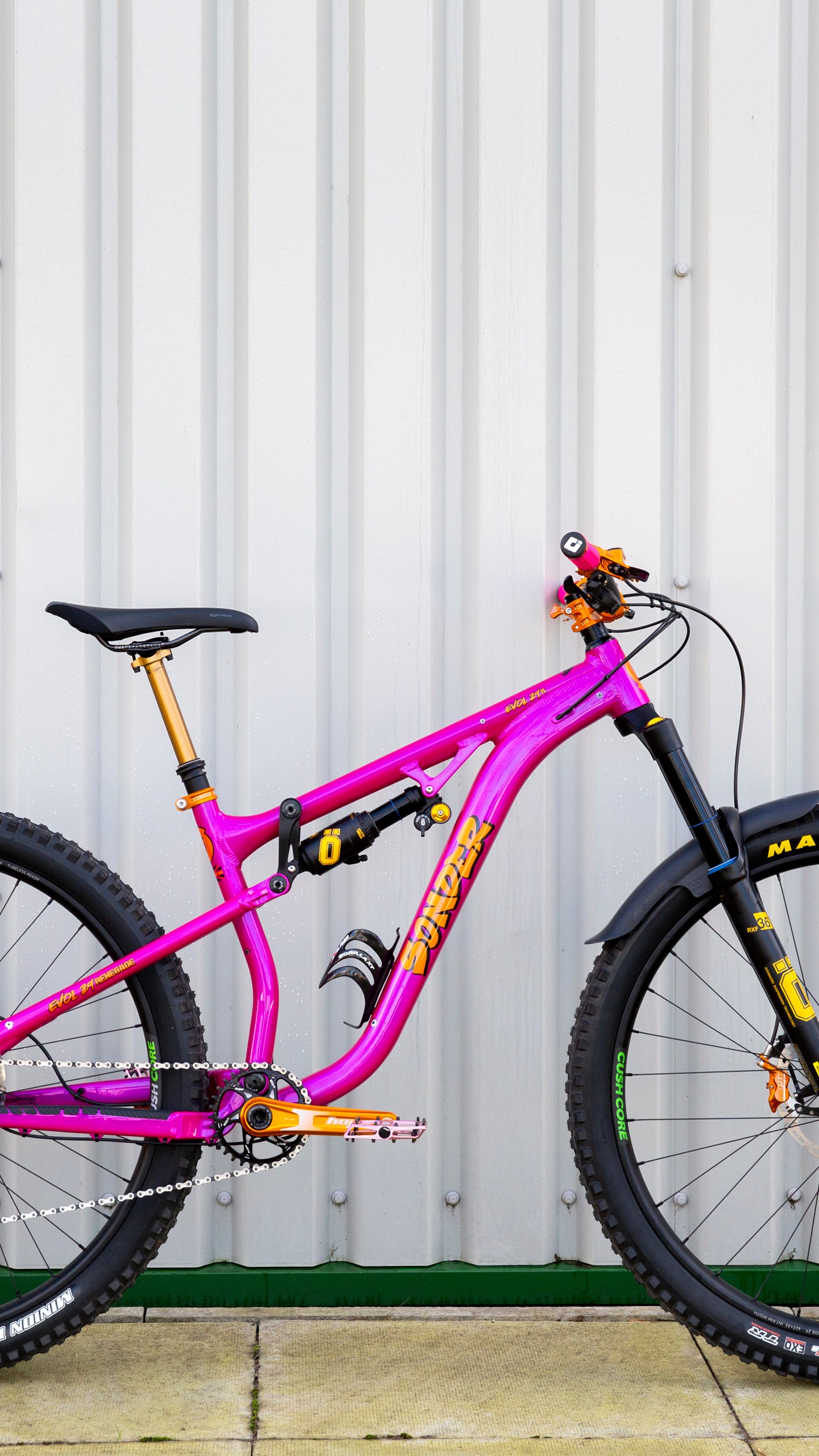 Project Evol - how one of our Sonder rider built his dream bike
Written by Neil Cottam
I think it must be something like 18 months, maybe more, since Neil Sutton (Sonder's Head of Design) first mentioned the evolution of the Evol to 29er.
I've been waiting eagerly for it ever since.
I've been drooling over the Fatcreations Instagram feed for much longer than that...
In October of last year I took the plunge and booked a slot with Fatcreations for May 2020 (they are fully booked for months in advance) - the frames were due at the end of April. Unfortunately the unfolding of the global coronavirus pandemic kind of scuppered that - the subsequent delays in manufacturing meant that my frame didn't arrive until early August. Thankfully I retained a slot but lost my guaranteed two week turnaround.
It was worth the wait: the paintwork is stunning.
I knew in advance what most of my component choices were going to be, and I've always fancied a set of Hope brakes so they were top of the list. I spent a diligent Winter scanning the online sales for bargains.
I have some regular go-to favourites:
- Shimano derailleur and shifter (I managed to get XTR 11spd at a massive reduction because of the release of 12spd - that was a bonus)
- Renthal Carbon Fatbars (30mm rise)
- Fizik Gobi saddle (I've done thousands of miles on these)
- Odi Ruffian grips
- Hope Evo Crank
- BB, and finishing kit (in orange)
- A pair of Shimano Icetech 203mm rotors
- XT cassette
- DMR Vault Midi pedals, and Maxxis tyres.
The Hunt Enduro Wide wheels came off the back of trusted recommendations from fellow Alpkiteer Steve Bate and my mate Mitch Bryan, both of whom know a thing or two about riding bicycles. I usually have wheels built with Hope hubs and Stan's rims but I fancied giving the Hunts a whirl, just for a change really.
I bought a Fox Transfer Factory seatpost, partly on the basis that I would be adding Fox suspension, but also because RaceFace sell an anodised orange lever that would match my colour scheme (it does too, it's a smasher).
Suspension, however, became my biggest headache and I agonised over it for months. Initially I was planning to fit Fox (I like the feel of Fox suspension) but it was the orange colour scheme that was selling it.
Then I got offered really good deals on DVO and Cane Creek which was party what got me investigating alternative platforms, I liked both of those. And then I arrived at Ohlins.
I had seen, and been impressed, by Ohlins at the EWS Chiang Mai Enduro over the winter but the high-end pricing was scary. I did a lot of research. The reviews were excellent and the perceived wisdom was that they fell, in terms of feel, somewhere between Fox and RockShox. I like different aspects of both of the big brands and so something which might embody characteristics from both was really appealing.
I managed to secure a small discount from Brink.UK and went for it. That was a commitment I can tell you.
I've added CushCore inserts in both wheels and set them up tubeless with Stan's sealant.
A lovely looking chainstay protector from Lizard Skins, an RRP Mini Raceguard, and a bomber Gorilla XT bottle cage from XLabs.
Phewee, I think that's it! I plan to use it mostly for bike parks and enduros and I can't wait to get out ripping on it!