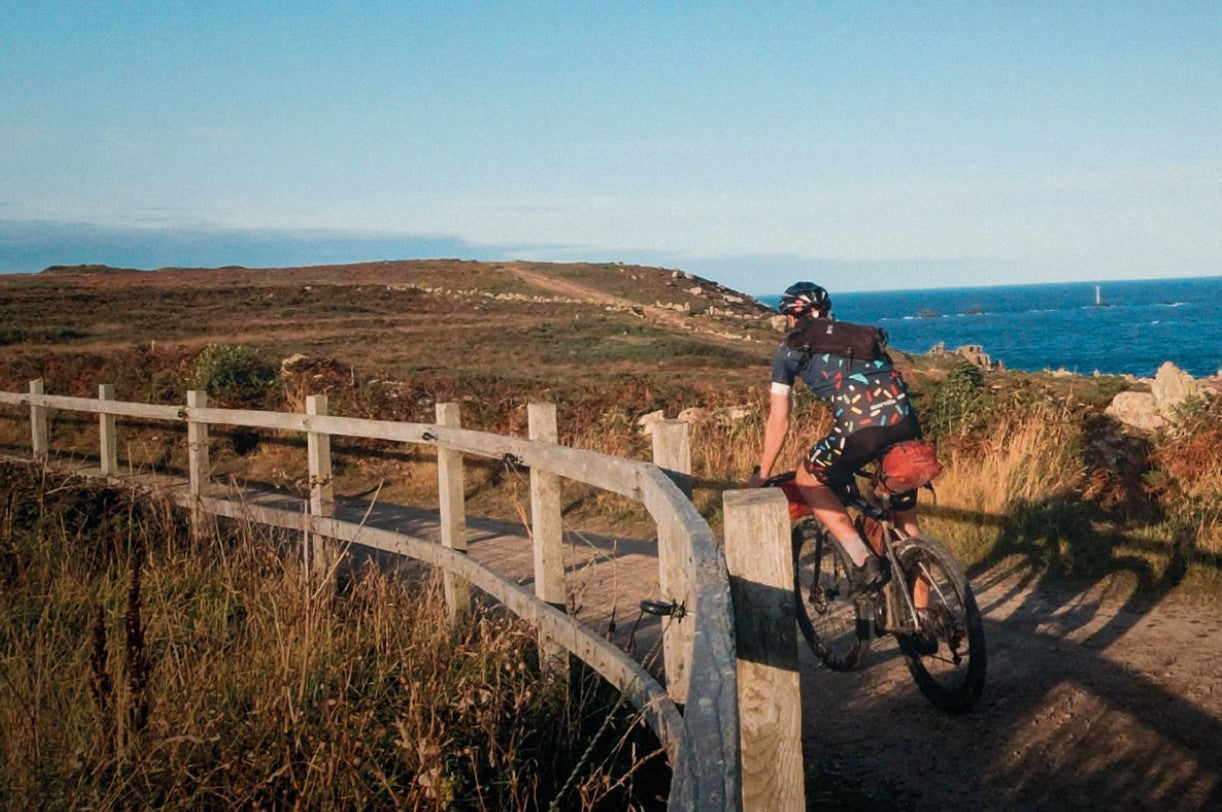 The West Kernow Way: sometimes the adventure finds you
All I needed was an adventure and, what do you know, Cycling UK release their most recent adventure route. The West Kernow Way. Sometimes you find the adventure and sometimes it just finds you.

After returning home from a gruelling but epic bikepacking adventure, the 800-mile off-road Great North Trail, I heard a sound I had not missed. The sound of cars roaring past. I sat looking at my two bikes. One was exhausted and a bit broken from the last 800 miles. And then the other. The Sonder Camino Ti all pristine and ready to go. All I needed was an adventure and, what do you know, Cycling UK release their most recent adventure route. The West Kernow Way. Sometimes you find the adventure and sometimes it just finds you.

I started packing the Camino up with everything I would need for a few nights and a leisurely 230km (140 mile) ride around the beautiful, yet hilly, Cornwall. I like to start with how I'm going to sleep on these trips. And, after being in a tent during The Great North Trail, I thought I would treat myself to a bit of luxury.

My Alpkit Mora hammock. Hammocks really are the pinnacle of comfort while camping. And this one packs down so small, it's perfect for keeping the weight and pack size down – which is important in Cornwall, as 20% climbs are normal around there.
Next up it's the sleeping bag: the Pipedream 400. This is my go-to sleeping bag for most of the year in the UK, as it's plenty warm enough and packs down super small. And of course, if you are going to Cornwall, you will be needing a tarp. I don't think I have ever been to Cornwall without it raining. Two water bottles, my water filter and a small frame bag for a bit of food. Light, simple and effective is how I like to roll. So, I grabbed my cameras and headed down to where I would start the West Kernow Way… Redruth.

I arrived at Redruth at 3pm ready for my first half day cycling the West Kernow Way. As with everything in Cornwall, it's a hill. You are either going up a hill or down a hill. There isn't much in-between. I started with a good little climb, where I did question if I should have put on a slightly easier gear than my 42/42. As I got to the top of the hill, I was greeted with my first bit of Cornish history, the old tin mines.

Making my way through some overgrown singletrack, rocky descents and a hike-a-bike through a long puddle, I made it to St Michael's Mount. If you are lucky with the tide here, you can cross over and get a closer look, but I had to enjoy the ancient castle from afar. I highly recommend chilling on the beach and taking it all in. It really is spectacular. I continued past Penzance in look out for a couple trees to hang my hammock. I soon realised the hammock probably wasn't the most optimal choice as the trees were lacking. However, after I kept searching, I found my spot and had the best night's sleep.
Waking up the next day, I was greeted with clear blue skies and bright sunshine. The route takes you around to Land's End along a little gravel track following the coast, which is beautiful. I'd recommend trying to get to Land's End quite early so you can see it before it gets busy. You then get to ride probably my favourite part of this whole ride. Along the coastal paths with all the tin mines and perfect blue sea views, the riding is super fun. This is where the gravel bike comes into its own.
You head back inland across this vast open landscape towards The Lizard. It's a great spot for some good old-fashioned Cornish pasties. And a good chance to soak in views sitting by the lighthouse. Well, that was my plan. But alas, the shop had just closed. So, I sat looking out to sea with my strawberry pencil sweets instead. As I continued and the day was coming to an end, I found myself sitting on a beach in a beautiful little cove just enjoying the sun. I set my hammock up that night to the sound of waves.

Waking up on the final day, the sun had been covered up by the clouds.
The temperature was a little cooler, which was probably for the best, as this day
consisted of lots of steep climbs out of the little coves. As I headed through some of the tiniest and steepest country lanes towards the end of the West Kernow Way, there was one final awesome trail. It's the old mining trail, a gravel biker's dream, and probably the flattest section on this whole route. A great way to end this adventure.

There is an adventure in all of us,
you just have to find it, or let it find you.

What we'd take for this trip:
Big bag of salted peanuts
The Salt Path by Raynor Winn
Toothbrush
Mini toothpaste.

Trail Tip: A second flat and you didn't bring that old tin of patches?

You've used your spare and you get another puncture. You'll be amazed how well this hack works. Once you have found the puncture, assuming it's not next to the valve, tie a simple overhand knot to isolate the problem. Keep as much innertube free as possible and the knot as small as possible. Ride home sheepishly.