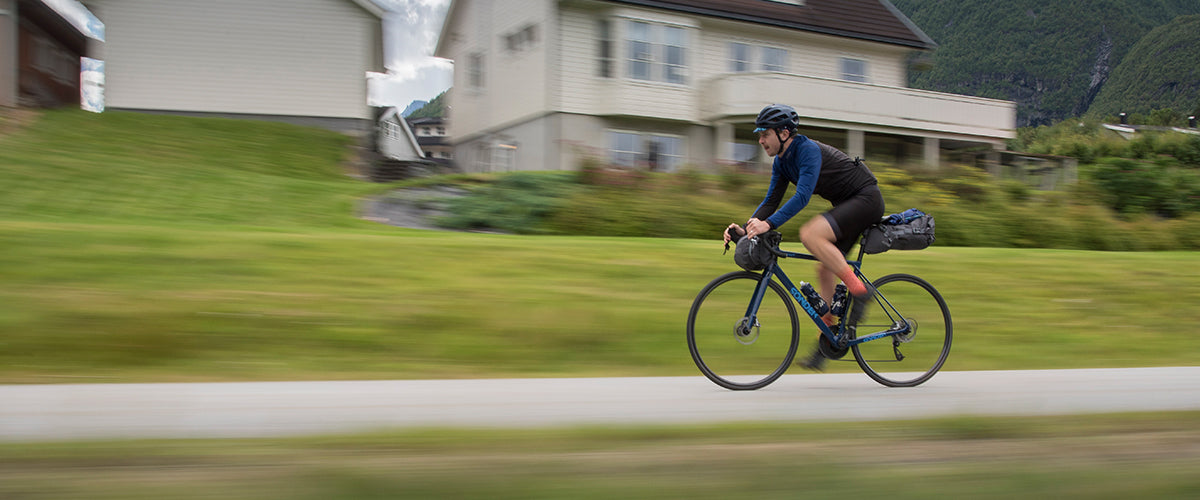 Is an Endurance Road Bike the One for Me?
With such a range of bikes on the market these days it can be super confusing which bike to choose for your upcoming epic days in the saddle. It's easy to get caught up in friends telling you, "you need that race bike which has won more Tour stages than any other."
Is carbon best? Do I get deep section wheels? What group set to choose, does weight really matter? The white noise around this subject can really overwhelm what should be a fun experience: researching your new bike.
After all, having so many choices available is a luxury.
It's Sonder rider Steve Bate MBE (in case the Queens reading this), professional cyclist here to help you. You've heard about these 'Endurance road bikes' and they sound interesting, but the question you have is, do I need one? or, are they the bike for me?
What is an Endurance Road Bike?
These are bikes designed with longer days and/or nights riding in mind. Those rides that mount hour on hour in the saddle as you travel through your favourite mountain range or follow a meandering river through the valley floor until it arrives at the sea side for a well earned chippy tea.
Basically, bikes built for endurance road riding have frames designed for comfort first and speed second, instead of out and out racing aerodynamics which, after hours in the saddle, will leave you stiff as old boots. These are the bikes designed for people out there who aren't worried about their watts per kilo, and more interested in miles of smiles.
---
Why Should I Choose and Endurance Bike?
Being completely honest with yourself at this point is the key to having a lovely long relationship with your new endurance machine.
Take me for an example, I ride on the weekends when I can fit it around other commitments like work and family. I love getting up early doors and getting out long before the traffic has started to build, as busy weekend life kicks in. During the week I get done what I can, sneak an hour here and there, I might even commute into the office one day in good weather. Or if the weather's grim, I climb into the dreaded turbo for that sweaty 45 minute blast to clear my head.
The hardest thing we have to do when buying a bike is be honest with ourselves, because those amazing road race bikes ridden in the Grand Tours do look sexy and fast, and they are. However, if you aren't racing every weekend (and just so we are clear, I mean pinning a number on and mixing it up with the local fast guys and girls), then an out and out racing bike really has very little to offer you, besides looking great and costing an arm and a leg. Which is fine, if that's your thing.
---
How are Racing and Endurance Road Bikes Different?
The difference between a road race bike (like you see in the Tour de France) and an endurance road bike really comes down to the riding position you end up in.
Race bikes have a high saddle, low handlebars and deep section wheels, giving you a more aerodynamic position on the bike. Great for speed, not so great for staying comfortable.
Endurance bikes on the other hand tend to be slightly more upright, the saddle height and handle bars looking more level, making the riding angle less aggressive.
By relaxing the geometry of the frame, bringing the handle bars a little higher and creating a slightly shorter reach actually improves the riding position for the user, putting less strain on necks, backs and shoulders mile after mile. Now that in itself sounds good to me.
---
Which Frame Material is Best for Road Bikes?
Carbon fibre? Aluminium? Keep it real with steel or go classic top shelf, titanium? Each of these have their own characteristics and can make a big difference in the feel of the ride.
A steel bike looked after will last a lifetime, with the durability of steel though comes weight. You can get some lightweight steel endurance bikes, but they'll never be as light as other frame materials.
Carbon fibre on the other hand is super lightweight and will take away a bit of the so called 'road buzz'. Aluminium is also a lightweight material, and you find alloy bikes often come with a carbon fibre fork, to help dampen the road buzz.
Then you have titanium, which is light, springy to ride and does a great job of handling that road buzz that quietly takes its toll on your contact points throughout a long day in the saddle. Titanium though, tends to come with a higher price tag.
There is also the durability factor, carbon fibre might be ultralight but it won't take the same abuse as a steel frame, if your bike takes pride of place in the living room great, if it's in the garage 2 deep behind the kids bikes, maybe something more durable is the ticket.
---
Choosing the Right Wheels, Tyres and Group Set for Your Endurance Bike
This is really getting into the nitty gritty details of how you spec your bike. But when you're covering lots of ground, paying attention to the detail in your bikes' components can make a big difference in being able to enjoy your ride.
Wheel depth, tyre pressures, tubeless setups and group set choice can all have an impact on how smooth your ride is, and how much time you spend running maintenance.
Which wheels are best for endurance road bikes?
Wheels are a bit like frames, you have options. There are deep section racing carbon fibre wheels that are aerodynamic, fast and look, the cats whiskers. You also have shallow section, more standard looking wheels made for general riding.
The idea behind deep section wheels is to do with aerodynamics and how the wind moves around your tyre, rim and spokes. The deeper the rim, in theory, the better they cut through the wind giving you more of an advantage over a standard shallow section rim.
They are generally heavier, therefore designed to be used on flatter terrain rather than up and down mountain passes. The other important feature is they are harder to control in cross winds. Strong gusts of wind have been known to push racers off the roads in some cases, which is far from ideal. Even in average winds you will fight the handle bars throughout the day causing fatigue in your arms, shoulders and neck creating discomfort.
Finally it's worth pointing out that to get the aerodynamic gain, you need to be riding fast. Years ago you would only see these types of wheels during races, however just about everyone rides them now, but are they really necessary? I'm not sure.
A more common standard low profile wheel may not look as racy and cool, however these are super versatile.
They generally weigh less and are much better for general riding up and down hills all day, they are also less affected by the wind so you won't be fighting your handle bars.
Something in the range of 35mm deep will give you a little bit of aero gain, shouldn't be affected in the wind as much and be light enough to climb with all day long. And again you have a choice in material, and I'd recommend if you go with a set of carbon fibre wheels, you should go with disc brakes. That's if you want to stop in the wet anyway!
Choosing your Endurance Bike Tyres
Traditionally we would associate 23mm tyres to a road bike, and 19mm if you were a racer. However, through research and science, it's been deemed that being able to ride fast is about riding smoothly, so running a skinny tyre at an incredibly high pressure is counterproductive.
Now we are seeing endurance bikes with tyre clearance of up to a massive 36mm, but the common sizes are trending towards 28 - 30mm tyres, thus giving a smooth ride but also good rolling resistance.
Instead of running tyres at 120 psi, now people are riding much lower pressures to smooth out the ride, removing that road buzz we mentioned earlier, and giving the rider a much more comfortable experience through the contact points on the bike. That brings us onto another topic, tubes or tubeless?
Tubeless tyres can be inflated without a tube inside. To have tubeless tyres, you first need to run a compatible tubeless tyre and tubeless rim, then you need a tubeless specific valve (because you don't have a tube), then you need to run a tyre sealant (a watery latex solution that lives rolling around inside your tyre).
When punctures happen, this sealant fills the hole allowing you to carry on riding with minimal loss of pressure (in theory), making for less maintenance over long distances. This technology has been used in mountain biking for years and has now transferred across to the road with great success (personally I'm a big fan and run all of my bikes tubeless).
Getting to Grips with Group Sets
Most group sets these days are pretty similar, with the differences being around weight and durability. Racing style group sets are super lightweight, however aren't as durable, whereas lower range group sets are normally a few hundred grams heavier but last longer.
The more important thing is what size cassette and chainrings you want on that group set. If you ride in the mountains a lot or live somewhere hilly, then a compact chain set is probably what you're after (smaller chainrings 50-34 and bigger cassettes 11-32, for a wider range).
If you live in the flat lands and rarely ride uphill, I'd steer towards a standard chain set (larger chainrings 53-39 and smaller cassette 11-28). If you are a fan of the 1 x drive chain commonly seen on mountain and gravel bikes maybe something in the line of a 40t chainring with a 10-42 cassette might be a shout. Be prepared to mess around with that gear ratio until you find what works for you. Personally, on the road I stick with a standard 2 x system and run 1 x on the mountain and gravel bikes.
---
I spend 30 hours a week training on my bike. However, because I race on a tandem and not a solo bike (due to my eye condition), I don't see the point in riding a stiff aggressive carbon race bike for training, as it would just be really uncomfortable.
What I need is a bike I can spend hours on, that doesn't take a huge toll on my body, a bike that I can do big miles day after day, an endurance road bike.
I've ridden both the carbon fibre and titanium Colibri, and my personal preference is the titanium version. I love the feel of titanium over carbon, it feels more forgiving on the road over a long ride. I can run a wider tyre giving me more comfort day in day out (I'm currently running 32mm tyres, but have run 36's over winter).
Most importantly, I can attach mud guards to keep the weather off during winter months, when ironically, we do most of our big mile blocks. Finally, it's a really durable material, better for the environment than the others and has a classic look to it, so I'm still winning in the looks department!.
I hope this has helped you decide that an endurance bike is just the ticket for you and your grand cycling plans.
Thanks for reading and safe riding.