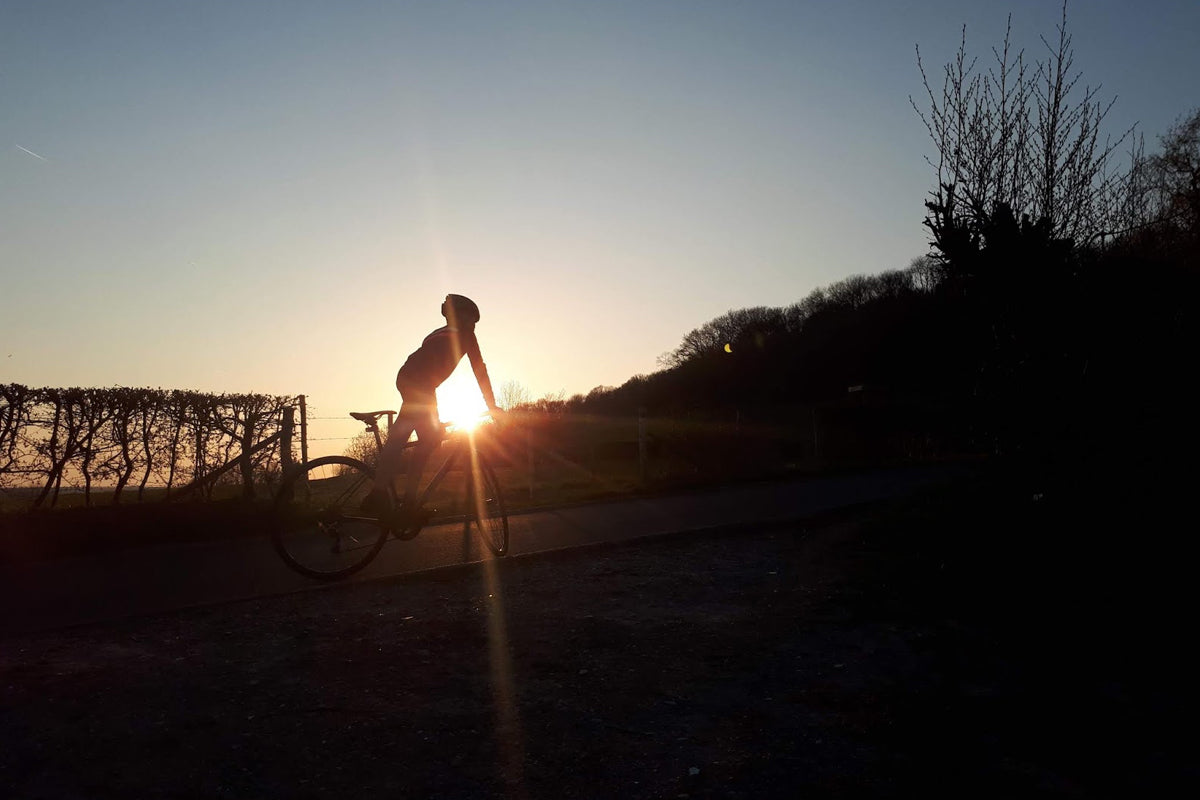 After their introduction to Everesting, Alpkiteers Rich and Tom armed themselves once againwith Sonder Colibrisandheaded to Holland for another mission.
Tom and I had done a couple of Everesting rides before. Each one either of us has done in the past has been in a different country. So whilst planning another such ride, a new country was needed. Holland has a few hills in the South of the country, and we decided that we would attempt an Everesting ride on one of these hills, the Eyserbosweg.
The ride had to be fitted in around school and work, so we were limited for time. We left the Peak District at midday on Friday, and we drove to Dover to take the ferry to Dunkerque. Our friend Gunther who lives an hour away from the ferry port in Belgium had offered us a settee to sleep on. After a beer and a quick chat, we settled down for a few hours sleep.
The Eyserbosweg was still a good two hours drive, so we were up just before 6am and away by 6:30.
The drive down the previous day and not enough sleep led to me stopping after an hour to have another nap. We hadn't started riding, and already I was tired.
We parked the car up on the hill, got changed and after a couple of last minute bike adjustments, we were ready to start riding.
The hill starts on the edge of a village which it soon leaves, heading for open country.
The mast is atop the hill marks the end of the climb. 86 metres at an average of 9%. We needed to ride 103 ascents.
We aimed to be a lot more disciplined on this ride to minimise the faffing time unlike when weeverested the Kemmelberg,stopping every 5 reps.
The riding was easy though this was a busy road. There was more motorised traffic than we'd expected, but it was the quantity of cyclists that amazed us. This hill is obviously a must do for the local rider.
The first few reps passed quickly.
The weather was fantastic, and we'd soon done 40 reps.
I was feeling far more tired than I should have been at this stage, but I just kept on plodding up the hill as Tom was feeling great.
As the day went on the cyclists and cars became less frequent. As the sun began to set we rode a little further on to watch the spectacle.
As we descended the hill I started shivering. So much so that Tom thought I was going to fall of my bike. I felt sick, cold and very very tired. As we rode up the next rep Tom asked me if I was OK, to which I replied not really.
We kept on riding for another 4 reps whilst we discussed our options. I knew I could battle on, but I also knew that we had several hours riding ahead of us. I wasn't well, and knew that I could end up making myself really ill if I continued. Also of consideration was that I had 500 miles to drive to get back home. The only thing to decide then was if Tom was going to finish on his own. Tom decided that if I wasn't going to finish then neither was he.
So after 54 reps we decided to call it a day. Not a rushed decision, and one made for the right reasons.
A solid 10 hours sleep in the back of the car. Then we started the journey back to the UK.
We stopped at Gunthers girlfriend's on the way back for homemade Belgian waffles and a beer.
Then we lucked out and got an earlier ferry than we'd booked on. An uneventful drive, and we were back home just before midnight.
Not the outcome we'd hoped for with the Everesting ride, but I'm happy that we made the right decision on the day. As I type this I'm coughing and spluttering, but no doubt I'll be better soon.
Thanks Gunther for looking after us!
You can also read Rich and Toms original post and many other of their Daring Deeds on their blog!