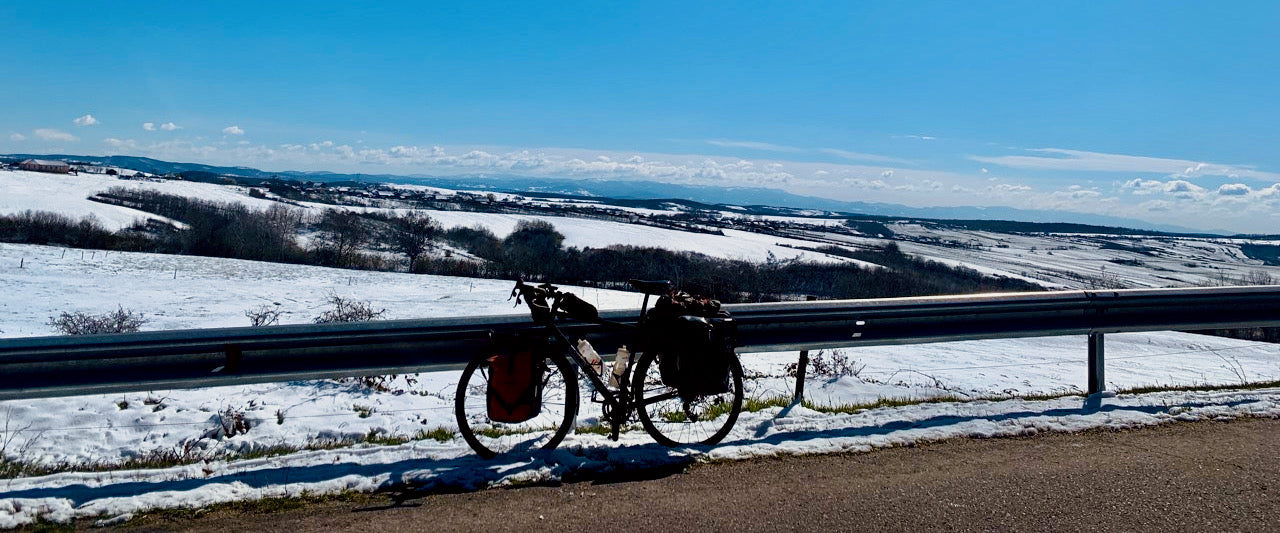 Battling the elements, Cycling through the Romanian Carpathians (pt 2)
Part two of Chris Marton's Santiago Cycle Tour through Europe.
"That day I was aiming for Deva in the western edge Transylvania, a historic city within the Apusani Mountains, overlooked by a 13th century fortress on a rocky outcrop at the head of the valley and it was here I was hoping to find a place to set up camp. I climbed through the woods on a singletrack that wound it's way up and around the hill. Leaving the bike at the gatehouse I set off up the wooden steps which took me to a viewpoint where the city and the valley beyond it opened up ahead of me towards Hunedoara. Unfortunately it was too steep to camp there so I continued towards another likely spot by the river beyond the city limits. This was a good location but was already taken by a family of Romani people who also found it to be an ideal place to rest for the evening. I took some directions from them in a language of hand signals and smiles and aimed back towards the road. Another failed attempt to camp in a field guarded by another huge dog meant that I eventually set up the tent in the dark an hour and a half later. This in a graveyard overlooking Hunedoara. I cooked up some noodles and managed to weld half of them to the bottom of the pan in my haste to get into the tent. I was too hungry, tired and cold to care about the charcoal flavouring so managed to eat it all still.
This turned out to be my coldest night so far and my bike computer told me it was -6 degrees in the tent by morning. If I'd had any water left it would have frozen again so no coffee to start this day either. What I did have to start the day was a stunning view of the mountain snow being lit up in a dazzling orange glow as the sun crept above the hills in the east. A beautiful sight that made another cold night in the tent worthwhile. Setting off with a descent back to the main road I was chilled to the bone again and despite my best efforts at riding one handed with the other hand tucked in my opposite armpit, my fingers were numbed and painful and my exposed face gave me brain freeze. I stopped at a petrol station cafe again where I must have looked like a love child of the Michelin man and a yeti, wearing all my clothes at once and groaning as I struggled to take off my gloves. After sipping my coffee for an hour I had thawed my fingers and toes and it had warmed up enough outside to set off again. Thanks to my unexpected extra kilometres the previous evening I could afford to take today much steadier. I climbed most of the morning to around 500m towards the beginning of the next pass into the Timis valley. The road was perfect again with wide serpentine corners and amazing view back over my shoulder from where I had started that morning and ahead to tiny villages dotted amongst the fields below. My penultimate day involved five climbs, the first of these being the largest and I fought against wind and rain for 17km before another cold descent dropped me into a much drier valley where I neared the edge of the mountains. The air felt dry and warm and the sun was back. At last, off came the waterproofs and out came the knobbly knees. I rode for almost seven hours to reach a Warmshowers host where I had a bed and a roof over my head lined up. After the last few days I was so relieved to also have a wood burning stove in my bedroom which kept me warm all night. My host was a herboligist who had left her life in the rat race to move into the country and live more self sufficiently. Her house was in a quiet village in a bowl shaped valley with hills on all sides. She had an infectious energy and passion for life. We shared a salad of freshly foraged leaves and a big loaf of bread all washed down with some local beers while she told me about the local bear and wolf population. I had read up on these previously and wasn't too concerned about them as a result, but she also told me about the local viper population. On warmer days they are apparently much more of a threat to campers than the bears or wolves so maybe I was lucky with the weather in that sense. After a long time in fairly adverse conditions I really appreciated how warm, clean, dry and well fed I was at that moment and I slept deeply.
I left late the next morning full of pancakes and coffee and excitement for the day ahead. The forecast was unfortunately accurate and it really did rain all day from the moment I set off to the moment I arrived at the Serbian border crossing. The border was empty beside some stray dogs and two guards so I passed through smoothly. On arrival at my very low budget hotel soaked through and cold again, the hotelier explained with more hand signals and fewer smiles that he'd double booked the last room and I would have to spend the night at his house. He'd give me his bed and he would sleep on the sofa. That is another story and something I was too tired to begin to care about. Looking back on my week in Romania, there were a lot of times where I could have decided I'd made the wrong decision detouring there. Something about the country, the roads, forests and snowy peaks meant I never really stopped smiling and I would do it again in a heartbeat. Maybe I'll try it in summer next time."