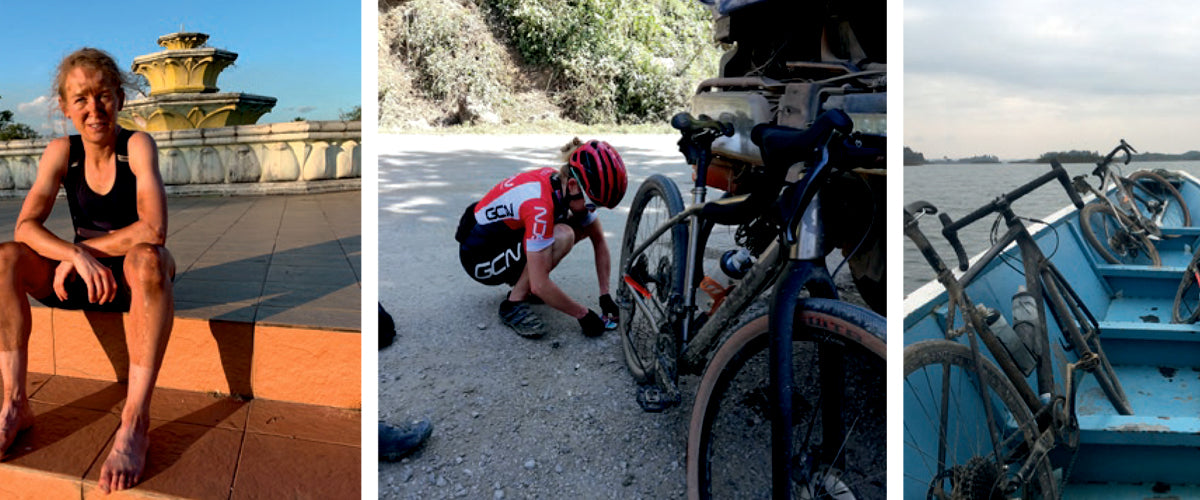 Across the Northern Frontier
It's classic advice: never take a brand new bike on a trip, without at least a few test rides to set it up.
Classic and very sound advice. Which, for my first trip on my Camino, I totally ignored. I'm not proud of my incompetence, arriving in Hanoi with the bike still in its original delivery box from Sonder (I'd opened it, to squeeze in a well-padded bundle of helmet, saddle, pedals and some spares, but the bike had literally never left the box before it got to Vietnam) but what can I say? It had been a busy time with work and travel, and I was pushing the limits of holiday and overtime to be able to fit in this threeweek bike trip at all. So it was the finer details of packing and preparation that took a hit.
Therefore when we rolled out of Hanoi I had no idea of the route or itinerary. Luckily that didn't matter because we had Ashley from Velo Vietnam guiding us. In fact, we were his guinea-pig-guests to test ride a new 'dirt' tour for gravel bikes. I was a little surprised when we pulled into a side road before even escaping the city to detour to a café. Surprised but delighted, because the coffee was fantastic. Happily, such refreshment breaks and delicious coffee became a very frequent feature of our rides – some days I lost count. I should have had a 'caution: sudden coffee breaks' sticker on my backside. We were not in a hurry. An extra benefit of all these stops was that I could incrementally adjust my bike setup without holding the others back too much.
"We dried our kit hung around the fire – my rain jacket has smelled of wood smoke ever since, which makes me smile every time I put it on."
Part of my poor preparation was not researching the climate: I expected tropical heat but for the first week as we rode west through mountains towards Laos it was mostly cold, rain, and unbelievable amounts of orange-red mud. I love mud, but there are limits to how much of it I want to swallow. The stunning scenery made up for it though, and there's grim satisfaction in pushing on through those conditions. As we approached the border there was even a 5km section of road on the mountainside that had been entirely destroyed by a mudslide; hike-a-bike skills required. On the coldest, wettest, filthiest day, our accommodation was a homestay in a traditional stilt house. Unbelievably, the family had a washing machine which they kindly let us use (despite seeing the state of us). We dried our kit hung around the fire – my rain jacket has smelled of wood smoke ever since, which makes me smile every time I put it on.
Double-Ashley, as he will forever be known to me (because he's so strong he always pulled double turns on the front, and also he could somehow knock back double beers in the evening and still be fresh in the morning!) is not your average bike tour guide. He's an anthropologist who's spent years researching in Vietnam, and speaks fluent Vietnamese and Lao. Thanks to Ashley we could communicate wherever we were and always found a warm, dry bed (ranging from stilt hut to 3* hotel). I'm sure the wonderful people would have been friendly in any case, but there's definitely an extra smile for someone who can speak the language and knows the social norms.
Also thanks to Ashley we often had no choice of what to eat – in a good way. He always knew the local speciality and what to order. We ate a lot of pho (noodle soup for breakfast is great!), and got to try a multitude of utterly delicious things – except for the thing made of bile at a night market in Laos. But I'm still glad I tried it.
The highland region we rode through towards Luang Prabang is breathtakingly beautiful – misty forested mountains with steep, rocky outcrops. There's less cultivation and fewer rice paddies than on the Vietnamese side, which is partly due to a horrific legacy of the Second Indochina War (known as the American War in Vietnam, or Vietnam War by westerners): unexploded ordnance buried in the soil. Still, after all these decades, people are killed and maimed trying to farm the land. It's a tragic injustice to these lovely people. At Viengxay, Ashley insisted on a day's cultural excursion to show us the vast cave complex that was the hideaway for the Pathet Lao Communist forces during the Second Indochina War, which was fascinating while also deeply saddening. Ashley also encouraged us to take a rest day in Luang Prabang to visit one of the saffron coffee plantations to learn about fair trade cultivation – gourmet coffee and the best apple tart I have ever tasted. At dawn I ran around the ancient royal capital of Laos watching the daily procession of Buddhist monks for alms, orange robes in the mist as the sun rose between the temples. It was truly a magical thing to see.
As we progressed south in Laos the sun made its presence felt, and the orange mud turned to orange dust. Hot coffee with condensed milk at the roadside cafes was still a staple, but now I also discovered the cans of sweet coconut water: blissfully cold and refreshing. I don't know if our daily itineraries became more ambitious or if I was just getting tired, but there were some tough days. Even Double Ashley occasionally looked a little out of breath. The volcano was perhaps the most spectacular ride – a long climb from jungle to grassland in the caldera at the top, then descending a viciously steep 'main' road on dirt, past crippled trucks stranded with their engines smoking or tyres shredded from the heat of braking. But one particular day will stay in my memory forever, because it was so hard that I'd put it up there with some of the toughest bike races I've ever done: 130km of flat dirt road made up entirely of desiccated pale grey mud, carved into a bone-shaking washboard of ridges interspersed with patches of deep dust. There was no good line. There was not enough water. There was nothing but slow miserable progress for hours in the heat. Not many things have tasted as good as that can of coconut water 100km in.
On our final day we rolled into Hoi An with two Velo Vietnam jerseys on the front; co-founder David had joined us. My Camino was finally set up just how I wanted it and covered in orange dust. I was also dusty and tired, but wishing I could ride on for another 3 weeks. There are surely enough beautiful roads to keep any exploring cyclist happy for months – especially with the quality of the coffee! The funny thing is: I went to Vietnam just wanting to pedal, but what made the trip great was the people, the culture and the history. A bike is a wonderful way to move slowly through a country and get a little closer to the life there than in a vehicle. I can't wait to go back.