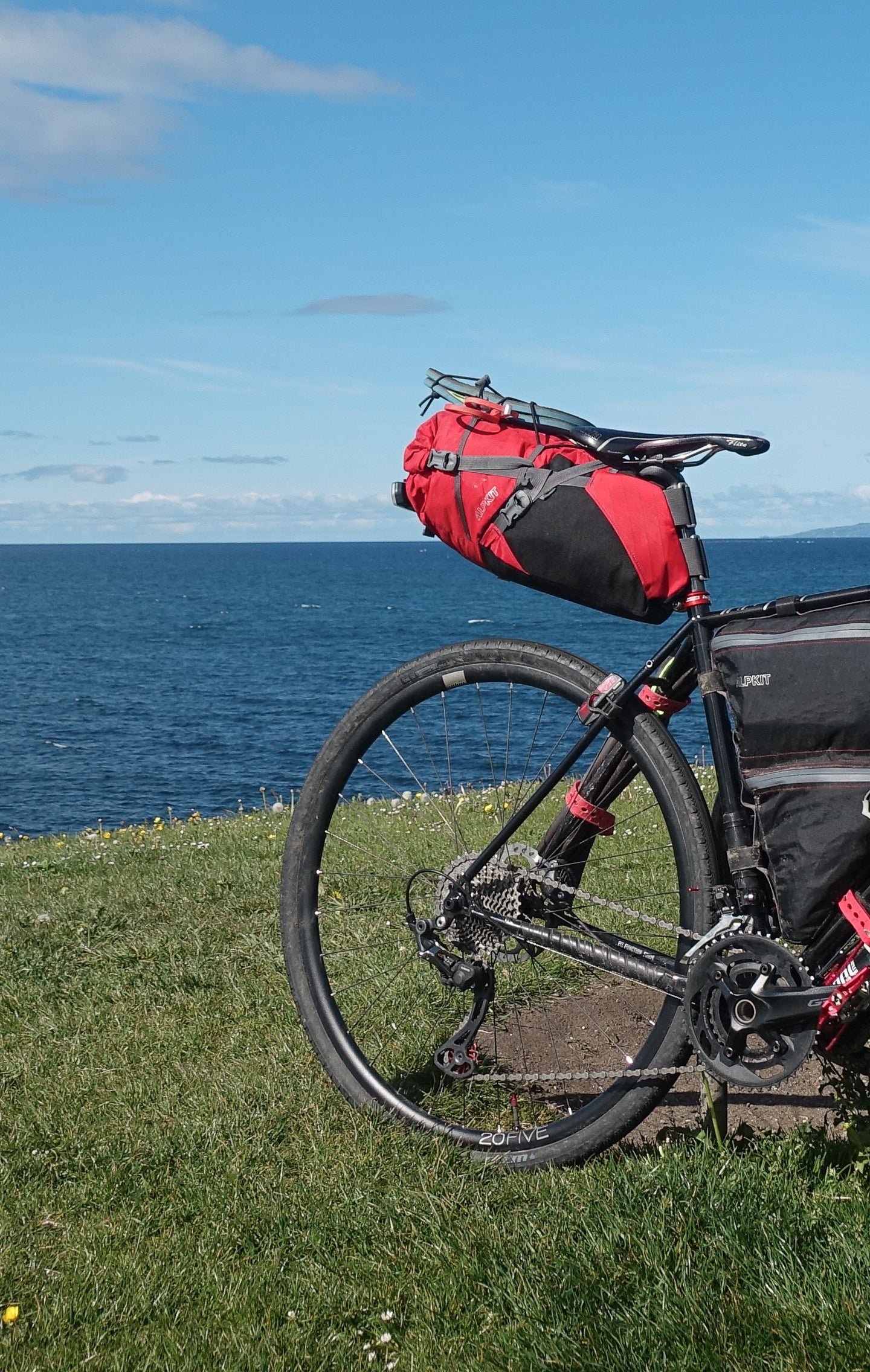 Bikepacking Scotland | Part 3
The Outer Hebrides are one of the few parts of Scotland I had previously visited for a weeklong trip up the Hebridean Way in a glorious early summer heat wave a few years previous. I had been keen to visit again, unconstrained by a timetable, determined to explore more of the archipelago. Of course, I was worried that the weather would not match up to the previous trip and my good memories would in some way be tarnished. The weather did not disappoint. 40-60 mph winds battered the islands for days and heavy rain left me taking two days off rather than endure the conditions.
But rather than ruining the visit, these two days became good memories in their own right. On one, I teamed up with Ally, staying on the same site as me, resigned to a day of low key exploring in the car due to the conditions. On the other, the afternoon was spent in the communal blackhouse of a campsite. I sat reading and chatting to other campers in mutual despair at the weather, as the log burner drove away the cold and imparted a beautiful smoky fragrance on everything inside.
Whilst it would be entirely possible to focus only on the great experience of the trip, it's important to note that I faced challenges along the way as well. Overcoming them is truly part of the overall experience, I'm not quite sure they all count as Type 2 fun though, even now. After over a month on the road, I started to suffer with my health. I put it down to the effects of riding every day combined with poor nutrition. Whilst shorter trips of a few days are perfectly suited to being fuelled by only Haribo and dehydrated pasta, after a lengthy time, this isn't quite sufficient. So, all at the same time, I suffered with dehydration, a urinary tract infection and a bad case of athlete's foot. A well needed rest day, ditching the AeroPress (gaining more water carrying space) plus some antibiotics (thankyou NHS Scotland for free prescriptions!) and I was on the road to recovery. But from this point, I had to make more of an effort to think about looking after myself.
One of the locations pin-pointed for a visit was the lighthouse at Cape Wrath, stimulated by the promise of a patch from Cycling UK for riding to one of the most remote points of the British Isles. What makes this location so difficult to reach is the need to get a ferry, followed by the 11 mile ride along a broken road (if the road is even open that is!) It crosses a live firing range so is subject to closures based on the MOD timetable. I was lucky, the week I was in the area there was no scheduled shooting. However, the conditions were poor so there was a strong chance the ferry would not be running. I pulled up and there was no clear indication of its operation, only a few roadworking contractors chatting next to a digger at the top of a slipway.
"Do you know if the ferry is actually running today?" I asked resignedly.
"You coming back today?" comes the gruff response of one of the trio.
"Nah, was going to stay out there for the evening".
"Hmmm, yeah… hmmm, I'll run you over in a wee while".
I was soon sat chatting to Malcolm as we made the choppy crossing. There was barely enough room for the two of us and my bike to squeeze into the tiny dinghy. I saw why reaching the lighthouse is considered a challenge. Having achieved my goal of the lighthouse, I spent the evening at the Kearvaig bothy, chatting to 4 other cyclists, spending their second night there. I brought up the comical lack of space on the ferry; but they all came over together, with plenty of space on board. So who did I pay to come across then, and will I actually get back tomorrow morning? It turns out that Malcolm was indeed the official ferryman. Conditions meant he wasn't running the ferry the previous day and so had just run me across in his dinghy rather than the actual ferry boat. A comical story made funnier by having met these four young lads to share it with.
One of the four cyclists met at the remote Bothy was James, a junior doctor touring Scotland for a few weeks before starting his next role in Dundee. We compared our itineraries and realised we were taking the same path for the next week or so. Having ridden alone for the past month, I was excited at the prospect of having someone to talk to for a while and we agreed to team up. We didn't ride for long, our first stop was to visit the Smoo Caves in Durness as Luke, George and Finn set off to continue their North Coast 500 expedition. After the extended stop at the caves, we soon fell into a (somewhat clichéd) rhythm of riding our own pace on the climbs, regrouping and chatting at the top before laughing our way down descents. After so much solitude on the road, it made the entire North coast fly by in a few of the best days riding I'd felt I'd had. We briefly went our separate ways for a day at Tongue before meeting up and exploring the Orkney Islands together.
On our first night on the Orkney Islands, we headed to find that British delicacy of fish and chips for dinner. We sat discussing various topics, our experiences so far, what we had done the previous 24 hours apart and plans for the next few days. Unbeknownst to us at the time, we were being eavesdropped upon and soon we were being confronted by our secret audience. We can't be sure what angered our spectator so, but I was soon being accused of being a liar, a charlatan and a politician. James was charged with being a journalist interviewing me. He refused to believe our cover story of being travellers exploring the islands and sat aggressively interrogating us with cutlery in hand. We were trapped in a corner, escape required, pacifying our friend enough to squeeze past him and not get stabbed with a fork. We eventually managed to get away, but it was definitely not the welcome to the islands we had hoped for.
Of all the Orkney islands, the island of Hoy was both a high and low. Having explored the lower half of the island by road, we headed to view the impressive sea stack of the Old Man of Hoy, towering 137m over the crashing waves below. The ride there, without luggage and with a technical rocky trail beneath me was a thrill, pushing the bike to its limits and having to dismount and hike-a-bike at points. Having spent most of the trip thus far on tarmac, it was great to get on a different surface. That was, until it wasn't. On the return, 100m before the gate, I took the tyres beyond their limits on a loose off-camber bend and came crashing down to earth, literally. We surveyed my damage at the café by the ferry and it looked worse than it was. At this point though, we must look like a right pair, James with both knees bandaged following a crash back at Cape Wrath, me with blood soaked shins. It certainly opened up my eyes to the risk of a serious injury far from home, so I took it easier after this… slightly easier at least.
In teaming up with James, I had gained a friend, someone to chat and laugh with, someone to make some of the dull road miles entertaining and, finally, a few photos of myself to prove I was actually on the trip. But after over a month of solo riding, having a companion felt both a blessing and a curse. Last minute off-the-cuff decisions had to give way to discussion and compromise. I was also less likely to chat with strangers met along the way, the vulnerability and openness of a solo traveller replaced by two friends closed off in private discussion. I wouldn't say that solo travel was better or worse, the fact is that it was just different, and a balance had to be struck. When alone, I yearned for someone to ride with, but after a while I began to miss the simplicity of solitude. So as we reached the Shetland islands we made our own plans and headed our separate ways. We crossed paths again a few days later and it was great to catch up and I'm hopeful of seeing James when his plan for a tour of East Anglia comes to fruition in the future.