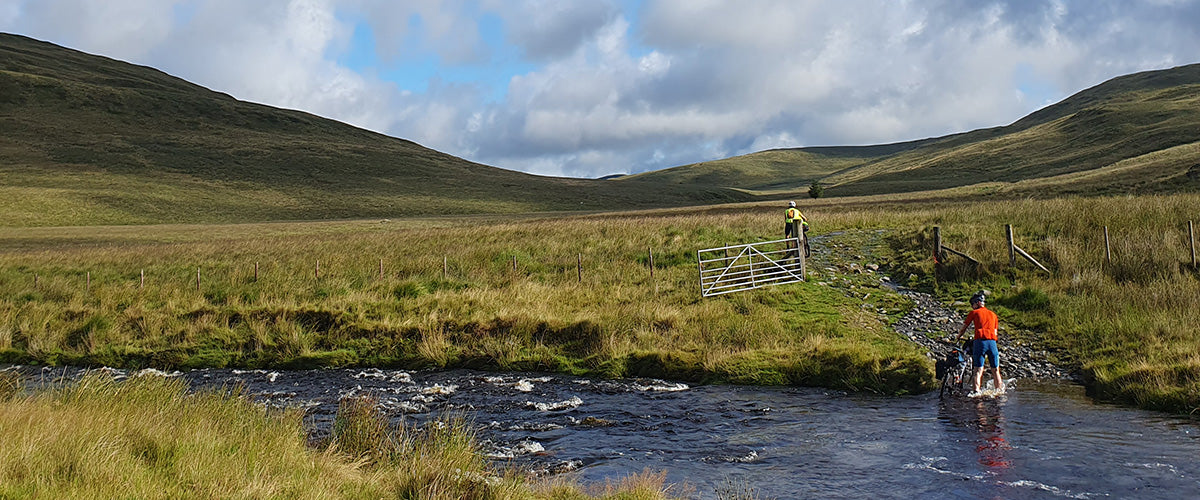 GBDURO- You've got to go there to come back again
'You've got to go there to come back'… Land's end and back again -
My (un)learnings from GBDURO.
As the dust has settled on my GBDURO experience, (and I've discovered all the final lurking jelly babies squashed into the bottom of my stem bags...) some thoughts have been forming on how the whole event went for me.
The question of why people turn up to big ultra-distance bikepacking challenges has always fascinated me and I guess I'd include myself in this... From the outset this one was an intensely personal experience; not only was it to be the first time I'd actually ridden the length of the island I come from (& if I didn't 'scratch' I'd finish a lot closer to my home in the Highlands than where I started!) but it also became a race I was doing entirely for my own reasons.
Since having kids a few years back, bikepacking races have significantly changed for me. The commitment and dedication it requires to do well have slipped down my priority list. In recent races I'd learned to accept that I was there purely to ride my own ride, for my own reasons, and not worry too much about what other racers were doing or where I'd place overall. A mantra of "10٪ less suffering leads to 90٪ more enjoyment" had been working pretty well for me and this was definitely the attitude I showed up to Land's End with. 
GBDURO is a 2,000km 4 stage self-supported, off-road bikepacking race from Land's End to John O'Groats that's described as a "scrappy rolling picnic through Britain's ever changing landscapes".
But two things quickly made themselves apparent. 1: it's pretty difficult to enjoy a "picnic" when you have to complete a minimum of 200kms per day just to make the checkpoint cut offs!! 2: often the route made sure that some of that distance was extremely hard won!!
I'd initially been worried that the GBdivide route would be a bit too road and gravel orientated for my sensibilities (I'd showed up on a hardtail mtb rather than a gravel bike)... but as it transpired, my interpretation was that it's in fact essentially a mtb race; including sections of rough singletrack, boggy moorland and mountain paths over some of Britain's emptiest spaces… only with some pretty long road transitions in between! My bike choice of the Sonder Broken Road began to pay dividends as the hard won road minutes other riders on gravel bikes put on me evaporated on the chunky descents of Exmor and central Wales.
Eventually, sometime after CP1 my (fairly untrained) body (...two toddlers remember!) felt like it started to adapt to the long days on the bike and, to my surprise, having started out with my plan to keep things pretty steady, the urge to push a bit further each day began to creep in. The decision I made to send home my stove and ditch my porridge oats somewhere around Manchester cemented this idea. I'd stopped 'touring' and started 'racing'. This would be a ride of two halves...
By this point the field of riders had already opened up into two distinct groups; the 'sleepers' and the 'non-sleepers'... and coming out of CP2 it turned out that I was now beginning to mix with the latter... crossing the border North and onto home territory I began to become aware of that old familiar, slightly crazy, racing mindset that takes hold as you ride further and sleep less. Decisions and distances that would normally seem unthinkable start to look more and more doable. Even better, my body was still complying and seemingly going from strength to strength.
Waking up in a soggy field in Biggar (after assisting with a Mountain Rescue incident for a fellow rider the previous night) it wasn't immediately obvious that I would push out the 320km to CP3 in Fort Augustus in a oner but as the miles ticked off and (and the rain clouds continued to chase me down…) it began to seem a more and more foregone conclusion. Topping out the Corrieyairack Pass at around 2am and realising that I'd just turned 38 years old told me that I was definitely now in that 'ultra' frame of mind... and it turned out that this was a place I was more than happy to be.
The final 370km stage from Fort Augustus to John O'groats passed by in a 21hr blur of prime Scottish wilderness; in which my Garmin tells me I was only stationary for a total of 1hr and 8mins!... (...mostly spent strapping a tin of baked beans to my bike outside Contin stores!). I crossed the, typically anticlimactic, line at John O'groats in 5th place for the stage just as the sun was coming up over the horizon and to smatter of weary applause from Christian, the fourth place finisher... This put me into 6th place overall and firmly transitioned me into the 'non-sleeper' camp.
This was not at all how I had expected my ride to go... Setting off on GBDURO I'd figured it would be a 'faster than average tour' and perhaps an efficient opportunity to ride LEJOG for the first time. My motivations for 'racing' ultra distance bikepacking events have certainly evolved over the years. 'Letting go' and an immersion in a wilder and more feral mindset have become top of my list. But on GBDURO I learned that letting go doesn't always have to mean easing off. Sometimes truly letting go is found in removing the barriers of what you think you could or should be capable of. It's about rewriting the script, living in the moment and losing focus of the destination. I know that perhaps sounds like an odd approach to 'racing' but for me it's exactly the kind of lessons I've come to expect from these experiences. It's just sometimes you've got to go there to come back...