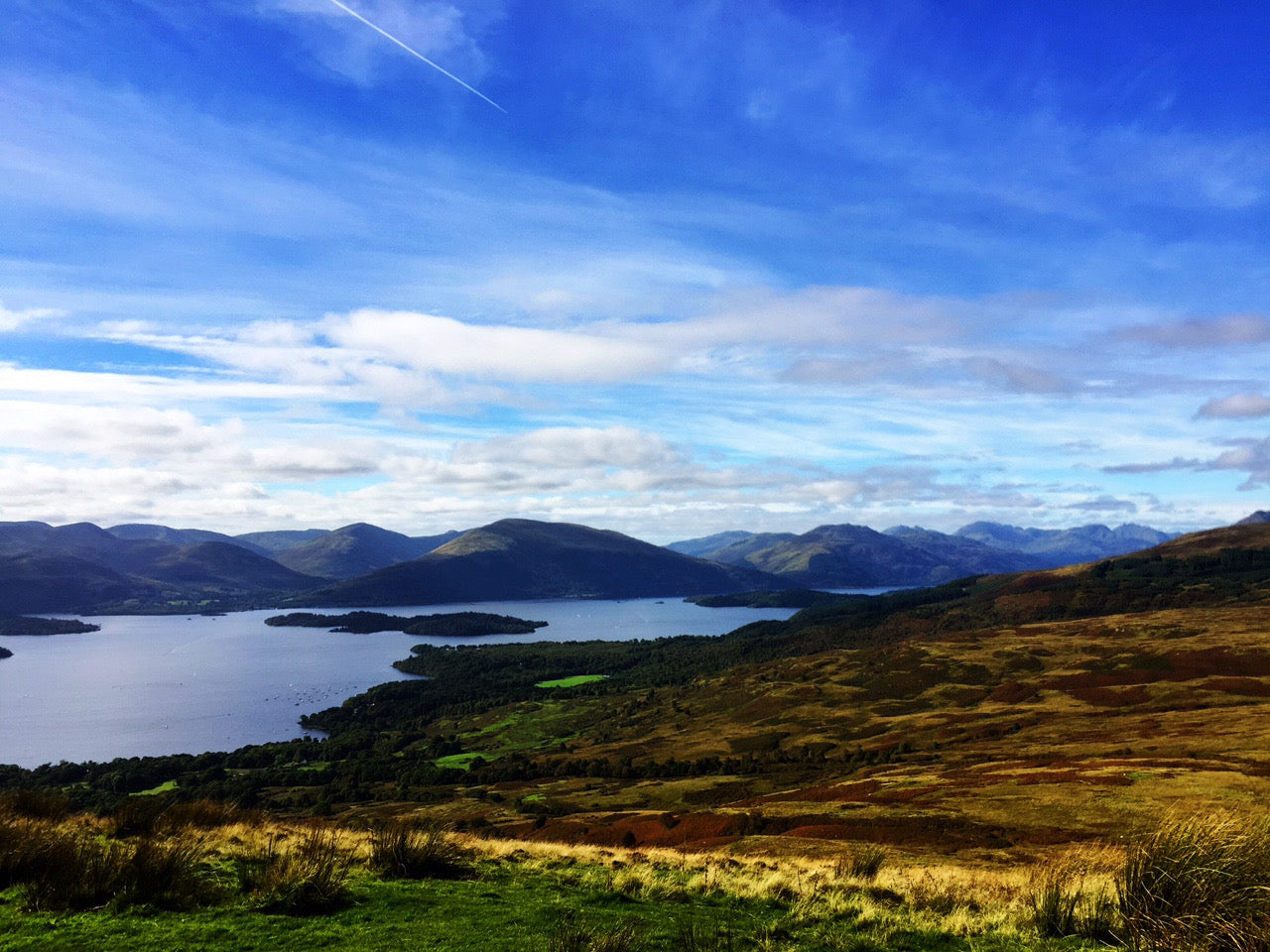 West Highland Way and the Murdery Bothy
The West Highland Way is a 154km walking challenge which goes from the outskirts of Glasgow to Fort William. It was first invented in the 1980's as a long-distance walking trail which takes you from the gentle lowlands to some more rugged terrain further North. Some people run the whole lot in under 24 hours and some walk it in 10 days. A guy I used to race against did it in just over 9hrs on a mountain bike.
In my mind it doesn't really matter how you do it as long as you enjoy yourself.
I have previous with this trail. Quite a few years ago, a friend and I decided to have a go at cycling it in 2 days (well that was the plan). We were filled with the super-confidence that comes from racing cross-country mountain bikes. I'd just come back from some racing in the French alps and my friend was just about to get 5th for his first attempt at the 3 Peaks cyclocross the weekend after this. So we were quite arrogant about how fast we were and how challenging the distance was. 'Everyone else must be rubbish if it had taken them 3 days' we thought to ourselves....This is where our problems lay; stupid arrogance!
So we planned to do it in 2 days with a romantic B&B in Tyndrum on the Saturday night followed by smashing on to Fort William on Sunday, a train journey back to Milngavie to pick up the car and then a drive back to the Lake District for work on Monday morning. Ideal!
It all sounded quite feasible on paper... but by the time my idiot mate had driven from Yorkshire to Cumbria to pick me up on the Saturday morning it was about 10:00am. Then, by the time we'd faffed about and eaten lunch and dumped the car at the start it was about 2pm... 'It's ok, it's only 50 miles to Tyndrum. What's that? 4-5hrs tops? Easy!'
So we set off, a scotch egg and a few bars in our pockets and cracked on. We were riding pretty well; the sun was shining and the trails were quiet. We started to chat about the well-known bit of track next to Loch Lomond (a bit techy, apparently). 'Ahhh it will be easy, it's only choppers that get stuck there. I don't know what the fuss is about'. We were stupid enough to think that the single-track we were on was the tricky
bit until we were stopped by a fence, then a rocky step, another stile and some awfulness, then a bit more that we couldn't ride, then another bit of rubbish and another stream crossing repeat and repeat again. This was getting tiresome; riding in Carbon shoes on race bikes was not ideal. This was taking a lot longer than we'd thought it would. In fact, time was cracking on now and we were not making much progress at all. We moaned a lot and carried our bikes some more, tripped over things and generally didn't make a very good job of what we were doing. Maybe, just maybe, we had underestimated this a bit. To add insult to injury it was getting dark.
After what felt like forever, we finally cleared the 'tricky bit' and were riding through some lush forest which also seemed to be taking us longer than expected.
'How much further to Tyndrum' I asked?
'About 15 miles'.
'Arhhh'.
'Is it going to be dark soon?'
'Yeah, I think it is'.
'What are we going to do?'
'Dunno…'
'Any ideas…?'
'Nope!'
Then out of a clearing, we came across a murdery-looking bothy (think Blair Witch).
We were not equipped for a stay-over plus I was looking forward to my fish and chips. However, it was a case of stop here or get eaten in the woods. We looked at our resources for the night. I had leg warmers, a jacket, some flip flops and a fleece. Idiot friend had similar. We had 5 bars to eat and that was it.
I went into full Ray Mears mode and started trying to get kindling and things to burn. We had about 30 mins before it was going to be ridiculously dark. We finally got a fire going by burning my baggy mtb shorts (there's a good tip for you), transforming the Bothy from freezing to tepid. We now had time for all the luxuries like swilling ourselves off in a stream. Mmmm, I suppose we'd better wait this out till morning then.
It was freezing, it was dark, we had no torch and we had finished eating our 'supper' of one cereal bar each so…off to bed. We each took a hard plywood bench and lay like mummies until daylight. Sleep, as you can imagine, didn't come easily and I was sure I'd heard an animal in the night (or it could have been a murderer/bothy ghost?). Who or whatever it was, they decided to open and eat 2 of the 3 bars we had saved for breakfast.
As soon as the grey light of dawn came after the freezing night and we'd shared our now one remaining Brunch Bar, we made haste. About 6 miles away we found a café, ate most things on the menu then ploughed on to Tyndrum. At that moment, it really wasn't funny; it took ages and I was still hungry. We popped in at the B&B we were supposed to have slept in and got scolded for not letting them know we weren't coming. They weren't interested in the fact that we were stranded and had no signal and so I didn't bother elaborating about the Brunch Bar-stealing murderer.
We then looked at the weather forecast for the day; heavy rain coming in later, probably around the time we'd be tackling the Devil's Staircase. Mmmm no thank you! So that was that. I finally got my fish and chips and we waited for a train back to the car.
We laughed about this at the time; it was funny. However, it could have been a lot worse - the mouse/ghost/murderer could have eaten all the bars. Our arrogance about the speed we assumed we'd be going tripped us up. I'm very glad that we found the bothy, murdery as it may have felt.
Many years have passed since this stupidity and I've driven through Tyndrum many a time since. Each time, I think about what could have been a good run out or a big disaster. I often think about the lack of kit and if one of us had stacked it and we'd had to wait for help - I shudder at this.
However, this year I'm going back. I'm not going to try and complete it in 12 hours. Katie and I are going to try to run it over 4 days (she says 5) but I'm going to take the correct kit and some spares. I'd like to back-pack it, sleep in a hedge. But I think there will be some creature comforts along the way. I'm still not right after my ordeal with Lyme disease so I'll be happy just to complete it. Still, doing a marathon 4 days on the trot is still something quite ambitious. However, I know for a fact that as soon as I get started, I'll be wanting to press on for my fish and chips in Tyndrum.
What I took on this trip when I was an idiot:
6 brunch bars

500ml water which I re-filled at streams
1 scotch egg
Credit card
Lycra shorts
Baggy shorts - great for a fire lighter
Leg warmers
Flip flops
Vest
Race jersey
Thin fleece
Light weight down jacket
Hat
Helmet
Gloves
Waterproof
We also shared 2 inner tubes and pump.
What I will take this summer (still an idiot but a slightly wiser
one):
Full change of clothes
Emergency shelter
Stove
First aid kid
More than one scotch egg
Torch
Proper waterproof top and bottoms
Squall hat
Thin down jacket
Shorts
Legwarmers
Vest
Running T
Long sleeve base layer