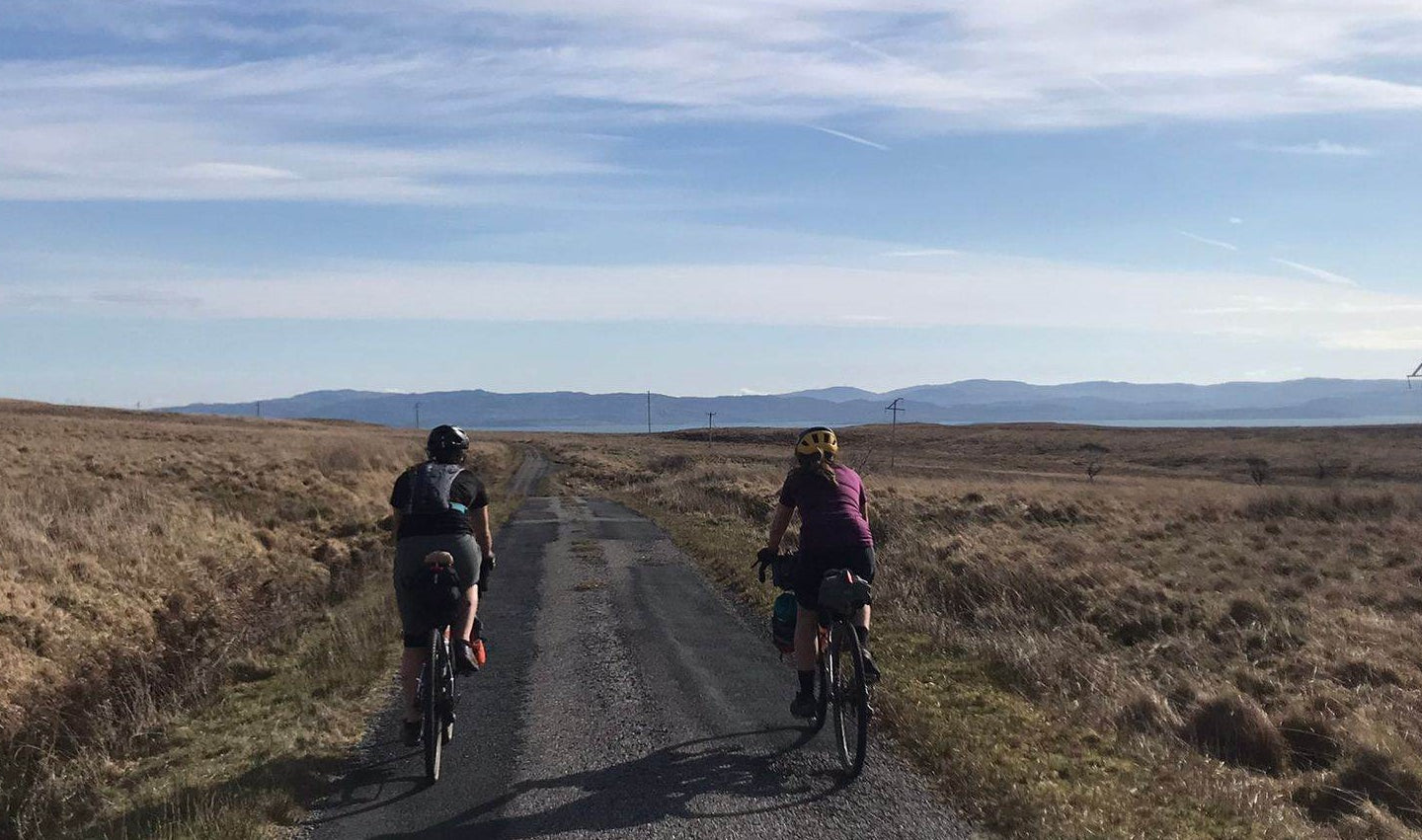 Springtime Island Hopping in Scotland
4-days in Spring island hopping from Arran to Kintyre and Jura finds freedom on a Sonder Camino. Anna, Alpkit's Financial Controller, joined a group of friends and truly found faraway nearby. Here's the low-down on her adventure and her kit list.
We set off from the Peak District bright and early on Thursday morning. We headed to Ardrossan to get the ferry over to the Isle of Arran for our first ride of the trip just after lunch.
We rode over a mix of forestry tracks on the south of the Isle to the breathtaking Glenashdale Falls. We stopped past the Lagg distillery. Our hopes were up for a tea and cake stop. They'd just closed! But, in classic bikepacking fashion, it's the kindness of strangers that makes the trip. They made us tea in our takeaway mugs to keep us going until our first bivvy spot near Lochranza.
The island was incredibly quiet, especially on its west side. Only 20 metres away from the road, I talked my friends into bivvying. Luckily, we didn't get woken by any passing cars overnight. But we did wake up covered in frost. Oops.
Our ferry over to Kintyre took us past loads of seals – it was beautiful. We made the most of the gravelly forestry tracks. Lovely. Apart from the one that was so boggy that we had to push our bikes.
On the third ferry of the trip to Islay, we met another bikepacker. A seasoned expert in the Scottish islands. He gave us good news and bad news. Firstly, the wind. He warned us it might get so strong it'd stop the ferries running. Uh oh. Then good news. He recommended a fishing hut that was even better than the MBA huts we'd seen.
We were desperate for a swim spot by the time we arrived. Time ran away with us, so we took ferry four to Jura. We cycled just 8 miles to Craighouse for a dip and some belated birthday prosecco. Dinner that night couldn't have been more local. Deer from the island, black pudding from Stornoway and chutney with ingredients from two doors away.
The next morning was the most amazing sunrise. We drank tea in our bivvies, setting ourselves up for a big day exploring Jura. We rode a single track road all the way until it finished. Along the way, we stopped at a horsebox with tea and coffee facilities. It was amazing to drink tea on the beach.
We made a tactical decision to head back early and aim for the bothy our bikepacking friend told us about. We stopped for lunch in a quiet bay. Aliss had a lunchtime swim in the sun. Then, we had to face the headwind. For a group of off-road riders, we quickly learnt the benefits of drafting, each taking it in turns to push on into the wind. We made it to the hut 43 miles (and 3 miles of walking!) later. It felt like pure luxury.
The next day, we were on a mission: to get back to the car. It took a lot of logistical planning, peloton riding into the headwind, and seasickness on ferry 7. The sea was getting mean. We deserved a bit of a rest. On the final night, we stayed in the Lochranza hostel, glad for a hot shower and bed. It set us up perfectly for our final day. We spent it tasting the local delicacies. The Arran Cheese Shop, Chocolate Factory and Arran Sense of Scotland. They're all a must.
It was my first multi-day bikepacking trip, Rachael's first ever bikepacking trip and Aliss's first trip to Scotland as an adult. It was incredibly special.
Anna's Kit List
Bike
Clothing
Camping