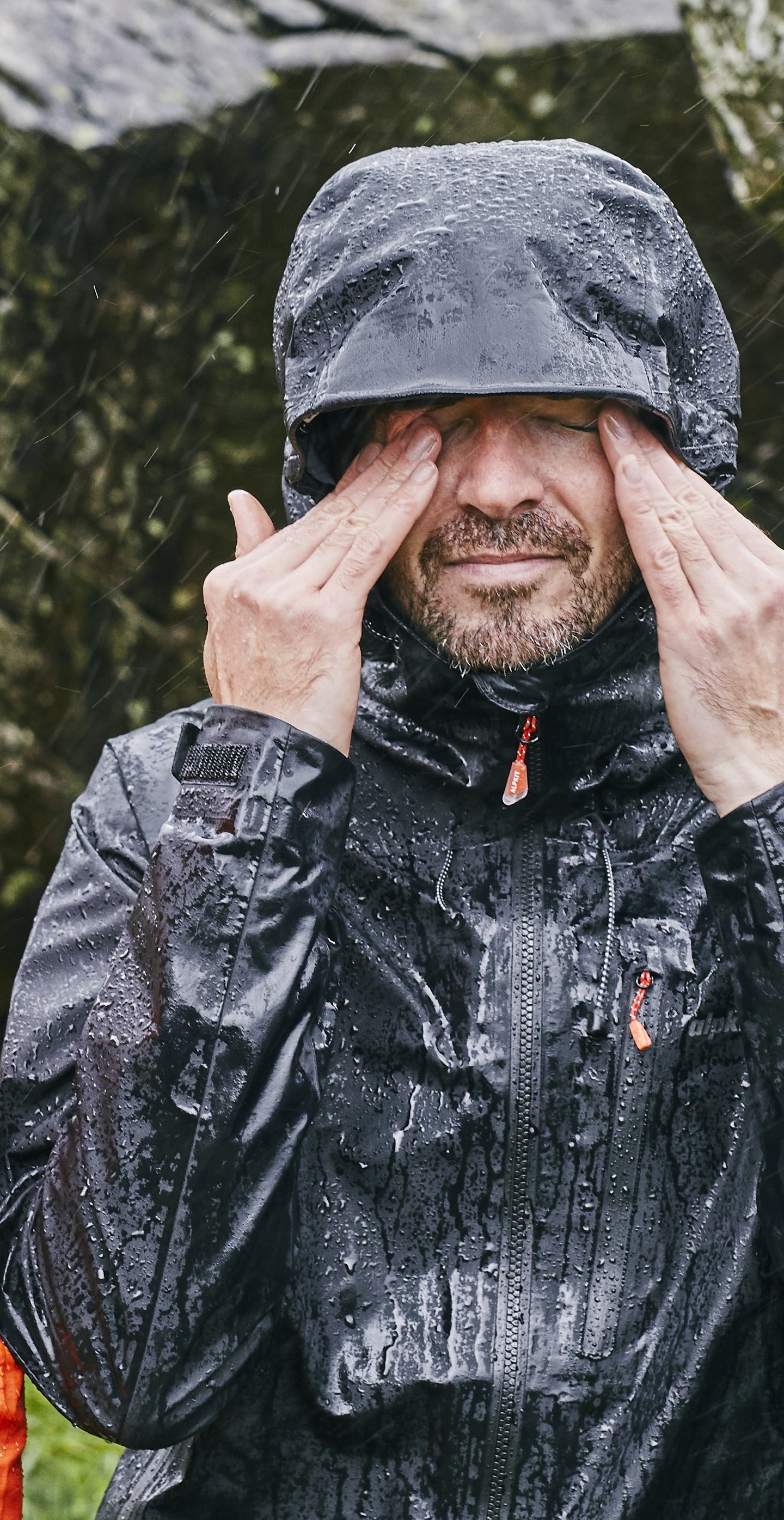 Our Waterproof Fabric Sourcing Policy
Our Design Team are experts at selecting the right waterproof fabric for the right activity, the right budget and the right adventure. We source technical fabrics from quality, trusted suppliers to keep you dry in even the nastiest wet weather.
A Brief Overview
Fabric Sourcing
We work directly with fabric mills in China, Taiwan and Japan. This means we have more freedom and more control. Especially over the environmental and ethical impact of our products. We ensure our suppliers are signed up to the Ethical Trading Initiative's Base Code. So we can make better garments. Better ethics, better environmental credentials and better performance.
We don't look for big name brands. Just good quality fabrics, selected from trusted suppliers like Toyota and Amaterrace. They perform just as well as their big brand counterparts. And, by not working with big brands, we can have the flexibility to find the right fabric for the job. Not just the one with the brand name attached to it.
What Makes a Good Fabric?
So, what do we look for in a waterproof, breathable fabric? The Big Four are: waterproofness, breathability, comfort and durability.
Waterproofness
Waterproofness is measured in mm of hydrostatic head (HH). Hydrostatic head tells you how tall a column of water (in other words, how much water pressure) a fabric can withstand before it leaks. The higher the rating, the more waterproof the shell.
We tailor the performance of the fabric to meet your end use and budget. For shells like the Definition, Nautilus and Gravitas, we specify a minimum of 20,000mm HH. For jackets like the Argonaut and Atalanta, we use the industry standard for waterproofs - 10,000mm HH.
Breathability
Breathability is measured by the Moisture Vapour Transmission Rate (MVTR in g/m2/24hrs). An MVTR of 20,000 is generally a good benchmark for active use. But it's not just about the numbers. It's a tricky one. The test favours some fabric types over others. We test all our fabrics to make sure you're not going to get that dreaded boil-in-the-bag feeling.
Comfort
Comfort is about more than just keeping you dry. Features like stretch and fabric can make all the difference.
Stretch fabrics can make a better fitting garment. One that moves with you rather than working against you. Stretchier materials are super handy for dynamic movements like scrambling.
Some fabric backers feel better against the skin and can help wick moisture. And the outer fabric can be made soft and quiet for stealth, or tough as nails for durability and a more protective feel.
Durability
There is a trade-off between fabric weight and how much use and abuse it can take. But durability is not just the ability to avoid tears and abrasion. It's also about how long a garment can maintain its waterproofing. And how much emotional durability it has. In other words, how long will you keep using, wearing and loving it?
Across our range, there are a number of options so you can decide 'how light is right?'. And the better you look after your gear, the better it'll look after you.
Our Fabrics are PFC-free
This year, we're proud to say all of our waterproof jackets and trousers are PFC-free! No more nasty chemicals building up in the Alpkit food chain.