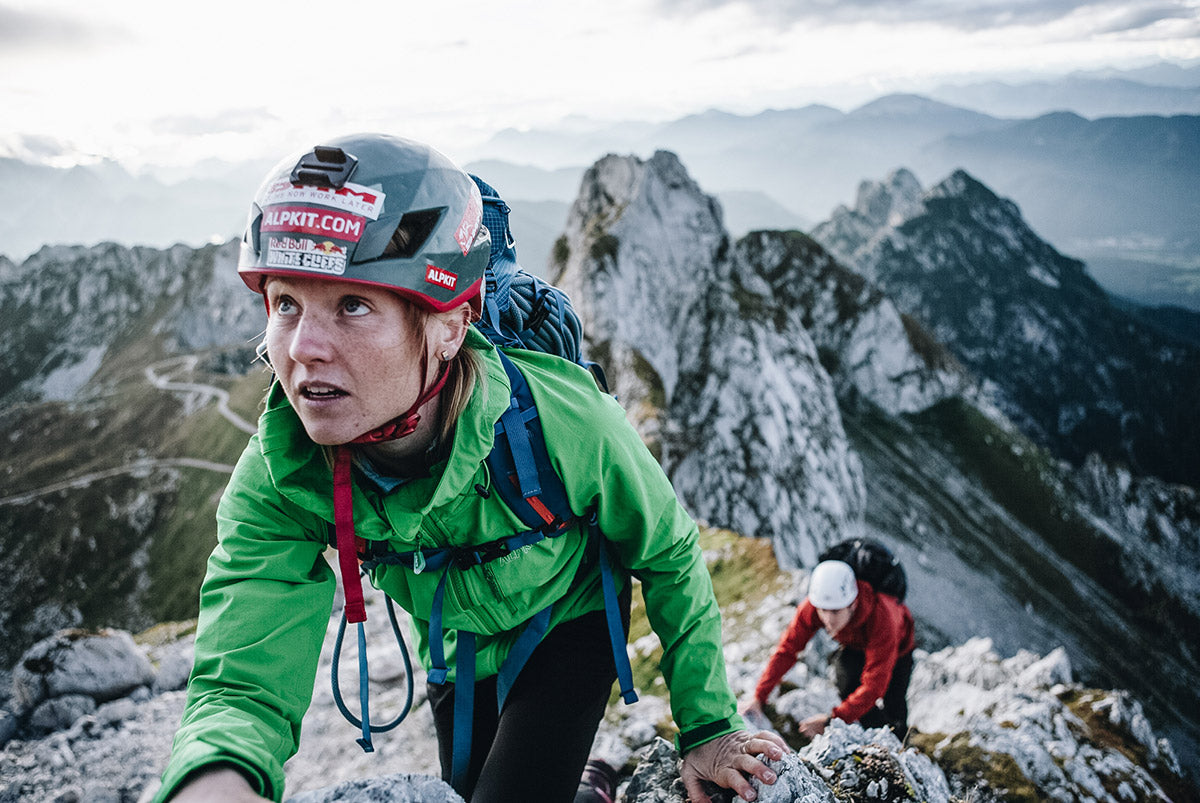 'Do you make softshells?' is a question our customer service and store heroes get asked a lot. But what even IS a softshell?
Put simply, it's a layer that protects you from the elements without being fully waterproof, which allows better breathability and comfort over a wide range of conditions. That leaves an awful lot of variables open though. How windproof? How warm? How light? How durable? How expensive?
Firstly, what does softshell mean?
A suit of armour that doesn't feel like one! 'Softshell' means it's not as hard as a waterproof, because it doesn't need to be. Softshells protect you from wind and light moisture, and breathe much better than 'hard', waterproof shells. They tend to be more comfortable to wear in changeable conditions, and don't restrict your movevment either (we reckon you could probably do the splits in the Ardent softshell trousers!)
Where do Ardent and Resolute fit in?
There's more than one way to skin a cat, and there's no greater example of this in outdoor clothing than softshell.
Technically the Arro and Morphosis are both lightweight softshells: they keep out the wind and will shed a bit of moisture whilst being more breathable than a waterproof. The Chilkoot trousers are a lightweight stretchy softshell that looks after your legs.
Listening to our customers though, it was clear that there was room in our range for something a bit tougher, a bit warmer and a bit more protective for cooler conditions.
Enter the Resolute Jacket and Ardent trousers. Designed for the variable weather found in the mountains, they cut out the chill from the wind and will shrug off a bit of drizzle or light snow whilst remaining superbly breathable and flexible. This makes them excellent all-rounders for most conditions except for summer heatwaves or persistent rain where you need to throw on a waterproof and batten down the hatches.
;
Prototyping and testing (when you actually get to see and wear the garment)
Once we'd selected a fabric we started prototyping (nothing is certain until you've seen and felt the garment made up and actually been out to test it). We're lucky to have the Peak District and Lake District as our testing ground…
Ardent testing: bottoms, knees and cuffs
On the first prototypes of the Ardent trousers, we experimented with different fabric combinations because we wanted to reinforce the seat, knee and cuff area (these spots always get a beating). One of the reinforcement fabrics we tried didn't work at all, it felt colder and less protective than the main fabric and sagged in weird ways that made it hard to get a good fit. So we ditched that fabric and found something lighter yet tougher, layering it over the main fabric to make sure the areas we wanted to reinforce were just as comfortable but more durable. We felt it was important that the women's Ardent pant was just as tough as the men's, so apart cutting them to fit a female shape we have kept all the same reinforcements and features on both models. After all, I'm a female climber and I know how much I use my knees and arse when I'm out in the mountains!
Ronnie testing the Ardent pants on a very snowy Helvellyn | Photo: Andy Cowan
Resolute testing: a few difficult decisions
On the Resolute jacket we experimented with a new kind of zip that was supposed to help hold the collar away from your face. In fairness, it kind of worked but the problem was it was so subtle that our test team didn't actually notice the benefit unless you pointed it out to them. This would have been fine had the zip not added £10 to the cost of the jacket, so when it came to the crunch we decided the cost outweighed the benefits.
Decisions like this are hard, because we have to decide what our customers value more: in this case we decided they'd rather the £10 in their pocket than a feature they might not even notice.
We went through several rounds of prototypes on both the jacket and the trousers, testing over winter in the Peak and Lake District. This allowed us to test the function and fit, honing little details like the hood on the Resolute and the lower leg fit on the Ardents (to make sure they were slim enough not to snag on crampons). Our store heroes got to be a part of the development process, which is something not many outdoor shop staff get to do. It's a great way of ensuring they know the product inside out and can provide expert advice to our customers.
So why do you need softshell like the Resolute jacket or Ardent trousers in your mountain wardrobe? They are incredibly versatile, adapting well to the variable weather we find in the mountains, from cool cloudy days walking in Wales in August, to the summits of alpine scale peaks. For flexible, comfortable and breathable protection they are hard to beat.
">