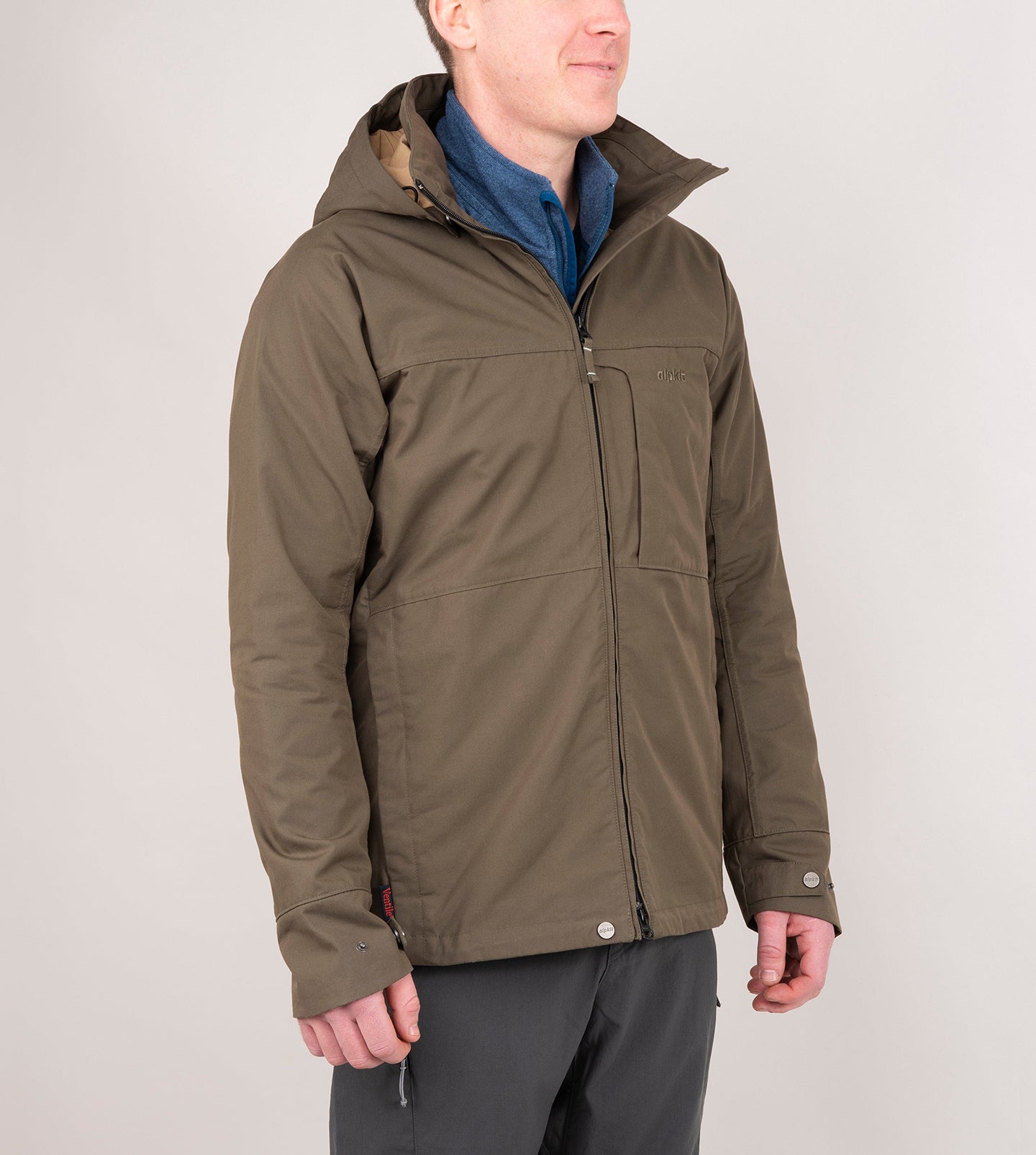 The Great Outdoors magazine reviews Ranger ventile coat
The Great Outdoors Magazine's Chris Townsend takes a look at Alpkit's latest offering, the Ranger, a jacket that employs Ventile - a fabric harking back to 1941. Conceived to keep downed RAF airmen alive in the Atlantic during World War II, Ventile is a top-tier, tightly woven cotton, capable of braving wind, weather, and some rain.
This isn't some cheap windproof fabric; it's a marriage of history and utility, a PFC-free water repelling, organic cotton born in Switzerland. It absorbs heavy rain, swells up, and stiffens, creating a greater barrier to weather, while maintaining breathability because it lacks a solid coating or membrane.
Ventile is soft and comfortable and lovely to wear. As Ventile is quite thick and the front and hood are double layer the Ranger is quite warm compared to synthetic windproof fabrics. I've worn the Ranger over just a base layer on cool days and been warm enough while moving. The hood fits well and moves with the head.

For overnight trips and year-round hillwalking it's a good choice. As it's so protective there's no need to carry a fully featured waterproof jacket as well.
Alpkit's use of Ventile is an attempt to bring a natural alternative to outerwear, keeping synthetic fibres away from the great outdoors. Townsend respects this sentiment and appreciates the efforts to reduce environmental footprint by using recycled polyester for zips and labels, and recycled brass for the studs.
The Ranger, with its double-layered Ventile front, hood, and shoulders, and single-layered back, sides, and arms, is a comfortable wear. It's tailored with an adjustable high collar, detachable hood, zipped pockets with protective flaps, a two-way zip, and a bottom stud to keep the jacket from flapping open when ventilated.
Townsend enjoys the Ranger's comfort but notes that its protective nature makes it warmer than synthetic windproofs. Although it hasn't seen severe conditions yet, in wind and showers it's held its own. It's suitable for year-round hillwalking and overnight trips but might be too hefty for extended backpacking, except in winter. Despite its weight, the fact that it reduces the need for carrying a fully featured waterproof jacket compensates for this.
The Alpkit Ranger gets the 'Recommended' endorsement, standing as a testament to the blend of past wisdom and modern needs. It shows that sometimes, to move forward, you might need to take a glance back. A step back into history could bring forth the blend of comfort, resilience, and environmental mindfulness we need today.