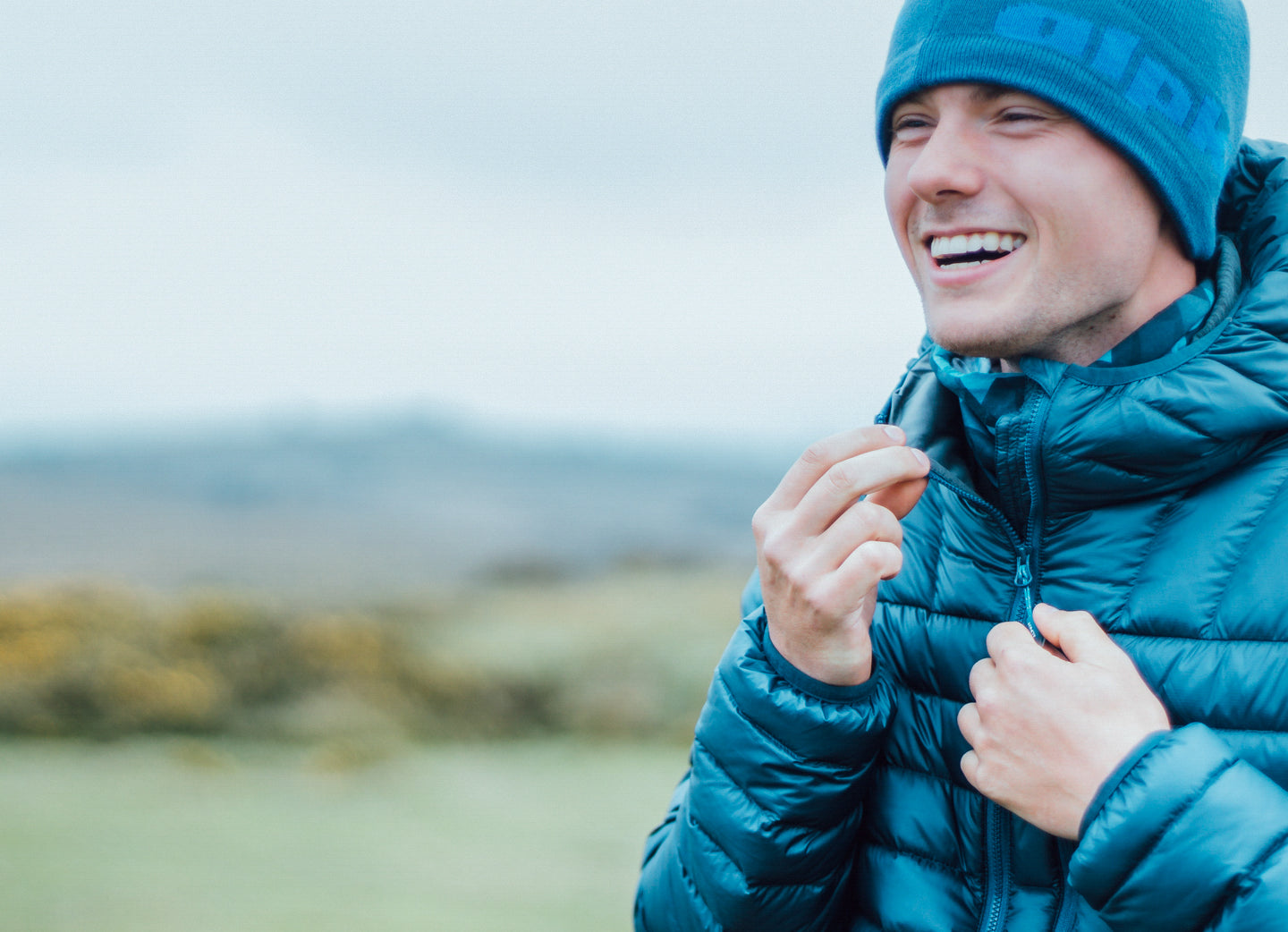 Ethical down refers to any down that passes the highest animal welfare standards. It comes from birds that are protected from live-plucking and force-feeding. However, being an animal product, choosing down comes with some important ethical considerations.
Whether you run, climb, hike, swim or bike it is likely that you have encountered the benefits of down insulation. Having confidence that your down has been sustainably sourced is particularly important.
We belong to communities that value environmental stewardship and ethical behaviour. By choosing sustainable down, you show that you really care. You uphold these values and that is something to be really proud about.
Why do we use down in outdoor gear?
We only use animal products where there is a clear performance benefit.
High warmth, low weight
Down has a structure that traps lots of pockets of insulating air for very little weight. It's this property that keeps ducks and geese warm in very cold temperatures. This allows us to make jackets and sleeping bags that are incredibly warm but still lightweight enough to carry easily.
Down packs down really, really small
The other big advantage of down is that it's highly compressible. Down feathers can be squashed into a very small space, yet spring back into shape without losing any loft. This allows you to carry a much smaller pack without having to sacrifice any clothing or equipment.
Durability
If you look after down properly, it will last for decades – far longer than modern synthetic alternatives. Each down cluster has a three-dimensional structure with thousands of tiny fibers branching out from its core. This structure gives down its resilience and allows it to return to its original form. Even after being compressed repeatedly, your down product will keep you warm for many many years.
When did down start being used in jackets and sleeping bags?
It wasn't until the 1960s, 70s and 80s that specialist down equipment really took off. Innovation was led in the UK by the likes of Pete Hutchinson and Rab Carrington. In fact, Pete Hutchinson worked with the legendary Don Whillans to design the very first one-piece down suit.
Used successfully by Chris Bonnington on his 1970 Annapurna expedition, down proved to be perfect for high altitude mountaineering. This was especially true for the fast and light 'Alpine-style' of climbing now in vogue.
Are down jackets and down sleeping bags ethical?
In recent years there have been a series of scandals over the welfare of animals used in the down industry. Reports discovered the widespread practice of live-plucking – literally ripping the feathers out of birds while they were still alive. Other birds were force-fed to enlarge their livers for use in foie gras. More information on the horrors of live plucking and farming of ducks and geese can be found on the PETA website.
Historically, down was gathered from the nests of Eider ducks during the nesting season. This practice produces very little down as only the loose feathers are gathered to avoid harming the birds. This method does not yield anywhere near enough down to meet global demand.
Today, most duck and goose down comes from animals raised for meat.
What is ethical down and why is it important?
Ethical down refers to any down that passes the highest animal welfare standards and comes from birds that are protected from live-plucking and force-feeding.
These standards are based on the Five Freedoms of animal welfare, freedom from: hunger, thirst, pain, injury, disease and fear, in addition to the freedom to express animal behaviours.
What is the Responsible Down Standard?
The Responsible Down Standard (RDS) is a voluntary code of practice that was established in cooperation with animal welfare groups and the down industry.
The RDS certification is given only after an independent check of each step in a brand's supply chain for down.
The blue RDS logo indicates that the down clothing and equipment you buy is ethically sourced. At Alpkit we only use RDS-certified down or 100% recycled down.
Thanks to RDS certification you can be sure that:
the freedoms of animal welfare are respected
live-plucking and force-feeding is prohibited
the chain of custody from farm to final product is assured
third-party audits each stage in the supplier chain
Recycled Down
Our recycled down is certified as Recycled Claim Standard 100 (RCS 100). The RCS tracks recycled down throughout the supply chain, from sorting to cleaning to processing. The RCS 100 stamp certifies that at least 95% of the down used in a product is from recycled sources. We can't guarantee that our recycled down comes from RDS-approved farms. However, using recycled down allows us to reduce our use of 'virgin down' and reuse down that would otherwise end up in landfill.
Using recycled down allows us to:
reduce our use of 'virgin down'
reuse down that would otherwise end up in landfill.
Recycle your down products
We love down. It's light, soft and insulating. It's natural, durable and in high demand. But after you're done with your insulated clothing and equipment, what can you do with it?
We knew it was a problem crying out for a solution. Extending the useful life of our resources is part of a responsible consumption and production cycle. Thanks to Continuum, Re:Down and funding from the Alpkit Foundation we now have a viable solution.
In a deliberate move to circularity, we are the first brand in the UK to accept donations of used down products. You can drop off your used down products to one of our stores, or post it to us. Once we have received your donations we forward them onto Re:Down.
Down is difficult to recycle, but Re:Down can give used down products an exciting new life. Re:Down will restore your down and pass it on to big brands like IKEA, Patagonia and H&M.
Your contribution may find itself converted into new outdoor products or cosy bedding.
Is down more sustainable than synthetic insulation?
Premium insulation brands, such as PrimaLoft® and Thermolite® are progressing towards more sustainable production by;
using increasing amounts of recycled material in their products
looking at new ways to reduce their energy consumption.
However, ethically sourced down still holds several key sustainability advantages:
As a natural product, it's a completely renewable material
It's fully biodegradable at the end of its life
It's a by-product of the food industry that would otherwise be wasted
No extra energy or resources are required to produce it
Recycled down keeps existing down out of landfill
Well-looked-after down will last a lifetime
Down with down?
Synthetic insulation alternatives are catching up, but down cannot be beaten on its warmth-to-weight. It is highly compressible and lasts a lifetime. We plan to continue using ethical down in our jackets and sleeping bags while there are still performance and sustainability advantages.
When buying natural down make sure that it is ethically sourced. We have much more on this in our Sustainability Report.