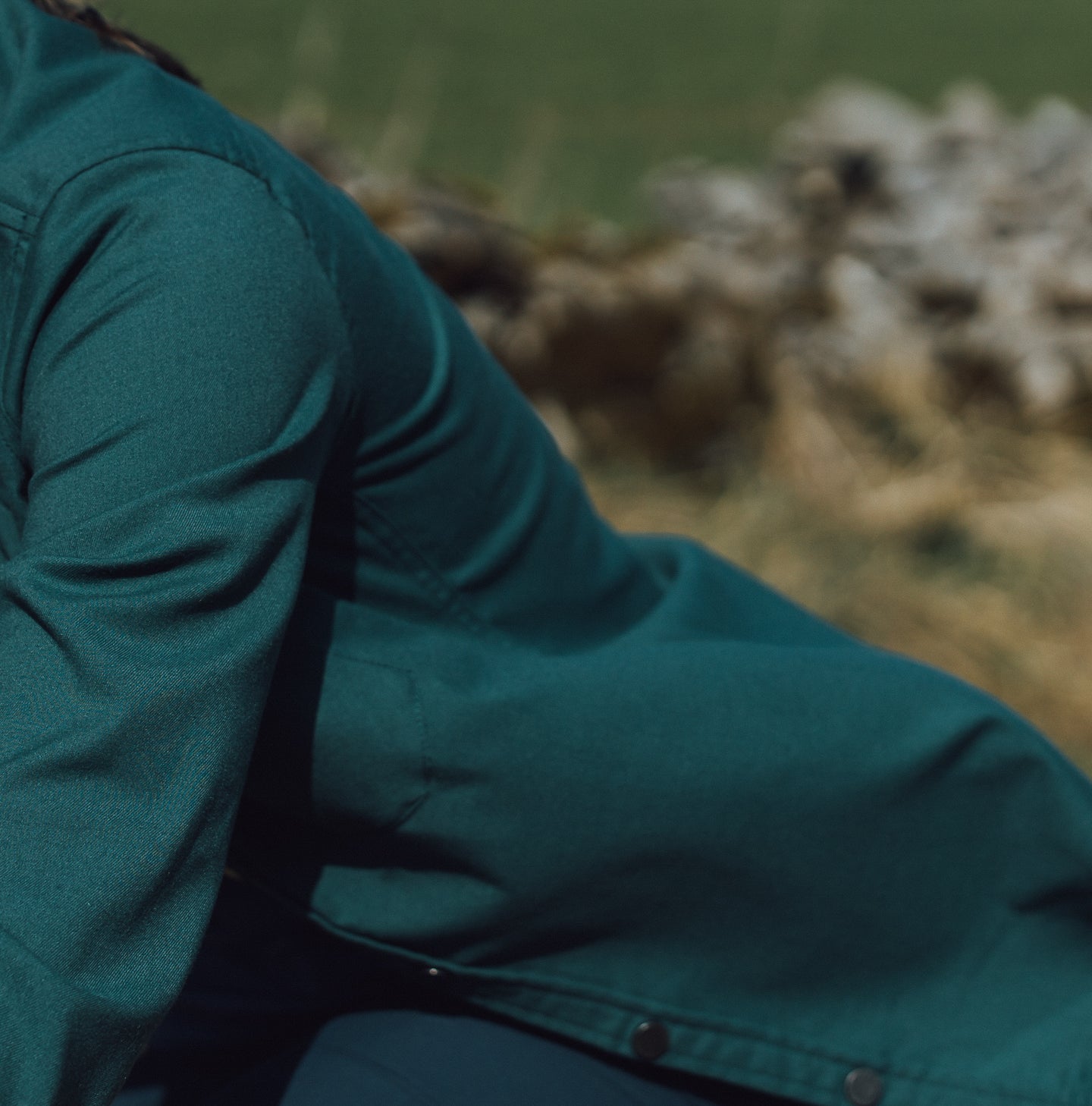 What Is Polygiene® And Why Do We Use It?
None of us want to be smelly – even when we're out on an adventure! But clothes washing facilities are few and far between in the Great Outdoors. And washing our base layer tops after every hike, run, bike or climb uses a serious amount of energy and water.
Fortunately, the clever scientists at Swedish company Polygiene® have come up with a nose-friendly, environmentally-friendly solution. We've taken that solution and applied it to our clothing. So you can wear Alpkit clothes more and wash them less – without causing a stink!
What Is Polygiene®?
Polygiene® Stays Fresh technology (to give it its full title!) is a permanent anti-odour treatment which is applied to clothes and garments as they're being made. Polygiene® treatments are usually only applied to synthetic base layers and midlayers. Merino wool clothing already has its own natural odour resistance.
Made from silver salts (specifically silver chloride), it's washed into your clothes like a dye. Because of the chemical structure of the molecules, you need very little silver chloride to treat the whole garment. The average silver ring would produce enough silver for 5,000 Polygiene® treatments!
How Does Polygiene® Work?
When you sweat, your clothes become warm and moist, creating the perfect environment for bacteria to grow. Sweat itself is completely odourless – it's these bacteria which create the overpowering pong after several days of backpacking. (It's not just humans that emit odours!)
Silver chloride (AgCl for the chemistry geeks) is naturally anti-microbial, preventing the causes of odour at source. These silver chloride molecules actually kill the bacteria on your clothes outright (by punching holes in their cell walls apparently – gruesome). This makes your clothing a very inhospitable place for bacteria when they're looking for a new home to start their rapidly growing bacteria family...
What Are The Benefits Of Polygiene® Anti-Odour Technology?
Using Polygiene® treated clothing means your clothes spend more time being worn and less time in the washing basket. Less time doing your washing and more time outdoors sounds ace to us! And there are a whole host of other benefits:
You'll be more socially acceptable in civilisation – No one cares what you smell like on the hill or in a campsite. But they might if you wander into a pub/café or catch public transport! Odour-free clothes mean you only need to worry about getting the odd shower… every few days…
It means you can pack lighter – You can pack fewer items of clothes if your synthetic gear doesn't start to pong after just one wear.
Less time washing and drying on trips – No one enjoys the faff of washing your clothes in a sink on a walking holiday or cycle tour. Put it off for longer!
You can buy fewer items of clothing – It's simple really: fewer clothes in the wash basket means there are more in your drawer, ready to wear.
Your clothes last longer – Less washing and fewer bacteria means the fibres in your clothes don't break down as quickly so you can wear them for years.
It's better for the environment – Polygiene® treated clothes can be washed less and at lower temperatures. As well as reducing your water and energy consumption, less washing means fewer plastic microfibres are released into the environment.
It saves you money on your water bill – Maybe Polygiene® should change their slogan to Wear More, Wash Less, Pay The Water Companies Less!
What Are The Environmental Benefits Of Using Polygiene®?
Wearing Polygiene® treated clothes can dramatically reduce the amount of water we use and the carbon we produce. It's estimated that 2/3 of the environmental impact of a garment comes after you take it home – that's washing, drying, ironing and, ultimately, putting it in landfill. Gulp. You could always send it to Continuum instead of course.
This means one of the best ways to reduce the impact of our outdoor gear is to wash it less. Polygiene® say that by cutting out every 10th wash, we could save "47 million tons (Megatons) of CO2 and 4.5 billion of cubic meters of freshwater globally. And if we could wash half as much, it turns out to be 235 million tons of CO2 and 22.5 billion cubic meters of water. In total, that is about 6 times Sweden's total emissions!"
Buying Polygiene® treated clothing means we could reduce our impact by buying fewer new clothes too. Washing causes wear and tear, and bacterial growth can make your favourite running top permanently pongy. Polygiene® calculated that "If we used our clothes for just nine months longer before discarding them, we would reduce carbon dioxide emissions by about 16%, water usage by about 20% and waste by 8%."
Is Polygiene® Safe For You And The Environment?
The Polygiene® treatment is bluesign® approved, which means that it's met the most vigorous of independent environmental standards for textiles. The Polygiene® treatment uses naturally occurring silver salts, made from 100% recycled silver. This silver comes from a range of industrial and even photographic sources so none of the silver they use is mined. Also, Polygiene® is applied with other treatments during the finishing stages of production so no extra water is wasted.
It's important to be cautious about 'odour control' and 'anti-odour' treatments on your clothes these days. Sometimes they simply don't work, and other times they come at a cost. You might have heard of 'nano-silver', which has had a lot of bad press lately. Nano-silver is made of tiny particles of silver which have been known to slough off in the wash. This can expose you to higher levels of metal and has harmful effects on the environment.
But Polygiene® doesn't use nano-silver. Its silver chloride particles are non-soluble, permanently bound to the fabric and much larger. This means that they don't come out in the wash or leech into your skin. And because they're bonded to the fabric, they don't affect how you sweat or harm the natural fauna (microscopic life) of your body. Your skin is basically a whole ecosystem of life, you know!
How Is Polygiene® Used In Alpkit Clothing?
We use Polygiene® treatments on all our synthetic base layers (the Koulin Trail range; the ultralight Vayper tees; and the Laika winter base layer) and on our technical outdoor shirts. Base layers bear the brunt of your sweaty, smelly armpits so it was essential to treat these with Polygiene®. This was partly to keep your B.O. on the down-low, but mostly to reduce the environmental impact of regular washing and to extend your clothes' lifespan.
We've also treated several of our active fleeces and midlayers: the lightweight Griffon gridded fleece, the Keeshond high-loft fleece and the Woodsmoke mountain shirt. These midlayers are designed to perform when you're working up a serious sweat. Adding a Polygiene® treatment does push up the price slightly, but we think it's worth it for all the many benefits.
Just remember: wearing Polygiene® treated clothes isn't an excuse to never wash your clothes – you won't make any new friends like that!