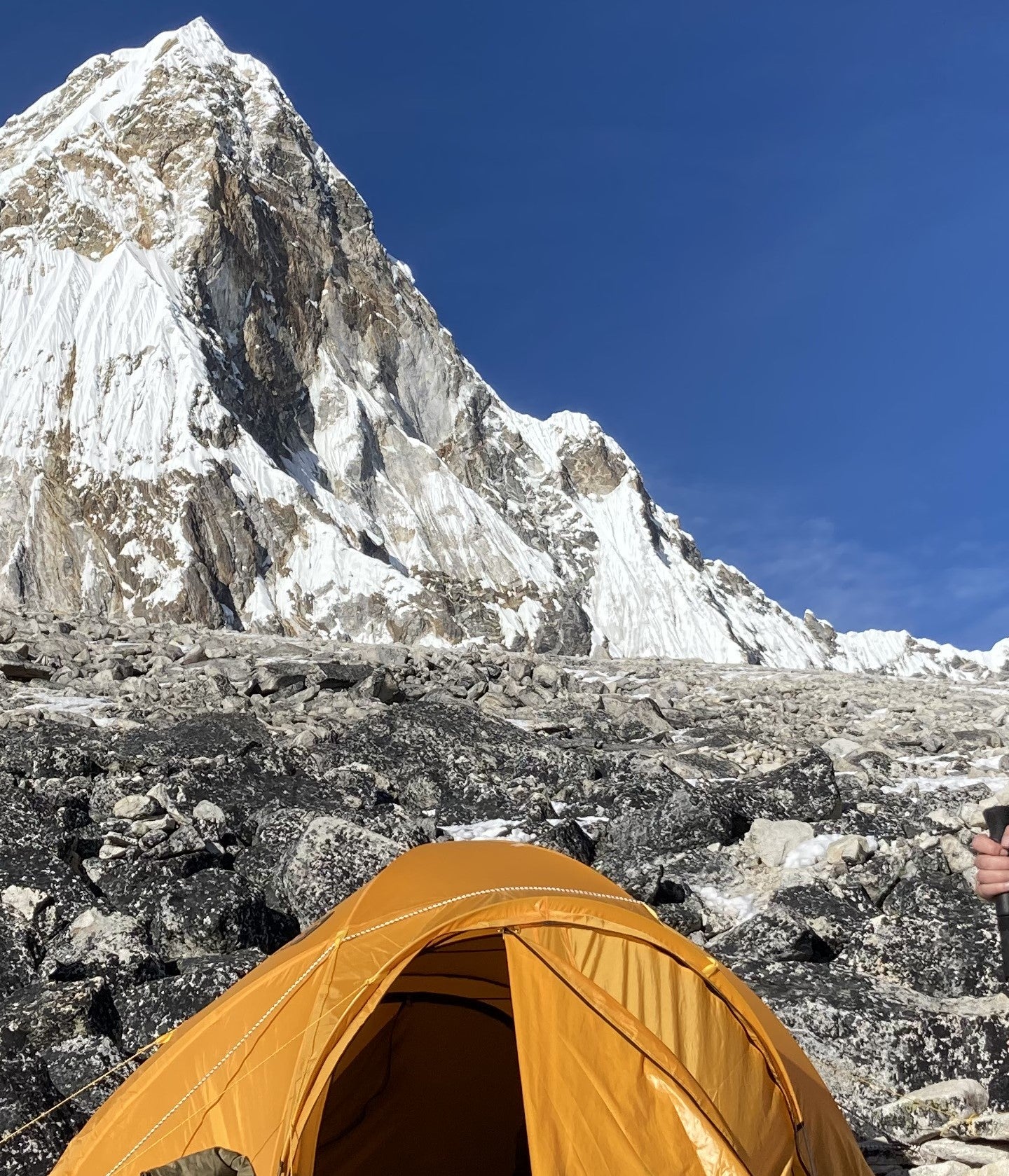 Ronnie's our Head of Clothing Design. We had a chat with her to learn a little more about life at Alpkit and the constant quest to make better gear that we can all love for longer.
Interview with Ronnie
What's the Alpkit design ethos?
We believe that the gear you use day-in, day-out, year after year is ultimately the best for the planet. Our design ethos is to make gear you'll love for longer, made with positive environmental choices.
We're unashamedly obsessive in our design principles: high quality, high-performance products, developed with a clear purpose, a technical benefit and with as much cross-over use as possible. Gear that is built to last.
We work directly with our customers, Alpkiteers and store teams so feedback quickly influences design, leading to more considered and better products. Our range is smaller so our lead times are faster. We keep our prices friendly by selling direct.
We have grown by paying attention to the details allowing personal recommendations to thrive. Ronnie has driven our expansion at an incredible pace, arguably the most prolific in the outdoor industry in number as well as the breadth. Working hard with her talented small team she has been at the fore-front of fabric, environmental and other key developments, including being part of the Microfibre Consortium.
What's your job title?
Head of Clothing Design.
How long have you been working at Alpkit?
"7 years! Originally, I studied Sports Science at Uni followed by a Masters in Clothing Product Development. After 5 years of building my professional experience at another brand I jumped at the chance to join Alpkit."
What's the general vibe like at Alpkit compared to other companies you've worked for?
"We definitely do things differently here. Being a smaller company full of enthusiasts means everyone is much more involved in different areas of the business than at a larger company, where everyone sticks to their small area of responsibility. You get a greater sense of ownership and pride in what we do."
How big is the design team you work with?
"Smaller than you'd think! The product team at Alpkit is just four people. In the clothing team, there's me and Becky, our Garment Technologist. Then, in equipment, we have Laura (Equipment Product Manager) and Rowan (Product Developer). We collaborate with other designers with specific expertise if we don't have it in-house."
The design process
How long is the design process - from idea to store?
Once we've decided on the product brief, it takes about 18 months to prototype, test and manufacture. Some things are quicker like our UK made products, and some take a lot longer. For example, the Gravitas took 4 months just to develop the fabric. But compared to the rest of the industry, this is almost half the time it takes them to go from concept to launch.
The global supply chain has been affected by a variety of issues – including the pandemic and the Suez Canal. It's slowed down our design process from 12 to 18 months.
Can you take us through the design process?
"The idea for a new product can come from a customer. Or it can be sparked by innovation in materials or manufacturing techniques that mean we can make something our customers don't even know they are missing. Either way, we always have a clear end- purpose in mind. We start by searching for the right materials and best factory to make it, alongside building a specification with dimensions, fabrics and components all detailed. The chosen factory then make us a prototype to start testing. With clothing, we spend a lot of time fitting to build in freedom of movement for the specific activity the product is going to be used for. After two or three rounds of prototypes, we confirm the final specification, costing, decide on colour and place the order."
What's the basis for all your work?
We want to make great gear that costs works harder and costs less, so that having decent kit isn't a barrier to getting out and enjoying the outdoors. And building it to last - we want people that buy our gear to use and use it for years to come."
What's your favourite combination of Nice Place and Good Thing?
"I'm a climber through and through, so mountains are my happy place. It's hard to beat the Alps for sheer variety of routes on rock, ice and snow."
What piece of gear don't you leave the house without?
"My Morphosis jacket – it works as an insulated jacket in summer, or a super breathable but protective mid to outer layer in cooler conditions. I even managed to wear it as my outer layer for a day's ice climbing when I forgot my waterproof!" Ronnie said she hasn't been on a trip without it for the past five years.
Which product are you most proud of?
Ronnie feels the most proud when she sees people wearing the products she's designed. Wearing Alpkit where it was intended to be worn. Seeing it work in critical situations. When she climbed Ama Dablam, she summited with Chris. And Chris was wearing a Definition!