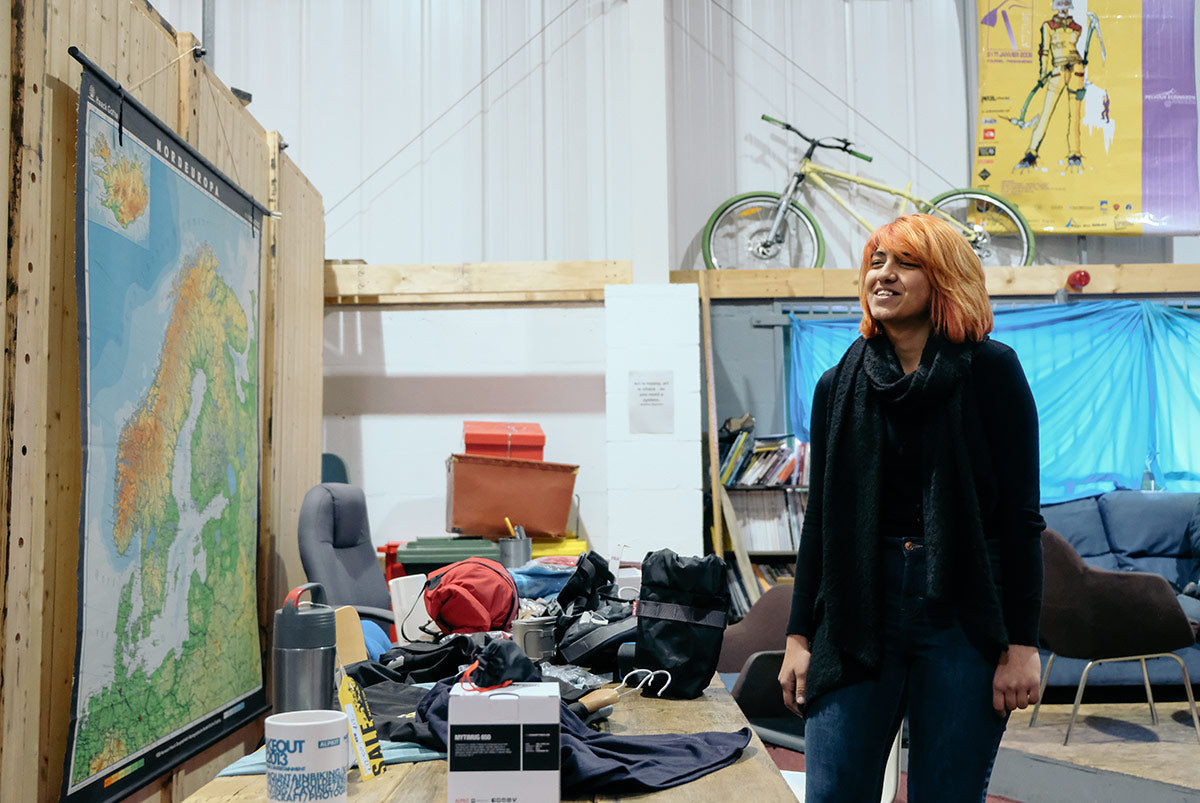 Q&A with Vedangi Kulkarni
In June, 19-year-old Vedangi Kulkarni will be heading off to Perth to embark on her challenge to circumnavigate the world (that's 18,000 miles) by bicycle in 100 days, becoming the world's youngest woman to cycle around the world and beating the current record of 144 days, held by Paola Gianotti.
Vedangi came down to AKHQ to get kitted out with some Alpkit gear, including our new Tarmac Ultra Light Bike Luggage, which will be accompanying her on her journey. We seized the opportunity to find out more about this irrefutably inspiring and adventurous individual.
One of the amazing things about your upcoming challenge is that you only started cycling a few years ago! How did you get into cycling and adventure cycling in the first place?
Well, as much as I'd love to recount a long cycling career behind me, the truth is that I only got into cycling as commuter when I was 15 or 16. I then went on a solo adventure cycling expedition across the Himalayas when I was 17, with my parents in a support vehicle to cheer me on as my then skinny legs pedalled up the high mountain passes. That was when I really fell in love with cycling as a way of seeing beautiful places and experience emotional freedom.
So, what inspired your upcoming challenge to circumnavigate the world unsupported by bicycle?
To be honest, there wasn't that one moment when I came up with this whole plan.
It started with a thought about the prospect of becoming the youngest woman to cycle around the world. Then I just kept thinking more about doing it.
Doing London-Edinburgh-London in 2017, made me I realise I was capable of taking on a bigger challenge. I didn't officially finish the event as I got injured, but I finished it in a fairly good time 3 or 4 days later. That experience gave me confidence that however big I dream and however impossible it seems, it IS possible, only if I try. So, there you go, I'm going to pedal the planet and attempt to do it in 100 days - that's the plan!
;
;
What are the challenges of adventure cycling solo? How about the rewards?
When we talk about challenges, we need to talk about physical, mental and personal challenges separately.
The physical challenge is actually doing all the riding necessary. Let's face it, it's going to be painful, I'll be drained by the end of the day, how do I still wake up the next day and pedal on with all the saddle sores, cramps and aches?
That's just the physical challenge. Being all by yourself is a mental challenge in itself: with nobody around you and all the tiredness, it's easy to let your body control your mind and it's even easier to give up. So keeping a positive attitude through the what ifs and to stay motivated is a big mental challenge.
Personal challenges in adventure cycling could be anything ranging from being under-prepared, having to find quick solutions to on-the-go problems, to fixing any mechanical breakdowns on the bike.
The biggest reward is the freedom of everything. And that matters to me more than anything.
website, Facebook, and Youtube channel!