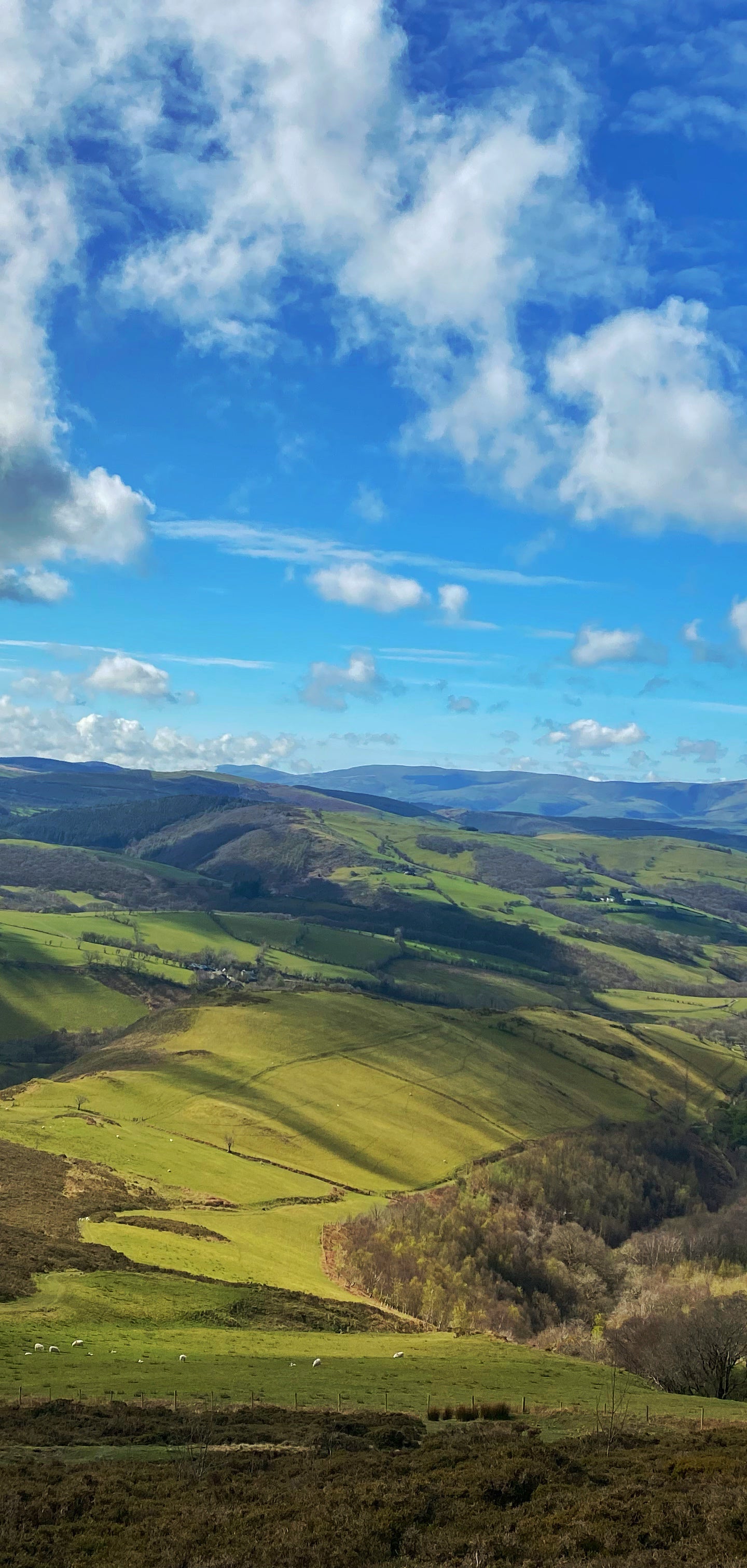 The Trans-Cambrian Way Loop
The Trans Cambrian Way Loop
180 miles | 8/10 | 3–5 days
About this route
I first read about the Trans Cambrian Way on Bikepacking.com and originally saw it as a 2.5-day MTB ride. But then I started to wonder if it could be done on a gravel bike, and then I started to wonder if I could work out a route back to Knighton to make it a full loop rather than rely on taxis or trains to get back to the start.
My plan ended up being slightly ambitious:
180 miles.
60 miles per day.
7,000ft of climbing per day.
On a gravel bike!
To ease the pressure slightly I decided to use a mix of B&B/Airbnb rather than wild camp, particularly as the weather in Wales over Easter is still quite chilly and is most likely to be wet at some point
I didn't want an "easy" ride as this ride was part of my Badlands training.
The plan
Day One: Knighton to Pontrhyd-y-groes (60 miles).
Day Two: Pontrhyd-y-groes to Aberystwyth (65 miles).
Day Three: Aberystwyth to Knighton (60 miles).
Weather
The forecast was early drizzle on day one but then light cloud for the rest of the week. But I arrived in Knighton on Monday afternoon to blue skies and sunshine; the rain had passed by and I was off to a good start. Until I woke up.
Day One
So much for the rain passing by; Tuesday morning was heavy rain so my 08:00 start was not looking dry at all. So I decided to see if it would slow at all. By 09:30 it was "light rain" and as I didn't have time to wait any longer I decided to get on the road.
The first big push is the first bit of off-road after a few warm-up miles of tarmac and took me straight up into the clag. But once up the trail stays high for quite a while; although there was very little to see before dropping back down into Llanbadarnfynydd. The Bikepacking.com route mentions the New Inn for lunch but it is now closed although there is the Llanbadarnfynydd Community Shop which serves snacks and coffee. The ford here was too deep to cross so I went into the village to get across the river and onto the final section to Rhayader.
Although a hilly first half the tracks all the way to Rhayader are excellent and 100% rideable top-quality gravel, so not once did I want my MTB.
It's all very remote and I didn't see a single person.
After a quick cafe stop at Rhayader, I was back on the road, conscious that I was 2-hours behind "schedule" and needed to be at The Miners Arms in Pontrhyd-y-groes no later than 20:00 for my meal.
Diversion One
The rain had stopped as I got to Rhayader but as it had been constant all morning, at the Elan Reservoir I decided to stay on Route 81 rather than head up into the hills to endure the "network of flooded ditches".
The narrow road continues to Claerwen Dam and is then followed by miles and miles of remote gravel tracks. At the 50ish mile point is a track that goes up to Claerddu Bothy. Sadly I didn't go up there but if I did the ride again, I would plan to stay there as it would be a perfect end to a long but very rideable (50 mile) day.
Eventually, I was back onto tarmac and enjoying a screaming descent of steep twisting lanes into the small village of Pontrhyd-y-groes.
A long and wet first day but at least I finished in the dry.
Day Two
I had booked a full breakfast for 07:00 but as I looked out of the window I saw rain. Again. The forecast was still stating it would be a dry cloudy day but it was raining. WTF. So I put on my waterproofs and left just after 08:00 not wanting another late finish if I could avoid it.
Diversion Two
As I'd dropped so steeply into the village I didn't fancy starting the day in the rain AND a mega steep and long ascent to get back on the original route so I headed onto Route 81 again as this was part of the original route anyway a bit further ahead.
Route 81 was far nicer than I had been expecting and I was quickly onto gravel and broken tarmac, then back onto roads that took me past old mines with piles of waste along the roadside. The 81 then ventures off-road again getting up high before a steep descent on broken tarmac down to the (river) Afon Diliw. There's a double river crossing here, which I got through only to then spot the obvious bridge just off the track before the bridge I just crossed before re-crossing!
Most river crossings have bridges, which I always looked out for after such a dufus moment.
Anyway, having got across the rivers the track goes up into the forest where I later realised is another bothy, Nant Rhys Bothy. There's even a short video of it! So having unnecessarily waded the river, and missed the bothy, it started to rain a bit harder to add to my woes of the day. But I was soon heading downhill into Llangurig where there's a pub and a cafe where I stopped for food.
The next section was to Staylittle which has a little shop up a short sharp hill (there's a surprise) but the sun was shining again by the time I got there so I sat on the bench and drank some more coffee. From Staylittle it seems to go up and up and up, down a bit then up and up again until Foel Fadian and the infamous descent of death. This is probably the only part of the route where you need your MTB, or you can walk/slide/scramble down (like I did). The first 100 metres are very steep and very loose and I'm not even sure I'd want to ride it on any bike let alone my gravel bike. But once past the hardest bit it's grass then trail and then a really nice bit of track that follows the Glyndwr's Way down to the Ceredigion Coastal Path and the end of the official route.
But I was only halfway as I was looping back to the start so I decided to head to Borth to "see the sea" but by this point, the mist was down and yet again, the was no "sea view". And it was pretty chilly in the sea fog that had descended upon me. I had also made the mistake of not paying attention to the final few miles, thinking that once down at sea level it would be nice flat miles all the way to the end. Wrong. Two more nasty road hills before I got to my Airbnb in Aberystwyth.
A longer second day but again finishing in the dry.
Day Three
I'd bought food at the local Tesco in Aberystwyth so was up early to make my own breakfast and, it was NOT raining! So I was able to leave on time and didn't need all my waterproof gear.
The first 12 miles follow Route 81 (again) along an old railway line and it is entirely flat. Absolutely perfect start to the day. It then meanders along the river and although it's a road, it's closed to vehicles so nice and quiet all the way to The Miners Arms in only 2 hours. It's then the same route along the 81 from the start of day two but this time rather than cut off through the forest, over the river and past the bothy, I took the steep route 81 UP until a LOOOONG descent that feels far longer than only 3 miles down to the road and into Llangurig. For food again.
I wasn't sure how nice the final part after Llangurig would be but it was a nice mix of quiet lanes, a few tracks and a fair bit of the Radnor Ring which is a bit like Route 81. Far nicer than expected and although not easy, it was a slightly easier finish to the ride.
An easier last day and I finished in the sun! Pub time.
Summary
The Trans Cambrian Way is a great route that apart from the big descent off Foel Fadian, is what I would consider entirely suitable for a gravel bike. It's such a nice route though and I feel I rushed it (out of choice) so would happily do it again but take more time to really enjoy it.
The ride back to Knighton was far more enjoyable than I was expecting so I would be happy to ride that part to make it a loop but again, taking a bit more time. The loop could be broken up in so many ways but one option would be as follows:
Knighton to Claerddu Bothy (50m) to Llangurig (25m) to Borth (38m) to LLangurig (37m) to Knighton (30m).
Alternatively use Nant Rhys bothy as it's only 5 miles 
from Llangurig so that would make a short second day 
with a quick downhill blast to the cafe for breakfast!
Bike set-up
I rode a Sonder Camino Ti, 650b WTB Venture tubeless tyres, SRAM XPLR AXS gears. I only carried one 750ml bottle and never struggled for water.
Knighton
I stayed at the Horse and Jockey Inn, a really nice traditional pub with great food and local beers.
I parked at the long stay car park which was £20 for 4 days and a 2-minute walk from the pub.