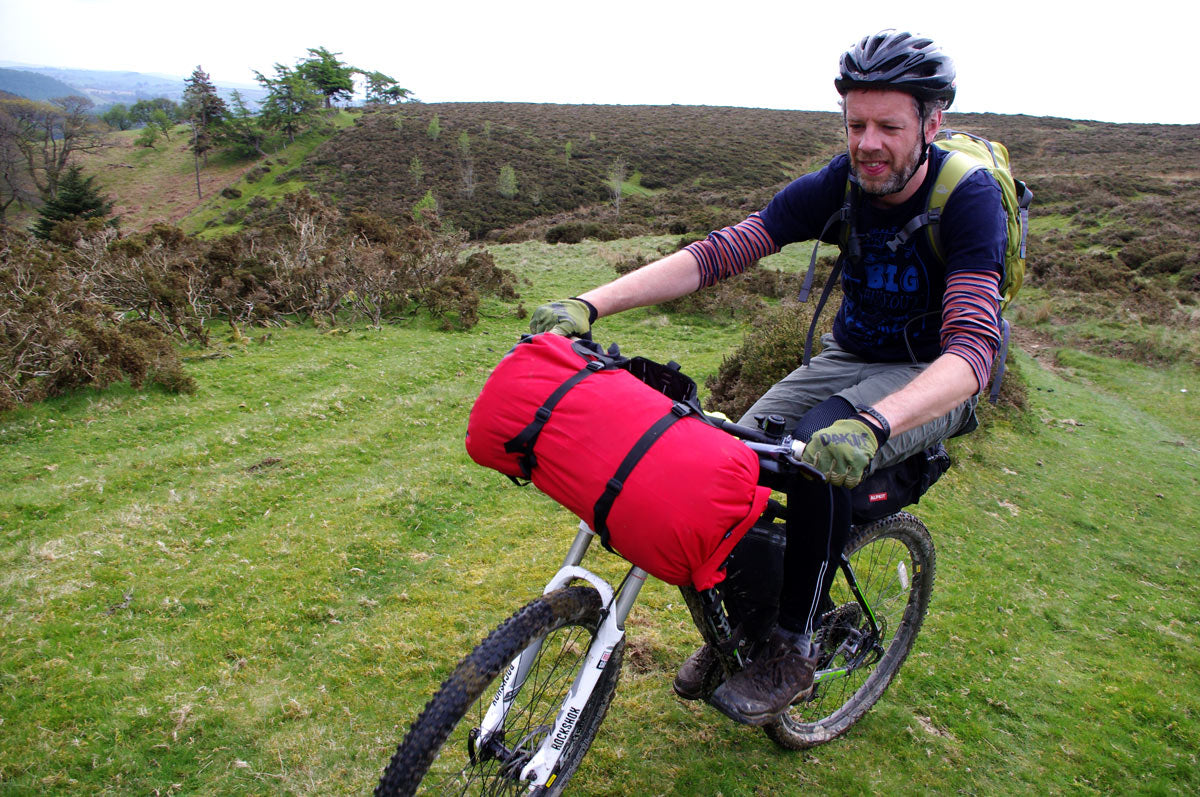 WRT 2014 - In at the deep end
So after a late night in the pub on Friday with a rough route prepared on a bar table over a couple of pints of mild, and the obligatory post breakfast game of Smite, we arrived at the start point at Pennant early on Saturday morning for our tee shirts and the weigh in of our bikes.
I was relieved I had packed (relatively) light, Kenny had thoughtfully picked out a Day-Glo pink frame bag for my bike, but ultimately I decided to opt for a more classic (but muddy) black number. Attachment of bags was followed by several rounds of packing and unpacking. Once I'd found the perfect spot for my emergency pair of boxers, and the raffle was done, we set off south to our first point.
Wales is as hilly as it is wet, although the rain did hold off for the weekend, the hills they kept a'comin. We rode all day Saturday, and after we'd been chased by cows, sheep and farm dogs, we decided we'd had enough for the day and bivvied down for the night on the edge of a pine forest.
Jim being a considerate bloke had carried a couple of litres of wine which lead to a good nights' sleep under a sky so dark that Kenny nearly lost the tent when he stepped out to 'take in the air' during the night.
Sunday morning saw a steep ascent to the first grid point which revealed my dehydration and general lack of energy due to the previous day's labours.
We descended to a pub for lunch where I devoured two pub meals (including half a chicken), 3 pints of liquid and an industrial quantity of table salt. My system re-booted, we were off again, gorse cladded summits, sweeping pine forests, boggy bridleways were all dispensed with until we reached our hi-point of the day, Calor Gas cous-cous at the plas' de wind-farm.
From a culinary high, we had a simply awesome descent to our campsite for the evening, which judging from the brake fade will have us replacing our brake pads within the very near future, the metal was running hot! After finding a nice spot, we reflected on the last couple of days over a few beers, lashings of brie and a good camp fire.
We finished off a few more points in the morning to arrive back at our start point for tea and cake at Stu and Dee's place and a catch up with the other WRTers. Overall we all had a great time and found great company along the route on an event with a very relaxed vibe. Although I will be numb from the waist down for a week or so, I am sure that'll be a rose tinted memory when the WRT comes round again next year when I am sure to be back in the saddle.