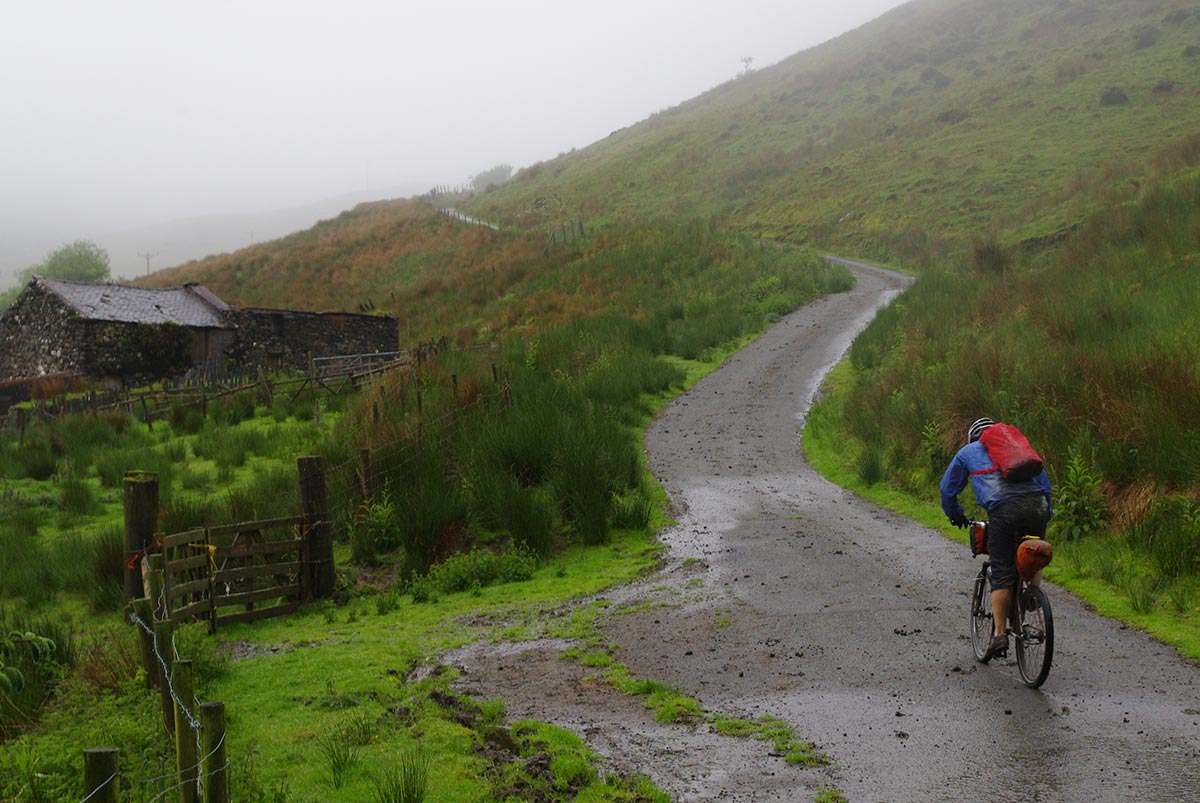 If you happen to be in mid Wales over a long bank holiday weekend in May then don't be surprised if you come across packs of hardy, or foolish, people on bikes (depending on how you look at it, or indeed the weather). Winding their way through the countryside they may appear 'lost', but don't be fooled these are fine tuned bike packing machines, all focused and dialled into carefully structured routes. One thing is almost taken for granted though… there's a good chance there will be a big smile on their faces, even if a little weary.
Yes it's the annual Welsh Ride Thing (WRT). But this year is a bit special, it's the 10th edition. 10 years of celebrating a deep passion for bike packing and encouraging new people to get into it too. Enjoying the wonderful riding in the Welsh countryside and doing its bit for the Welsh air ambulance.
in 2016, Nick pushing his sleep limits in 2013, to name just a couple, but Ken and Nick in particular both like to think of themselves as seasoned pros now. They will be back again this year for this 10 year celebration, so we caught up with Stuart ahead of the weekend.
Ken: So Stuart, what started the WRT those 10 years ago?
Stuart: The WRT started kind of by accident with a chance post on STW (singletrackworld) asking about 'bikepacking' events in the UK. At the time there weren't any outside the US … the rest as they say, is history.
The event is perfectly summed up by Stuart on the WRT site... "Imagine an event that lasts 3 days, where there's no set route. One where you get to decide how far you're going to ride and where you're going to stop. A truly non competitive event where the only goal is to get out on your bike and enjoy yourself … what you're imagining is the WRT and what it lacks in rules, it makes up for in adventure."
Since its inception in the wrt has acted as perfect introduction to bikepacking for hundreds of riders with many returning year on get their fix. concept is unique and deceptively simple a month before start set grid references are sent out everyone riding. these reference points form outline you route can choose incorporate or few like they usually point direction good trails overnight spots. some people will devise real epic include all others only use one two percentage ignore base entirely locations pubs cafes
It's certainly not an elite event but attracts many of the most seasoned of riders and bikepackers in a real warm and social weekend, which is why it holds a special place in many peoples hearts.Whether it's someones first taste of multi day mountain biking and the encouragement and advice gained from those more experienced, or simply the hardships inflicted by the Welsh weather leaving an indelible experience that will be brought up in the pub for years to come.
As they say, if it's not broken... a real testemant to the power of the WRT. So thank you for the memories Stuart and hopefully many more.