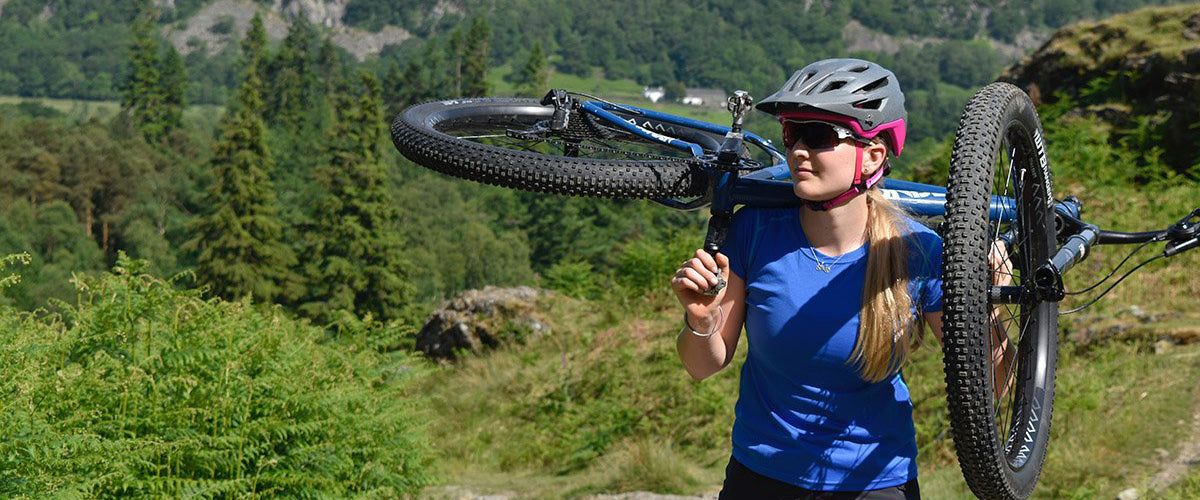 How to Hike-a-Bike: A Lake District Guide
'Why on earth would you want to carry a bike, up a mountain, on your shoulders?'
…is a common question we get asked. Well, enough of our pitiful attempts to justify its worth! To answer this properly, we've asked a few local shredders to kindly explain this crazy fetish.
What is Hike-a-Biking?
Hike-a-Biking is the art of carrying your bike on your shoulders up a steep hill (like the walking part wasn't hard enough already) for the purpose of (yep, you guessed it) riding down again, either the way you came up or via a different route.
Sounds like hard work, is hard work. But if you nail the technique it becomes much easier and opens up a world of possibilities.
Why Should I go Hike-a-Biking?
Find hidden gems. Experience uninterrupted views. Have the trails to yourself.
Not everywhere is easily accessible by bike. Learning how to properly carry your bike up steep and rocky passes means you can take your bike just about anywhere.
Get away from the crowds at the local bike track or well ridden trails and make your own way up and down your favourite mountain.
What do Lake District Locals say about Hike-a-Biking?
Andrea Griffiths, mountain bike photographer and blogger:
"I originally wrote off the idea and didn't contemplate it for a while, but I don't know what happened in the following months... Maybe I got bored, but somewhere along the line it began to sound like a good idea. In September last year I ceremoniously slung my bike onto my shoulders, proceeding up the path towards the summit of a local fell. For almost an hour, in military fashion, I put one foot in front of the other, trying not to wince with every step. By some miracle I managed to reach the top just before sunset with a smile (or more likely a grimace) on my sweaty, crimson face. The views over the surrounding fells made it worth the effort, with the last streaks of orange filtering through the smoky grey sky. I had just enough time to capture the fading landscape, before the clouds chased the sun behind the distant peaks. That was my cue to head back down and descend into darkness. Eventually, I rolled up at my front door tired and exhilarated. I had set out extremely doubtful of my abilities, but I succeeded all the same."
---
Ad Brayton, professional downhill racer for Hope:
"I love a hike-a-bike purely because I'm rewarded with the longest downhills in the Lakes and I'm a sucker for the views at the top – especially at sunset! Fortunately we have plenty to choose from here if you don't mind that little extra climbing."
---
Bex Tatham, Wonderful Wild Women ambassador:
"Hike-a-biking is a necessary evil in my eyes. People often joke that I have a climbing alter ego, my thoughts turn pretty dark and I'm just thankful all my friends are super positive and manage to cope with me on the up hills.
The long stomp up some of the Lakeland fells is something I hate but love in a really weird way. When I get to the top, especially the top of my favourite range - Helvellyn, I can't help but smile. The views are incredible, far-reaching, and make you feel like you're in the middle of nowhere. There is so much choice from this range too, you can make a ride into whatever you need it to be. Many of the lines down provide a technical challenge, which I live for, and make carrying 10+ Kilos and your riding bag up well worth the effort."
---
Finley Clay, fellow guide for WildBike:
"A couple of times in the year we get an eager bunch who want to take on our 'Lakes High Mountains and High Passes' holiday package. There is an enormous variety of riding in the Lakes but, as a local resident and lover of the big mountain descents, I always look forward to this one the most. It's more rewarding when you give people the opportunity to learn how to comfortably carry their bike up some of the highest peaks, look at an awesome view and then razz back down! When people think of bridleways they generally picture a track around the edge of a field that's been chewed up by horses, rather than a rocky ribbon of single-track that reaches over 3000ft. It surprises all our clientele when we tell them it's perfectly legal to ride and guide over a mountain. The Lake District tops are also the perfect altitude: where else is it accessible to bag a summit on a bike, in a day, and with a guided group?
In terms of where I'd recommend to hike-a-bike in the Lakes, you're spoilt for choice. But if you've got to do only one, I'd say Helvellyn. To get the best bang for your buck ride up from Glenridding, a bit of pushing and pedalling followed by a carry from Grizedale Tarn to Dollywaggon Pike. Once there it's pretty much ridable to the summit. Then you've got a cracking descent full of classic Lakes scenery, finishing down the eastern side of Sticks Pass."
---
Rach Elizabeth Willan, Silverfish UK rider:
"One of my favourite hike-a-bikes is part of the popular '4 Passes' route. To enjoy this kind of route though, you need to be totally cool with carrying your bike and hiking for around 40% of the ride. The reward being height gain, breath-taking views and heart stopping technical riding. On this route my favourite pass to hike starts from the remote Black Sail Hut YHA Hostel and heads up and over Black Sail Pass that takes you between Kirk Fell and Pillar, eventually bringing you down into Wasdale Head. It is a superb technical descent with a back country wilderness feel to it. All you need are a few good friends to share it with."
Hopefully you might be tempted from these shared experiences, which means it's time to try it for yourselves…
How to Hike-A-Bike
Firstly, find a beautiful mountain or fell with a bridle path waiting to be climbed. Make sure you are prepared for a mountain day out:
Check the weather forecast,
Take a map,
Pack plenty of food and water,
Don't forget tools and a first-aid kit. Trust me - the one time you don't take it is the time you need it.
When it's finally time to carry the bike, follow these simple steps…
1. Put your bike on the right hand side so that your chain is on the opposite side.
2. Place your left hand on the fork closest to you, and your right hand on the rear triangle.
3. With a straight back, give one big lift over onto your shoulders.
4. Adjust your hands to a comfortable position
5. And hike!
6. Place back down carefully, by leaning forward or kneeling down to place the bike back on the ground.
Like this!
(Not like this...)
7. Relax...
8. And ride!
Now you have no excuse not to have a go, so get out there!
If you are still wary or would like to book onto a guided trip to experience the best routes in the Lake District, please get in touch with Lucy at LucyAllanGuiding@mazingtree.com (you may also find her in Alpkit Ambleside!)
Or check out WildBike 3-day trips. Accommodation, guiding, all breakfasts and a BBQ sorted!