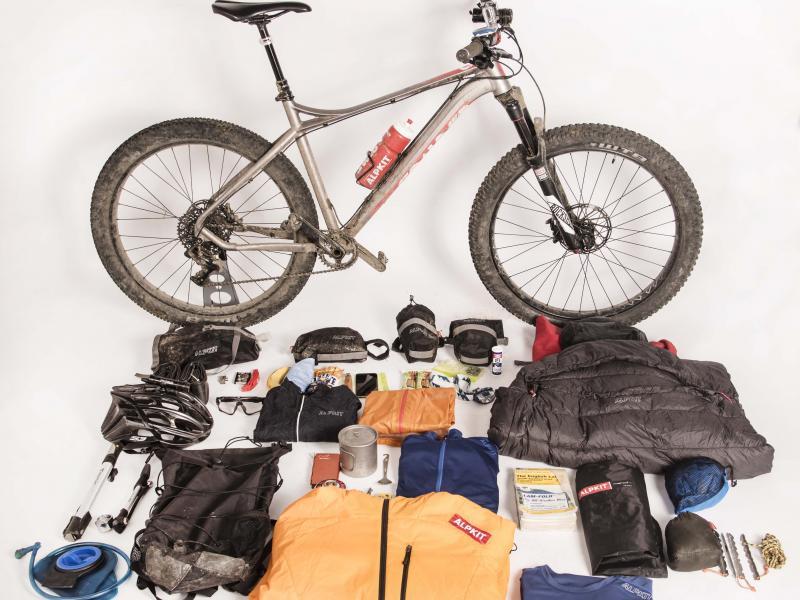 A few years back, Dan Thompson took us through his bikepacking kit list for the South Lakes 100 - a two-day 100-mile mountain bike ride. Dan rode a Sonder Transmitter and decided to load it with Alpkit bikepacking bags and kit for a 2 day hit.
Dan's Bikepacking Ethos
"This is meant as a guide to what I personally used, lots of other riders went lighter and many more carried more gear. I felt I got a good balance of maintaining a light bike, using the dropper post, keeping the front end light enough to still lift and manual through obstacles and comfort.
There were a few items I carried but didn't use but it was nice to have the extra security/comfort had the weather/conditions changed.
"Initially, this was the set up I selected, with a large Fuel Pod on the frame. I eventually ditched the fuel pod and the contents went into my rucksack instead..."
I'd elected to ride the Sonder Transmitter. I already knew it to be a very competent bike for trail centres and for shorter blasts in the Peak District and Yorkshire.
Kit List:
Sonder Transmitter GX1 with Yari and Reverb
Tyres: Front: WTB Bridger 3.0, Rear: WTB Trailblazer 2.8
Saddlebag: Enduro Pack Black
Top tube bag: Fuel Pod Medium
Stem Cells: 1 x Stem Cell and 1 x Stem Cell drybag
Haribo/M&Ms/sandwiches/anything else I could get
Camera
Hydration tabs
Spare batteries for cameras
Handlebar Bag: Airlok Dual 20L and Fat Roo
Guylines
More food and snacks
Rucksack: Gourdon 20L
Kraku and gas/lighter
Large volume pump
Shock pump
Food and coffee
Bar mounted devices:
Garmin Edge 500
Go Pro Hero 3
Exposure Toro 7 light