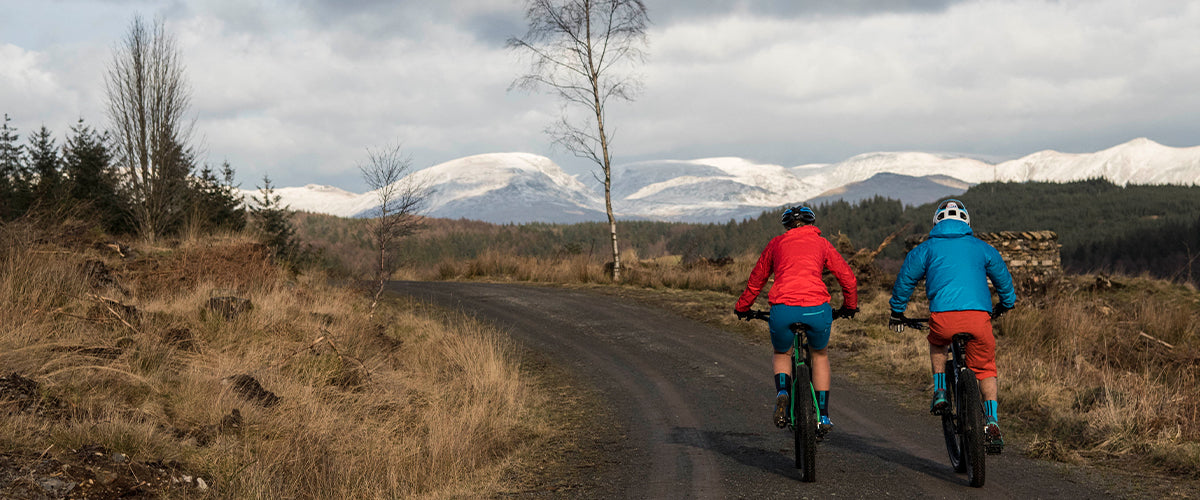 5 Top Tips for Winter Cycling
When you picture your dream riding conditions it might be kicking up dust on a winding trail as you cycle into the sunset on a long, hot summer evening with friends.
The reality in the UK is that those dream experiences tend to be few and far between and for a good chunk of the year we have to contend with something entirely different... Damp, dark and cold winters.
To embrace winter riding and all of the less than ideal conditions that go with it is to open up a world of possibilities. Instead of just hanging up your bike for half the year, a few simple adjustments can mean that, rather than just suffering through winter, you can learn to thrive in it.
As a mountain bike guide and purveyor of bikepacking adventures, my summers tend to get very busy with work and so, for my own riding adventures, I'm usually left to contend with the winter months, so here are some of my top tips for winter riding.
---
1. Layer Up: Comfort Over Style
Winter riding clothing choice is all about flexibility. Not just to cope with the changing weather conditions on a ride but also the difference between those heat generating climbs and numbingly cold descents.
Choose multiple layers and have the capacity to shed or add them where necessary. 
Outer Shell
In winter I don't leave home without a waterproof or windproof shell. Even if rain isn't forecast, in the UK, you never really know when you might get caught out.
What kind of shell you choose is generally a balancing act between breathability, weight and weatherproofing. I tend to opt for an ultralight waterproof designed for faster activities to get the best of both worlds. Or a soft and stretchy waterproof smock will move with you, while still having a long enough zip to keep you ventilated.
Don't forget that water doesn't just come from above… It took me a long time to get around to using waterproof trousers for cycling but once I found the right set, I haven't looked back.
Base Layer
A moisture-wicking base layer that keeps the body dry is crucial. Merino base layers have the added benefit of keeping you warm even when wet and avoiding smelling (too) bad on multi day adventures.
For added versatility, consider using arm and/or knee warmers. This means that you can adapt to changing conditions on the fly without having to stop to change.
Midlayer
Whether a thermal midlayer, softshell, gilet or even lightweight insulated jacket. These tend to go on first thing on a chilly morning, get stowed for most of the day and then come out again when you're munching sandwiches. Make sure you leave space to carry it when you're not wearing it.
Legs
Full-length bib tights are great, although it might also be worth experimenting with leg warmers for changeable conditions. For rowdier off-road riding, stretchy soft-shell overtrousers keep off wintry winds and showers while still maintaining the mountain bike look.
Extremities
Looking after your extremities properly can make or break a ride. The added wind chill factor of zipping along on a bike is not to be underestimated. Keeping well insulated and the water out as much as possible whilst maintaining dexterity is the name of the game.
Here's some items to consider:
Gloves - don't just limit yourself to winter cycling gloves. Mountaineering or walking gloves with the seams in the right place can be just as good.
Waterproof socks - I wear an under sock and avoid washing the waterproofs as much as possible to maintain the waterproof membrane.
Hat, headband, buff, scarf, snood, balaclava - whatever you choose to keep your ears from going numb.
Footwear - Winter specific bike shoes are a great investment, keeping your feet dry and the envy of all your mates. On really grubby days I use running gaiters to avoid water pouring in over the tops. Overshoes are an option but most don't tend to stand up too well to the extra walking you're likely to do when riding off-road.
---
2. Set Your Bike up for Winter Riding
As conditions change, so should the set-up of your bike (or perhaps even your bike choice?).
Bike Lights
Bike lights are crucial in winter due to the season's shorter daylight hours and challenging weather conditions that can reduce visibility. Don't risk finding yourself biking in the dark, whether in the early morning, late afternoon or evening. Find out how the latest bike lights can give you the confidence to ride in the dark.
Tyres
You can easily get lost in the intricacies of rubber choice but basically, in muddy conditions, sacrificing rolling resistance for simply staying upright is a good idea.
Ice and snow present their own challenges. You might even opt to avoid the mud entirely in winter and so sticking to hard-pack surfaces might also change your bike set-up too.
Components
However much you look after your bike, if you ride a lot in winter, things are going to wear out more quickly. I tend to save using any particularly flashy components for the dryer months, opting instead to either get the most out of older bits of kit or keeping things simple to avoid chucking money away into all those gritty puddles.
For the curious (or slightly mad) winter could be the ideal time to experiment with a rigid single speed??
Mudguards
Mudguards make all the difference in winter, trust me. The simple fact is that 'rain + off-road = mud' and when mud attaches itself to you it makes you colder, reduces the effectiveness and longevity of your waterproof clothing and reduces your vision.
The less you can get it clogging up the components on your bike the better they'll work and the longer they'll last too.
However, not all mudguards are created equal. Flimsy material, badly designed attachments or lack of coverage can all make them less than effective, so look for something which will:
Fit your wheel size correctly (allowing for clearance)
Attach as simply and as solidly as possible
Be made of strong enough material to hold their shape or survive a knock or two.
---
3. Keep your Bike Clean
In winter it's especially important to clean and look after your bike. Extra water and mud will wear away and corrode your components. Washing and caring for your bike after every ride is essential and will save you money and time in the long run.
Wash your Bike Thoroughly
Use bike-specific cleaning products. They're more effective against grime and are formulated to avoid damage to parts. Stick to eco & biodegradable cleaning solutions to save you from polluting the environment.
Specific bike cleaning brushes can help get into hard to reach areas, especially the chain. Avoid using a jet wash often. It will blow the grease out of bearings and seals and cause more damage in the long run.
Dry your Bike After Every Wash
Drying is easily just as important as washing. Avoid leaving components wet as they will corrode, a water repellant spray can help with this.
If you have suspension or a dropper post, make sure you compress and then wipe away the dirt from the seals with a soft cloth after every ride.
Keep your Bike well Lubricated
Wherever you've washed off lubricant or grease you should re-apply. Winter specific chain lubes should stay stuck to your chain better even when things get wet. Don't forget about other components like headset, bottom brackets, wheel bearings and seatposts too.
Avoid at all costs getting any lubricant anywhere near your brakes!
Replace Worn Components
With increased wear in winter you need to keep a closer eye on components like chains and brake pads. Don't underestimate how quickly gritty conditions can wear things down.
A simple chain-stretch checker will tell you when you can replace just a chain to avoid shelling out for a whole new drivetrain.
Always have spare brake pads handy and if using discs, consider using harder wearing (ie 'sintered') compounds.
---
2. Cycle Safely through Winter
Winter riding presents an extra set of hazards to contend with. However, being aware of them and acting accordingly will reduce the risks.
Remember, it's not just you who's affected by having an accident, if you end up needing help then you're causing an extra strain on resources, so act responsibly. Tell someone where you're going, ride within your capabilities and have a backup plan.
Avoid busy roads - In my experience, traffic is the single biggest hazard you can face on a bike, especially in winter conditions; so for me, this makes a really good argument for sticking to the trails, traffic-free tracks and quiet roads as much as possible.
Use Lights - Bike lights broadly split down into two categories - lights to be seen by (less than 100 lumens) and lights to see by (more than 300 lumens). Even on daytime rides it's a good idea to carry at least a rear light to keep you visible on the roads.
Wear visible clothing - Bright, visible clothing won't just help you be seen on the roads but if you get into trouble out in the hills it can help others find you more easily.
Take emergency equipment - If things do go wrong, poor weather conditions can make things a whole lot worse. Regardless of where I'm going I take some form of emergency shelter (survival bag or group shelter), a basic first aid kit, a phone (with a full battery or spare battery pack) and some emergency food.
Pack tools and spares - Even a relatively minor mechanical problem can end up becoming a much worse situation in poor weather conditions. My mechanical kit list includes:

Puncture (or tubeless) repair kit
Tyre boot (or section of old toothpaste tube)
Pump
Spare brake pads
Emergency chain link
Zip ties
Gaffa tape (wrapped around pump)
Jubilee (hose) clip
---
5. Get Out of the Door!
It's easy to say, often much harder to do and probably the most important point.
What I find helps is to commit to a ride early. Lay your kit out and charge your lights the night before. Plan a route. Tell someone what you're planning. Better still arrange with a friend to go together.
Basically, do whatever you can do to make it difficult to back out of a ride and then guilt trip yourself into getting out of the door no matter what the weather ends up doing. The rest will come easy and it's never as bad as you imagine.
So there you have it. No more excuses, just get out there and #winwinter.