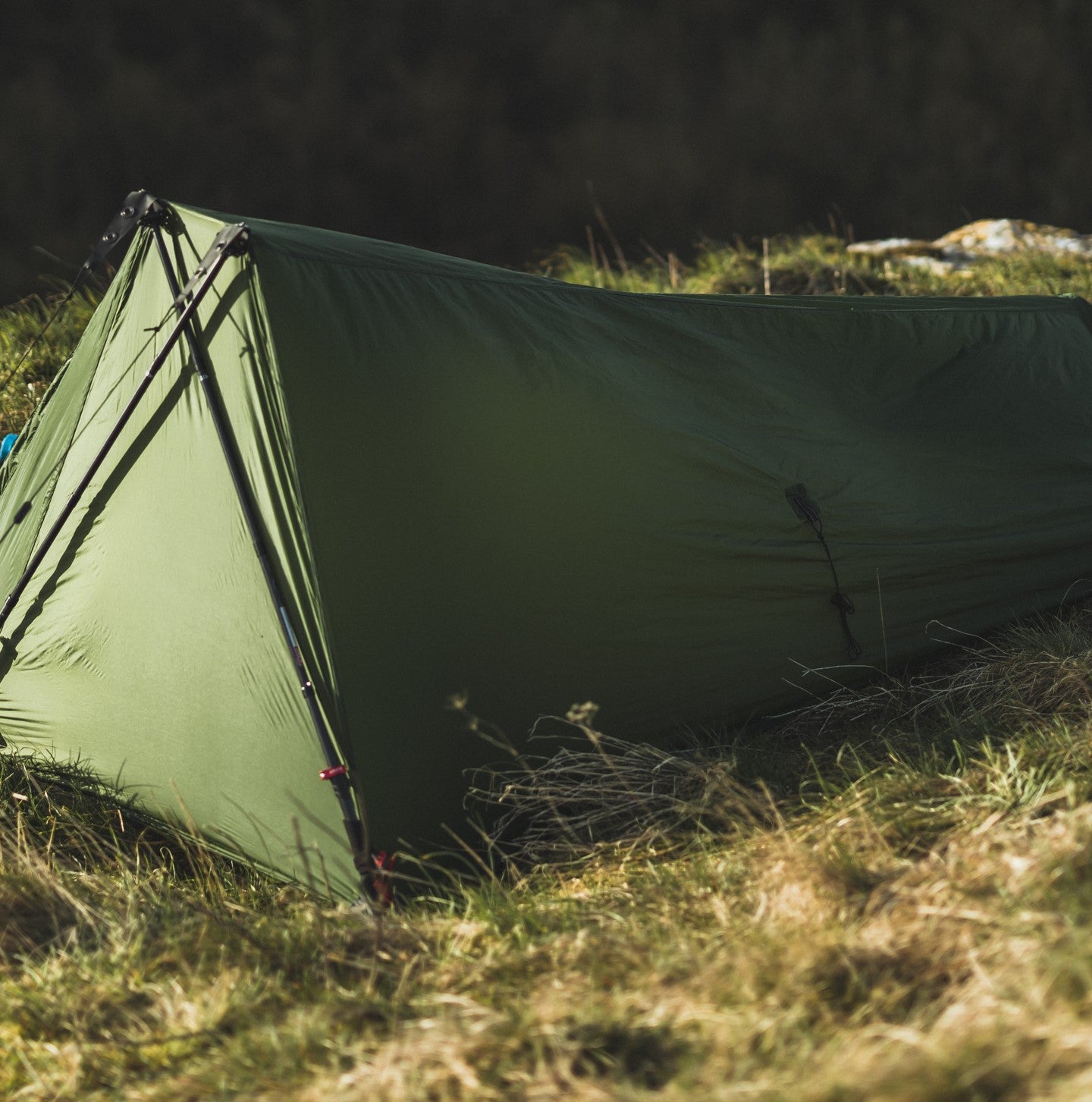 How to choose the best tent for camping
Welcome to our essential guide to help you choose the best tent for camping. Taking your first steps on the portable property ladder can be daunting. There's so much to consider! We break it all down for you here - the where, when and why of tents.
How to choose a tent
What do tent season ratings mean?
Tent season ratings tell you the range of seasons your tent is suitable to be used in. It kind of does what it says on the tin. We always advise that you pick a season rating that matches your expectations – rather than the season. Especially if you're camping in the UK, you might have conditions that require a 3-season tent in the height of summer so it's best to choose a tent for the conditions that could occur regardless of the season you're camping in.
1-season tents
These lightweight tents offer little protection in poor weather, but they excel in warm, dry climates. They're the most breathable and comfortable in heat.
2-season tents
2-season tents are great for UK summer. They're lighter and suit warmer temperatures because they have more breathable mesh in their construction. They handle low-mid wind speeds well and keep you comfortable overnight.
3-season tents
A 3-season tent is suitable for fair weather from spring to autumn but can also ride out a heavy shower if it needs to. Our 3-season tents are Soloist, Tetri, Jaran and Axiom. Think changing seasons, leaves falling, freezing mornings and sweaty afternoons. From sunny to stormy in the blink of an eye: a 3-season tent will cover all of this.
4-season tents
For chilly temperatures, snow dumps and gale force winds, 4-season tents are strong tents for year-round UK conditions. Our Kangri, Zhota and Heksa would be perfectly comfortable camping on Ben Nevis during winter. Find out more about this category of tents in our guide to choosing a 4 season tent.
5-season tents
5-season tents are expedition tents, like our Kangri, Zhota and Heksa. For the Antarctic and the Arctic. For the high Himalayas. 5-season tents are strong, warm and capable of withstanding extremely high winds and significant snow dumps.
And talking of bad weather…
What is a good waterproof rating for a tent?
A good waterproof rating for a tent is 2,000mm hydrostatic head (HH). Hydrostatic head is a fancy, technical term in the outdoors industry for measuring waterproofness and it's measured in millimetres. The industry standard for tents to be defined as waterproof is 1,000mm HH. All our tents are 2,000mm HH at a minimum.
We've written a whole blog on waterproof ratings if you want to find out more about waterproof fabrics.
But it's not all just about hydrostatic head. Materials make a huge difference to the waterproofness of a tent. Some have lower stretch, which means water is less likely to pool on them. And the tauter you can pitch a tent, the better surface run off you can have.
What material are tents made out of?
Tents are typically made out of nylon or polyester but we also make some organic polycotton canvas tents as it's better for the environment and more durable. Tent inners tend to be made from mesh to give better breathability and insect protection.
Let's explore a bit more about the materials tents are made from
Nylon
Oh, Nylon. The king of fabrics. Or at least, for a long time, this is how it was hailed. It's super strong for being lightweight. And it's tough and resistant to abrasion.
Choose a nylon tent when you want a strong tent, without the weight penalty.
Polyester
Man-made fabric polyester is competing with King Nylon. It has lower stretch, which is super handy for when it gets damp. That's why, in tents with big panels, you'll typically find polyester because it resists the dreaded tent sag after a rain shower.
Choose a polyester tent when you need a durable tent in bad weather.
Polycotton
Our organic cotton tents are constructed with 35% organic cotton and 65% polyester. Polycotton lasts nearly twice as long as nylon or polyester, meaning you can love your tent for longer. It's stronger, lighter and dries quicker. It's also much more breathable – perfect for keeping you cool in summer!
Choose a polycotton canvas tent for summer camping when breathability is important.
Mesh
If you've ever camped in Scotland, you'll know about midges. They make themselves known. We use mesh that's fine enough to stop the blighters barrelling into your portable home, which is especially important on our Jaran, Ordos and Soloist. But on our Kangri, Zhota and Heksa, you can zip up the mesh doors - stopping pesky midges completely.
What are the different types of tent?
There are several different types of tent and if you're not grouping them by season then you tend to differentiate between their different types of structure. Here's the run down.
Geodesic tents
Geodesic tents are about efficient strength, creating structures that can stand up to the worst weather. Typically constructed of multiple criss-crossed poles, geodesic tents distribute stress across the whole tent. This forms a stronger, more stable overall structure like in our Kangri, Zhota and Heksa. Strength and stability are super important for the ever changing nature of storms and winter weather.
Choose a geodesic tent for the worst weather and environments.
Semi-geodesic tents
Semi-geodesic tents broadly refer to freestanding tents, like our Ordos. To be freestanding, a tent must have poles that cross over themselves. Semi geodesic tents are super easy to pitch because you don't have to peg it until you're done – or at all! If the pegs fall out, it'll still stand up. This keeps semi-geodesic tents lightweight and strong. This balance between strength and weight is ideal for bikepacking and backpacking adventures.
Choose a semi-geodesic tent for a reliable and solid pitch with a quick setup.
A-frame tents
If you're pitching up at Font for a week's worth of warm weather climbing, then pack size and weight aren't as important as comfort and liveable space, like in our Frejus A-frame tent. But if you're wild camping and pitching up at the nearest available patch of grass, then you'll have different needs.
Choose an A-frame tent for more liveable space and camping in comfort
Other things you might want to consider
Side-entry vs. front-entry tents
When you're making yourself at home in your portable home, you need to consider the little-known art of tent feng shui (we're just joking – well, maybe it's a little bit important). Side-entry tents are great for once you're inside. You can lean out into the porch and sort your kit out. You can pop your shoes on under canvas cosiness. But they're not the smoothest of entry options.
Front entry tents, on the other hand, are much easier to get into. But you pay a price for the ease of entry. You have a smaller porch, meaning your in-tent experience is a little more limited.
Inner vs. outer pitch first tents
There's a widely accepted belief in the UK that, if you're camping, it's going to rain. And if it's going to rain, most campers want an outer pitch first tent. This means that you keep your stuff dry and get the main structure of your portable home ready first.
But inner pitch first tents are lighter, stronger and easier to pitch. They also create more living space, rather than erecting a structure and pinning something up inside it afterwards.
As Product Designer Rowan says, you spend 60% of your time carrying the tent, 35% in the tent and less than 5% putting it up and taking it down. So, while there are some key differences between inner and outer first tents, how easy it is to put it up is a very small part of your camping experience.
Weight vs. pack size
Putting your tent in between your handlebars is a whole different ball game to putting it in your boot. You need to decide what's most important: pack size and shape, weight, or overall tent strength?
If you're bikepacking and you're planning on putting your tent in your handlebar bag, then pack size is going to be top of the list. However, pack size is typically dictated by pole length. And the shorter the poles are, the more hub points there are, making them heavier and much more likely to snap than bend. Or, go pole-less with our Polestar or Aeronaut tents!
Ever heard the saying: "variety is the spice of life"? Well, we think this is true for tent pack shapes. With a longer tent shape, you can pack the rest of your backpack around your tent, whilst maintaining flexural strength when pitched and a low weight when carrying.
What size tent do I need?
The size of your tent depends on a lot of factors. How long is a piece of string? Here are some things you might want to consider when choosing the size of tent you need
Person ratings
This one seems pretty simple. You should choose a person rating equal to the number of people that will be sleeping in the tent2 campers? 2-person tent.
We categorise our tents into person ratings. But, again, these aren't the be all and end all. A 2-person backpacking tent will be a lot smaller (and lighter!) than a 2-person tent designed for pitching up at a campsite. And if you're as tall as Rowan, our 6ft4 Product Developer, you might have a different idea of what spacious is.
How much kit are you taking?
On winter epics, you need a lot of kit. And that kit has to go somewhere. The bigger the tent, the more spacious it is for your bits and bobs.
Get your measuring tape out
Most tent manufacturers (us included!) will specify the internal dimensions of the tent. You can compare this to the length and width of you, your mat and all your kit. Then you'll know how much space you've got.
How heavy should my tent be?
How heavy your tent should be depends on what you'll be using it for. For ultralight backpacking, the lighter the better. The less you carry, the further you go. But there is a trade-off to be made. Saving on weight generally means skimping on space. That's why liveable space is in our design ethos.
What tent should I use for family car camping?
For your summer family car camping trips a cotton bell tent can provide a light, liveable space that stay nice and cool during the day. At night it transforms into a space that you actually want to spend time in – somewhere cool and shady in summer and warm and cosy for the rest of the year.
Our design ethos
Design for purpose - we make design choices tailored to the customer's use. That's about choosing discreet colours for wild camping. Giving the Aeronaut a short pack size for backpacking. And choosing two doors for the Jaran, for ease of sharing.
Liveable space - all our tents are designed with 'real' space built in. They're lightweight. But you can still live in them.
Value - our tents use quality materials and clever design. But they still cost less than our competition, meaning you've still got money in your pocket to complete your kit list.